Israeli Prime Minister Benjamin Netanyahu vowed that his country's response to the Hamas attacks would be remembered "for decades to come."
Netanyahu's message, shared to X, formerly Twitter, follows Hamas militants' surprise attack on Israel Saturday. The Israeli government has declared its country at war with Hamas, the Palestinian fundamentalist political party, and has ordered a complete siege on the Gaza Strip.
Israeli airstrikes on Gaza have since sealed off the region from food, fuel and other supplies, and the death toll of the war has risen to nearly 1,600 on both sides of the conflict, according to the Associated Press (AP).
"Israel is at war," Netanyahu said in his message Monday. "We didn't want this war. It was forced upon us in the most brutal and savage way. But though Israel didn't start this war, Israel will finish it."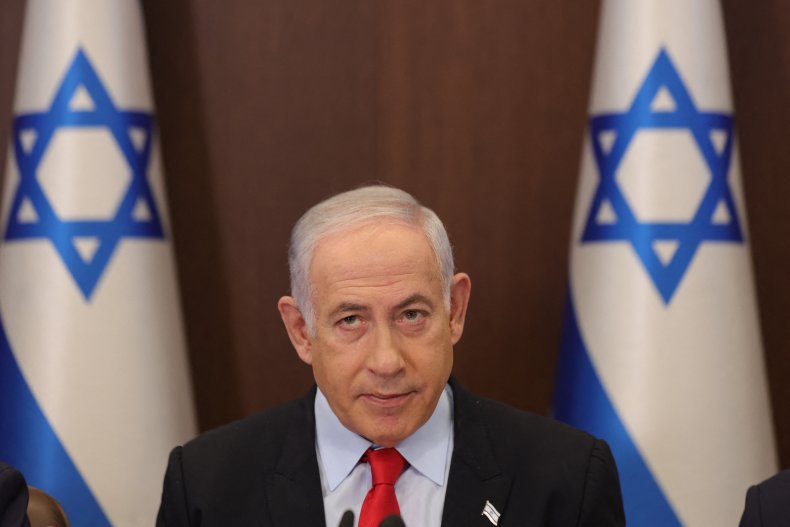 "Hamas will understand that by attacking us, they have made a mistake of historic proportions," he continued. "We will exact a price that will be remembered by them and Israel's other enemies for decades to come."
More than 900 Israelis are believed to have died in the Hamas attacks on Saturday, AP reports, which included air raids across the country and a barrage on a Jewish festival near the Gaza border—where many young festivalgoers were either killed or taken hostage.
Over 680 people have been killed in Gaza since Israel declared war. The armed wing of Hamas has warned that it plans to kill an Israeli hostage every time there is an unannounced Israeli attack against civilian targets in the Gaza Strip, reported AP. More than 100 people, including Americans, are believed to have been snatched by Hamas Saturday.
"The savage attacks that Hamas perpetrated against innocent Israelis are mind-boggling: slaughtering families in their homes, massacring hundreds of young people at an outdoor festival, kidnapping scores of women, children and elderly, even Holocaust survivors," Netanyahu continued Monday. "Hamas terrorists bound, burned and executed children. They are savages."
U.S. President Joe Biden has vowed to provide Israel with "all appropriate means of support" in light of Hamas' attacks, and Netanyahu thanked the U.S. commander-in-chief for his "unequivocal support" in his message Monday afternoon.
"I want to thank leaders across the world who are standing with Israel today," Netanyahu continued. "I want to thank the people and Congress of the United States of America. In fighting Hamas, Israel is not only fighting for its own people. It is fighting for every country that stands against barbarism."
AP reported Monday evening that the U.S. has begun delivering munitions and other military equipment to Israel, according to a senior Defense Department official who spoke on the condition of anonymity. The news comes as Biden announced that the death toll of Americans in the conflict has risen to 11.
Newsweek reached out to the Israeli Embassy to the U.S. for comment via email on Monday.