Russian officials held a grand opening ceremony for a new bridge in the Belgorod region, but it turned out to be one that had been taken from a neighboring village, according to a local report.
Residents gathered in the village of Khomuttsy, in Belgorod's Ivnyansky district, for the ceremony, which saw an official cut a red ribbon placed across the structure's entrance, Telegram news channel Sirena reported.
Photos published on social media showed the wooden bridge decorated with colorful balloons and dozens of local residents gathering to watch the ceremony.
Another Telegram channel for the Belgorod region reported that the bridge used to be in the village of Ivna for several years, and that it was "transported and presented as 'new.'"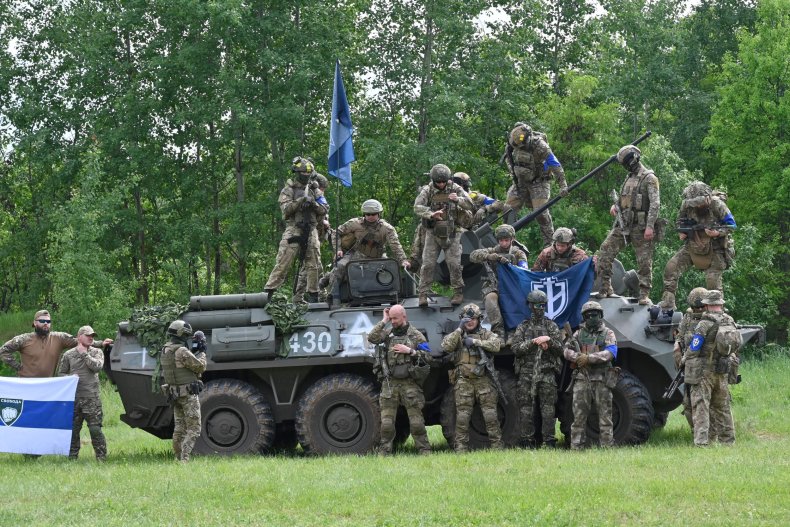 It isn't clear why a new bridge was needed in Khomuttsy, but Belgorod, which is located near to Russia's border with Ukraine, has repeatedly come under attack throughout Russian President Vladimir Putin's full-scale invasion of Ukraine.
Newsweek has contacted the Russian foreign ministry via email for comment.
The Kremlin has blamed Ukrainian forces for raids in Belgorod, but Kyiv has denied responsibility. Two Russian anti-government groups—the Russian Volunteer Corps (RVC) and the Freedom of Russia Legion—have previously said they were behind attacks in the Belgorod region.
Ilya Ponomarev, an exiled Russian politician who says he is the political representative for the Freedom of Russia Legion, told Newsweek in June that the group, alongside the RVC, had crossed into the border town of Shebekino in Belgorod.
The Freedom of Russia Legion was formed weeks after Russia's invasion of Ukraine began in February 2022, and is made up of defectors from the Russian armed forces and Russian and Belarusian volunteers. The RVC says its members include Russians fighting on Ukraine's side and against the Kremlin regime.
Ukraine has maintained that Russian volunteer fighters are conducting the incursions into Belgorod, and British intelligence has called the RVC and the Freedom of Russia Legion "partisan groups."
Putin said in June that Moscow was inadequately prepared to respond to attacks on border regions like Belgorod.
"Of course, there is nothing good in this," Putin said at the time. "But in principle, one could have assumed that the enemy would behave this way, and one could have prepared better."
Do you have a tip on a world news story that Newsweek should be covering? Do you have a question about the Russia-Ukraine war? Let us know via worldnews@newsweek.com.