Russian President Vladimir Putin's strategy ahead of the country's next election may hurt Moscow's already weary troops along the front lines of the war in Ukraine.
Although he has yet to announce his reelection, Putin is the anticipated winner of the March presidential race, which Kremlin spokesperson Dmitry Peskov has confirmed would take place on schedule despite the "special military operation" in Ukraine, Reuters reported Monday.
The U.K. Ministry of Defense noted in its latest update on the war in Ukraine that Putin's campaign will likely focus on the common themes of protecting Russian citizens from "external enemies," and anticipates that the Kremlin will attempt to stray from "unpopular policy moves" in the months leading up to the election.
"It is therefore highly unlikely that any further [mobilization] wave will be implemented before the March 2024 presidential election," British intelligence added.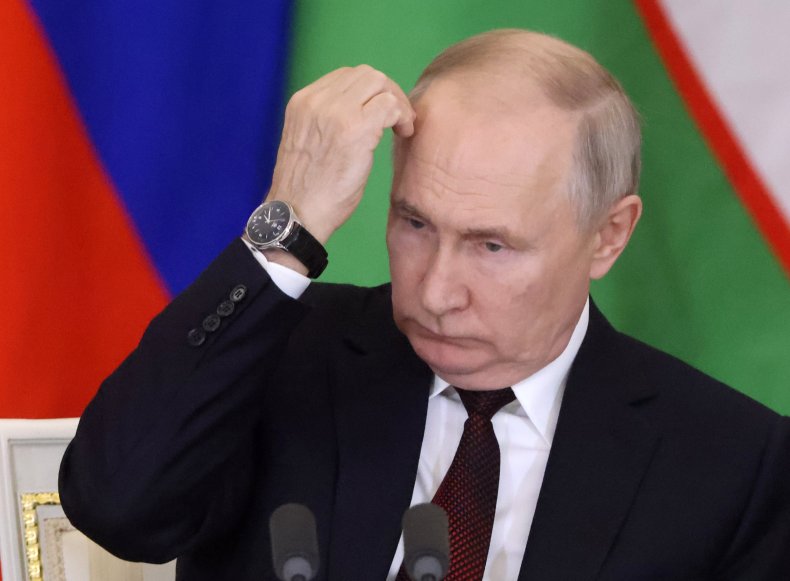 Russian Defense Ministry Sergei Shoigu said last week that there were no plans for an additional mobilization effort similar to the partial mobilization enacted by Putin last fall, which was widely unpopular and led to hundreds of thousands of citizens fleeing the country to avoid getting ordered to the front lines.
But Moscow's troops have consistently reported low morale, poor training and lack of support in the fight against Kyiv's ongoing counteroffensive, meaning a delay in further mobilization could hurt Russia's offensives against Ukraine.
George Mason University Schar School of Policy and Government professor Mark N. Katz told Newsweek Tuesday that the British intelligence assessment "could be correct" about Putin's plan to halt mobilizations, adding that it "will weaken the possibility of a Russian offensive against Ukraine."
"It may be, though, that Putin was not planning any such offensive but is just focusing on the defensive aim of holding onto the Ukrainian territory that Russia now occupies," Katz added in his email to Newsweek.
The Institute for the Study of War previously assessed that Putin was preparing for a long war in Ukraine, which in recent months has been marked by incremental but consistent gains in Kyiv's attempt to reclaim occupied territory in the east and southeast.
Other experts have also speculated that the Kremlin leader may be looking to postpone the fighting until after the November 2024 U.S. election, as Putin may be hoping for reelection of former President Donald Trump. The ex-president, along with several other Republicans, have called for a reduced or even complete end to Washington's military aid to Ukraine.
"If this occurs, then Russia can undertake an offensive against a weakened Ukraine that is much more likely to succeed," Katz said Tuesday, adding that Putin "may be disappointed, though, in his expectations about U.S. domestic politics."