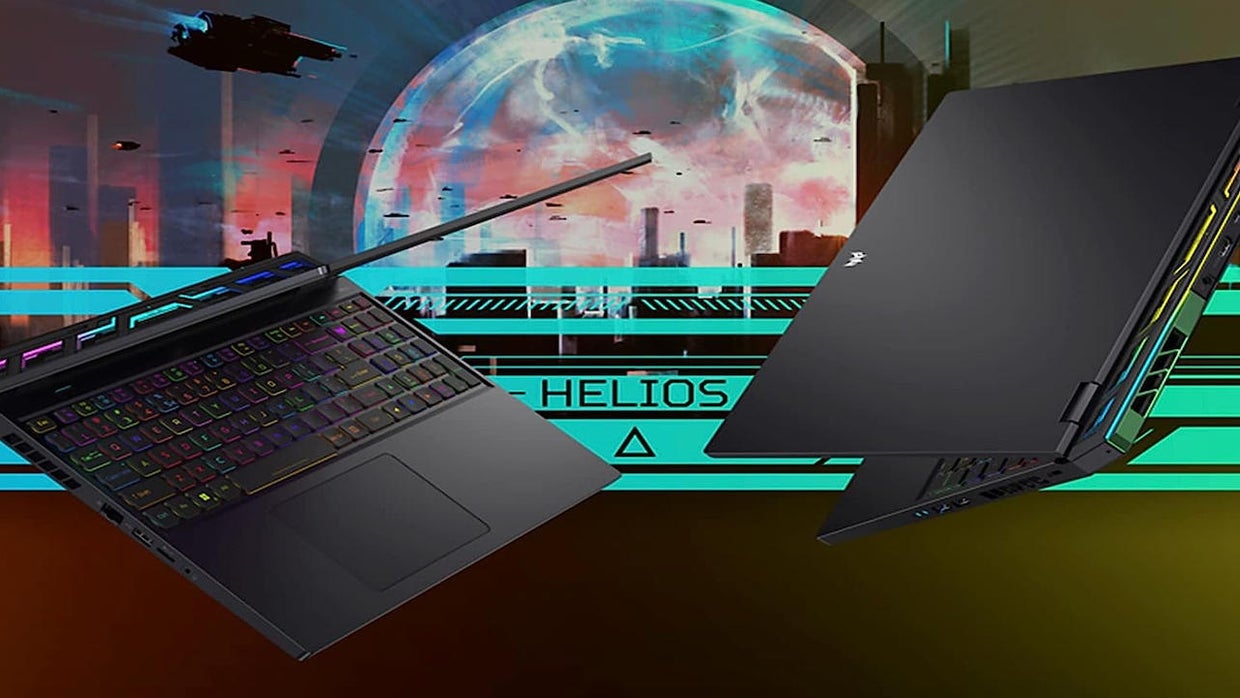 Amazon's Prime Big Deal Days sales event is on now, and it includes some seriously impressive deals on gaming laptops. So, if you've been looking for a computer that'll allow you to take your gaming to the next level, check out these Amazon deals on gaming laptops from Acer, HP, LG, Lenovo and more.
Related: How we select our products
One of the best deals available right now is on the Acer Nitro 5. It's currently 22% off, so you can get it for $700 (regularly $900). 
Which gaming laptop deal is right for you (or the person you're shopping for) will depend heavily on the user's gaming skill level and the types of games they enjoy playing. A highly-skilled gamer will want a more souped-up hardware configuration, with a powerful processor, a ton of RAM, plenty of internal storage, superior graphics capabilities and a strong battery life. An average gamer, however, can easily get away with a less costly configuration.
Many of these on-sale gaming laptops will make a great holiday gift for the gamer in your life. And if you're looking for some of the hottest gaming gift ideas, check out our coverage of the coolest Christmas gifts for PC gamers. Don't forget, a good pair of noise-canceling headphones (or earbuds) is the perfect companion to a gaming laptop.
Best October Prime Day gaming laptop deals
Amazon's current deals offer powerful gaming laptops at discounted October Prime Day prices. But be prepared to spend. A good Windows gaming laptop will usually cost at least $800, and experienced gamers may need to spend $1,500 or more.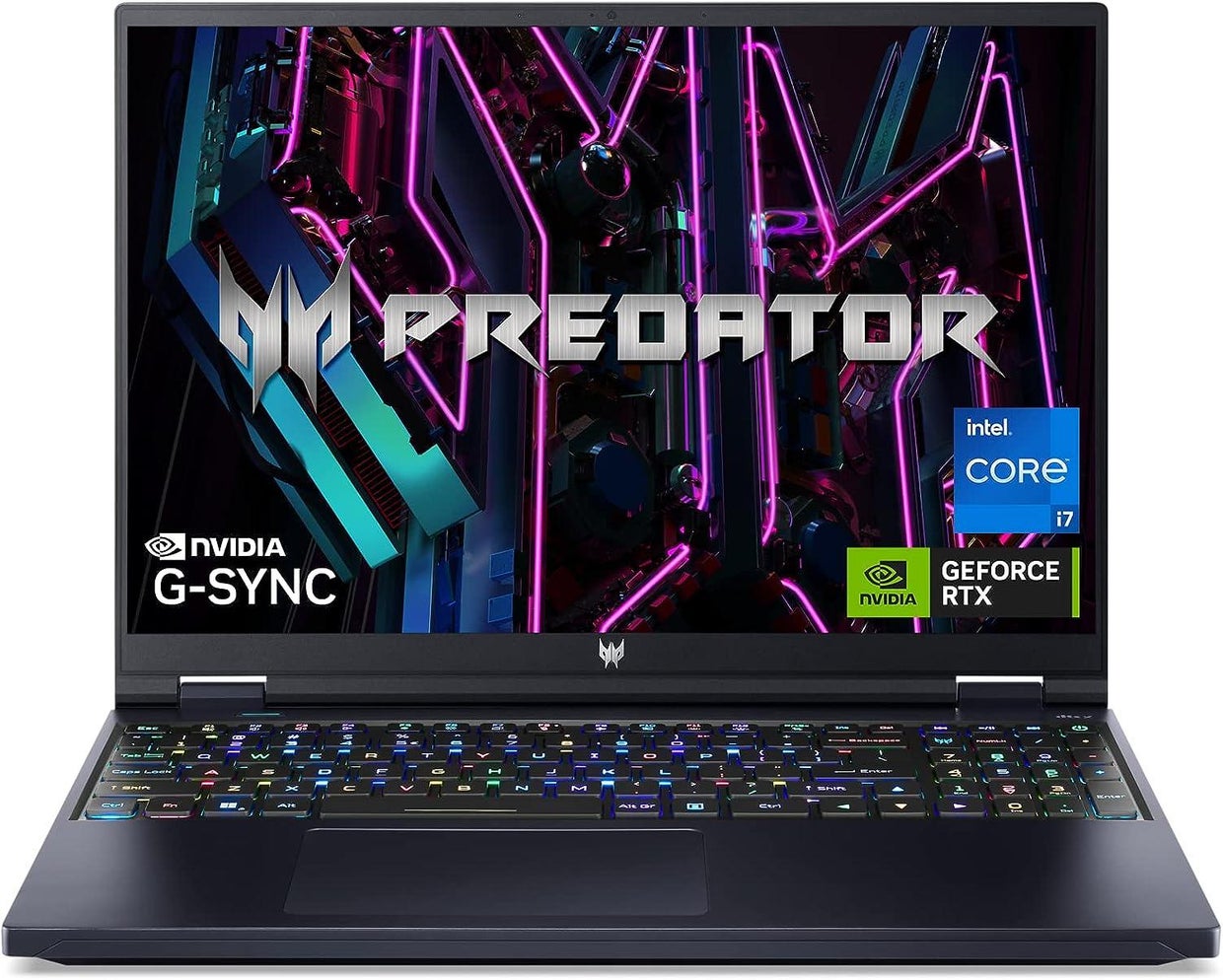 While several configurations are available on Amazon, this configuration of the Acer Predator Helios 16 comes with a 16-inch WQXGA LED (2,560 x 1,600 pixel resolution) display that has a 240Hz refresh rate and a 16:10 aspect ratio. It supports G-Sync and has 16GB of RAM and a 1TB SSD. For a processor, it uses a 13th generation Intel Core i-7-13800HX (with a dedicated RTX 4070 GPU). 
Windows 11 Home comes pre-installed. Whether you're playing your favorite games, streaming your conquests live on Twitch, or performing other higher-end computing tasks, this laptop is ready.
The Predator Helios 16 is also equipped with an Intel Killer E2600 Ethernet Controller and Intel Killer Wi-Fi 6E AX1675, so you're guaranteed fast Internet connectivity using a wired or wireless option. Plus, you get plenty of ports, including two Thunderbolt 4 USB-C ports and HDMI 2.1. 
Why we like the Acer Predator Helios 16: This computer doesn't just perform like a gaming laptop, thanks to the integrated LED lighting, it looks like one too. Even the keyboard offers per-key LED backlights. The computer is also nice and light. It weighs in at just 5.73 pounds.
---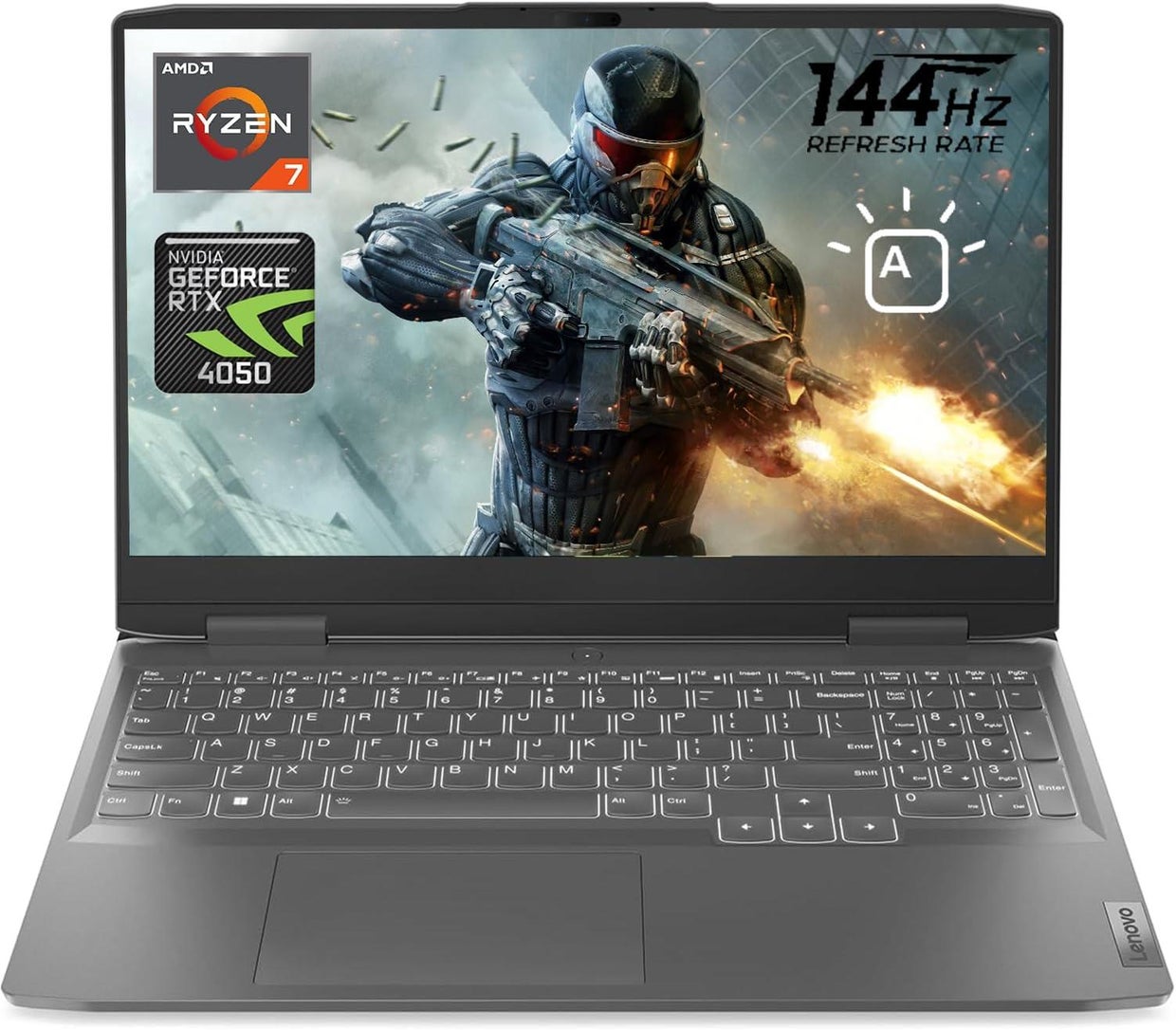 Here's another gaming laptop that comes nicely pre-configured and ready for even the most intense gaming action. This Lenovo LOQ is equipped with a beautiful 16-inch (1,920 x 1,200 pixel resolution) WUXGA display that supports GeForce RTX 4050 graphics. While this is not a touchscreen, it does have an anti-glare filter. The computer runs using an AMD Ryzen 7 7840HE processor and is bundled with 64GB of RAM and a massive 2TB SSD for storage. Windows 11 Home comes pre-installed.
Whether you're running a single game or multitasking when working with a few work or school-related apps, the Lenovo LOQ offers the computing power you need. And it comes with a generous selection of ports (including Ethernet), so you can connect your favorite gaming gear. Wi-Fi 6 is supported.
Why we like the Lenovo LOQ: This is a powerful gaming laptop currently being offered on Amazon at a very reasonable price. It's also a lightweight option at just 5.73 pounds.
---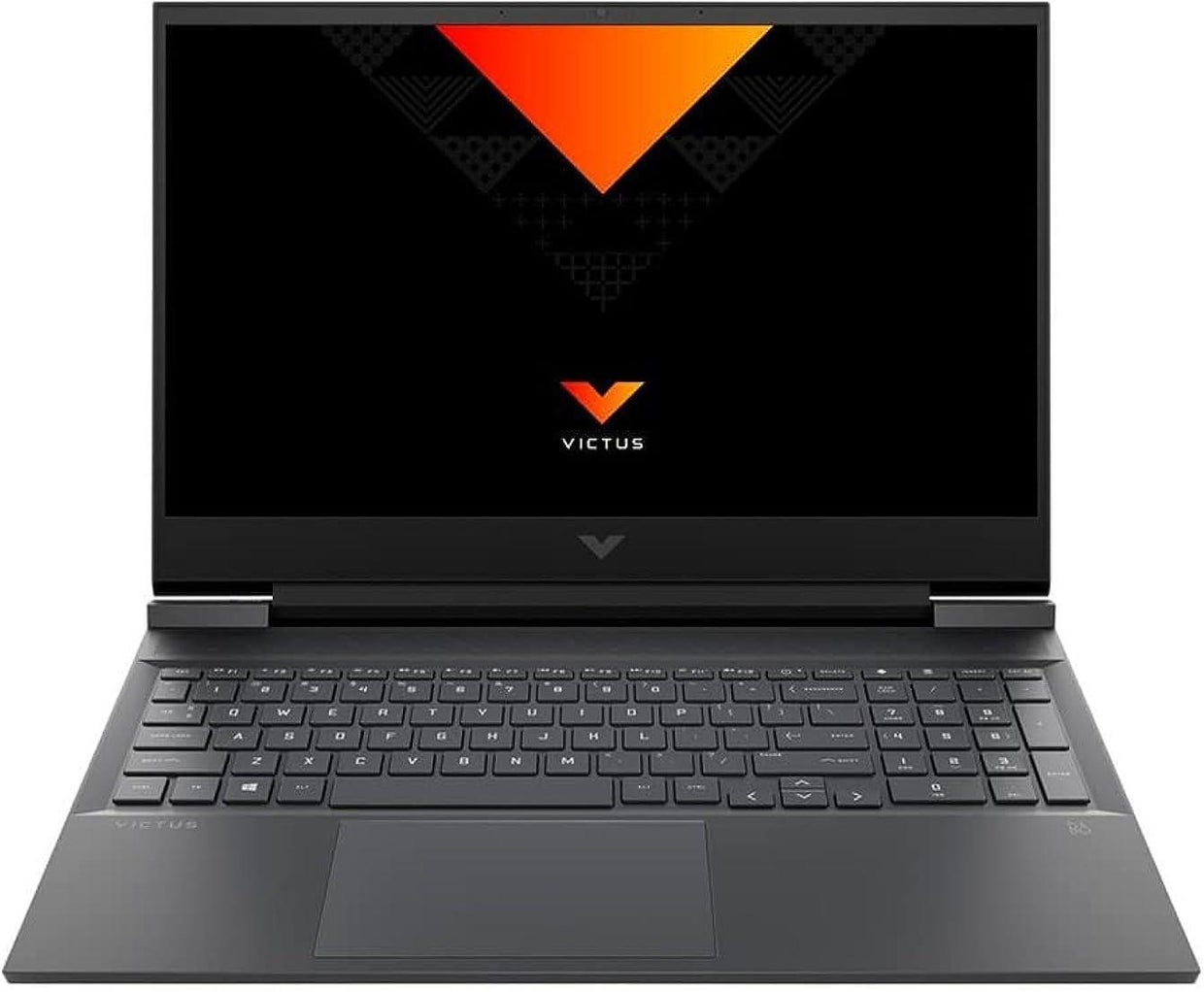 While this HP gaming laptop is not a fully-equipped powerhouse, like some others in this roundup, it comes with a configuration that'll allow average gamers to immerse themselves in popular games. It offers a 1080p resolution from a 15.6-inch display that supports a GeForce RTX 3050 Ti GPU. It's powered using an AMD Ryzen 7 5800H processor. This is the 2022 version of the HP Victus. It's configured with 16GB of RAM, a 512GB SSD for storage and has a full-size gaming keyboard. 
The HP Victus is powered using OMEN hardware and the OMEN Gaming Hub, so you can control and customize many aspects of your gameplay. Plus, when you're conversing with other gamers, the computer automatically removes unwanted background noise from audio, so you'll experience clear video chats, audio calls and in-game convos.
Why we like the HP Victus: It meets the recommended hardware requirements for top games, like "Apex Legends," "Call of Duty: Warzone," "Overwatch" and "League of Legends."
---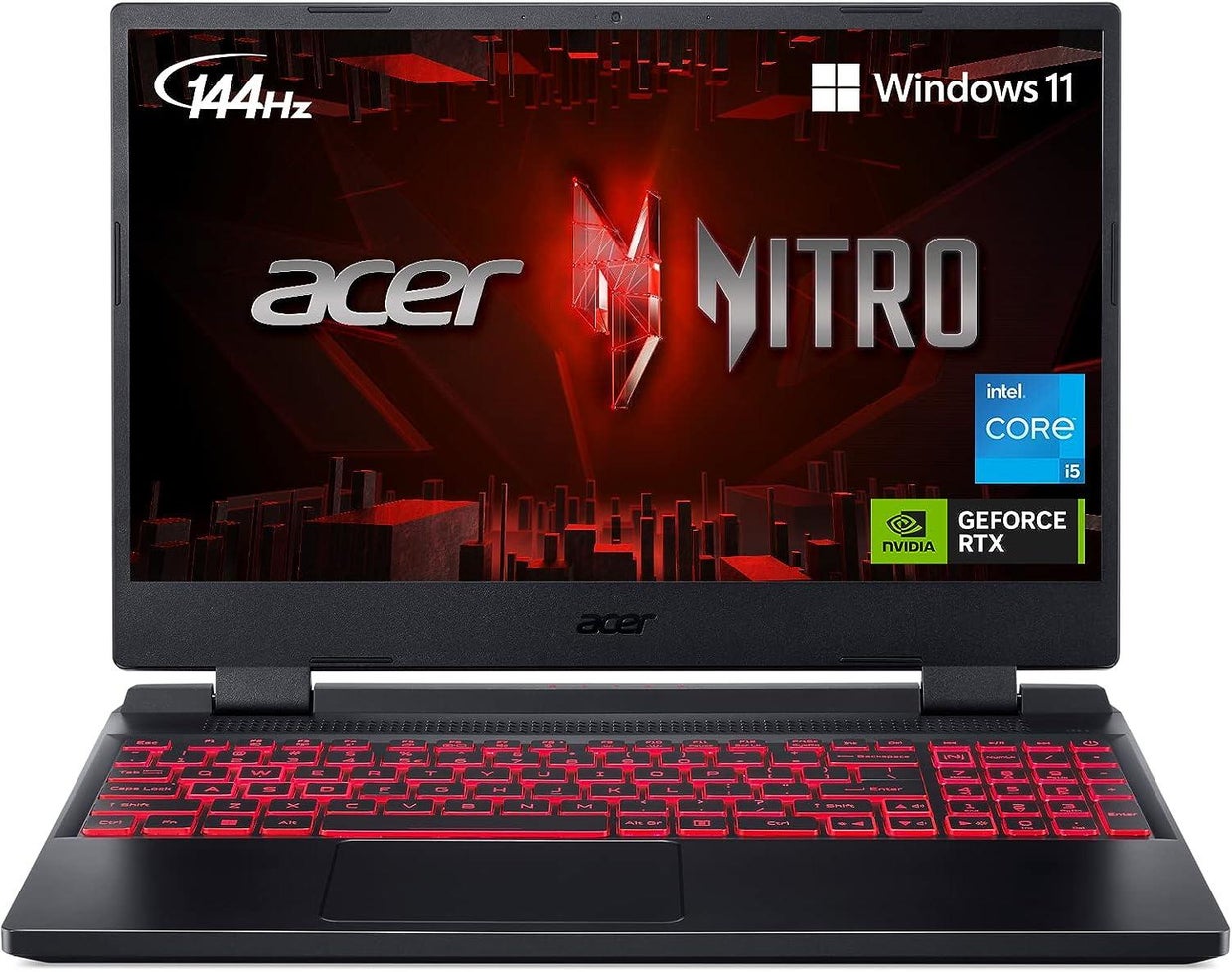 For gamers looking for an affordable laptop option, check out this Acer Nitro 5. It's powered using an Intel Core i5-12500H with a NVIDIA GeForce RTX 3040 Ti GPU. The LCD display is 15.5-inches (1,920 x 1,080 pixel resolution) and it offers a refresh rate up to 144Hz. You also get 16GB of RAM, plus a 512GB SSD. Intel Killer Ethernet E2600 and Killer Wi-Fi 6 AX1650 are included. It's also configured with a nice selection of other ports. 
This is a lower-priced and compact laptop, measuring 14.19 x 10.67 x 1.06 inches. It weighs 5.51 pounds and comes with Windows 11 Home pre-installed. Currently priced at just $700, the Acer Nitro 5 represents a really sweet deal.
Why we like the Acer Nitro 5: Thanks to the display's 144Hz refresh rate, you'll experience highly detailed and smooth graphics with minimal ghosting. We're also fans of the backlit keyboard which contributes to the gaming vibe.
---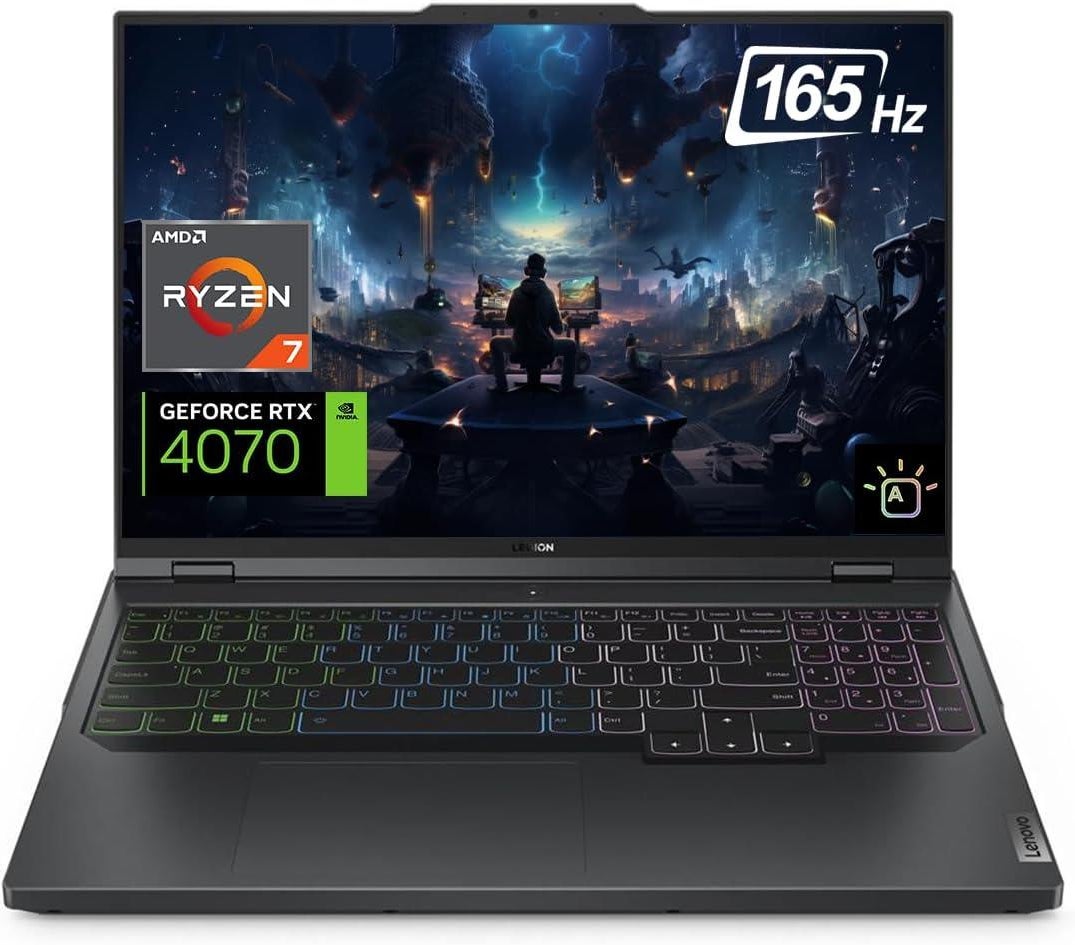 Featuring a stunning, 16-inch (2,560 x 1,600 pixel resolution) WQXGA display with a 165Hz refresh rate and a maximum brightness of 300 nits, this Lenovo gaming laptop is powered using an AMD Ryzen 7 7745HX processor. It uses a NVIDIA GeForce RTX 4070 GPU. The Legion Pro 5 Gen 8 comes nicely equipped with  64GB of RAM and two (yes, two) 2TB SSDs for storage. 
The keyboard features RGB backlighting that most gamers love. Windows 11 Home comes pre-installed. You also get a nice selection of built in ports, including Ethernet. Wi-Fi 6E and Bluetooth 5.1 are supported. The Lenovo Legion Pro 5 Gen 8 measures 14.3 x 10.3 x 1.1 inches and weighs 5.5 pounds. 
Apply the Amazon coupon to save an extra $100.
Why we like the Lenovo Legion Pro 5 Gen 8: While we would have liked to see a maximum brightness higher than 300 nits, the non-touch display offers an anti-glare filter and supports 100% sRGB.
---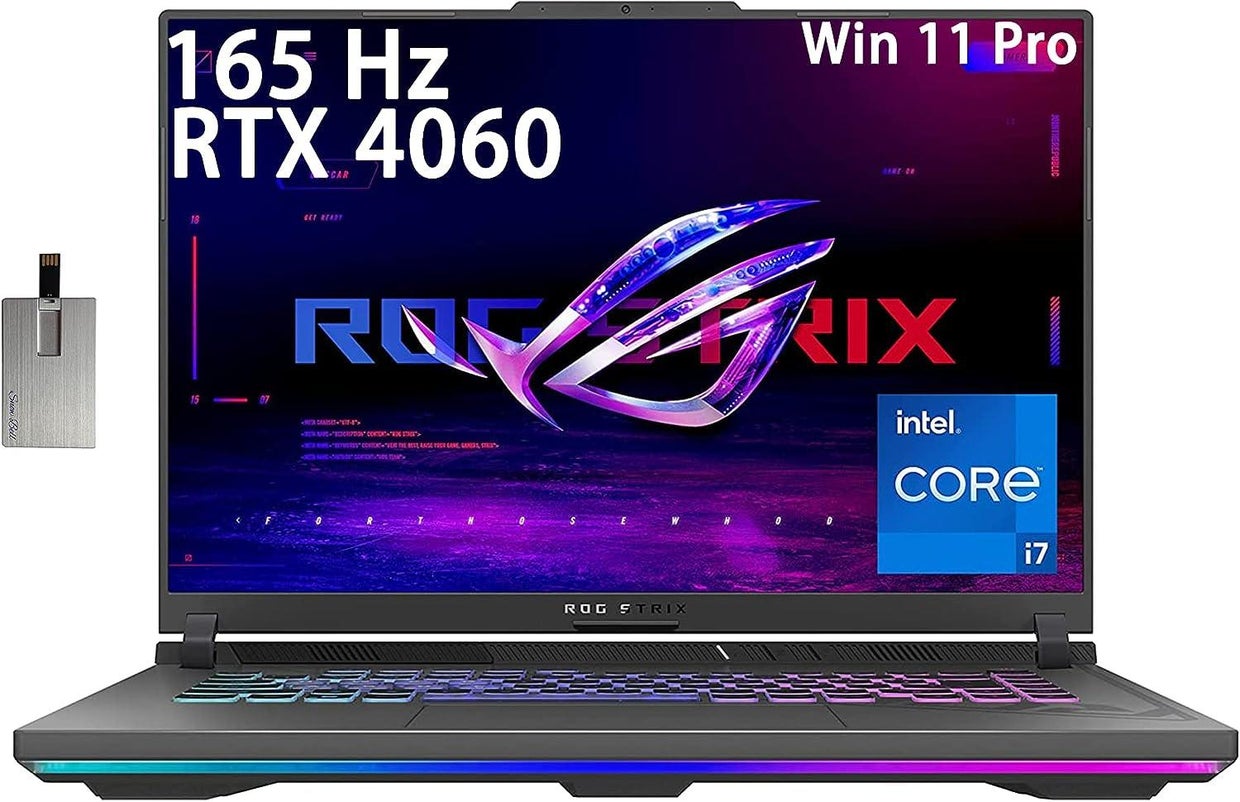 It's not often that you'll find the current model of a gaming laptop with its price slashed by 16%, but in advance of Amazon's Big Deal Days sales event, you're in luck.
The 2023 version of the Asus ROG Strix G16 is now on sale for $1,469. The computer comes equipped with a 16-inch (1,920 x 1,200 pixel resolution) WUXGA display with a 165Hz refresh rate. The display supports Dolby Vision. The computer is powered by an Intel Core i7-13650HX processor with a NVIDIA GeForce RTX 4060 GPU. You also get 32GB of RAM and a 2TB SSD. The keyboard offers four zone RGB backlighting, plus a selection of programmable hotkeys. Windows 11 Pro comes pre-installed.
This computer measures 13.94 x 10.39 x 0.89 inches and weighs 5.51 pounds. The internal speakers support Dolby Atmos. Built into the Acer 2023 ROG Strix G16 are a nice collection of ports, including Ethernet, a DisplayPort and HDMI. For wireless connectivity, the computer relies on Wi-Fi 6E and Bluetooth 5.3.
Why we like the Acer 2023 ROG Strix G16: This is a nicely equipped gaming laptop that offers the power needed to showcase extremely detailed and smooth graphics, even when playing the fastest and most intense games out there.
---
What you should look for when buying a gaming laptop
A gaming laptop needs computing power from its processor and GPU. The CPU and GPU can't be upgraded in a laptop later, so it's essential to get the most powerful options you can afford. After all, most games rely heavily on a computer's GPU (as much as its processor). For the average gamer, a RTX 4050 GPU (or equivalent) will be adequate. For someone who's more experienced, the RTX 4070 (or better) will be a better fit.
For a CPU, we recommend an Intel Core i7 or even a Core i9 (or equivalent), but for the average gamer, a less expensive Intel Core i5 (or equivalent) will likely be adequate. To achieve the best gaming experiences possible, you want the computer to be equipped with plenty of RAM (at least 32GB) and internal storage. We recommend an SSD with at least 1TB capacity, although bigger is better. 
As for the display, our in-house gaming experts suggest one that's at least 15-inches, with a resolution of at least 1,920 x 1080. However, the higher the resolution of the display, the better. The display should also offer a fast refresh rate (480Hz or faster is ideal) and a 16:10 aspect ratio. Gamers also typically want an integrated mechanical keyboard that's sturdy. It should offer integrated RGB lighting, which is a feature most gamers love.
To eliminate screen lagging and ghosting, look for a gaming laptop that supports G-Sync and/or AMD FreeSync. While this may seem counterintuitive, a touchscreen for a gaming laptop is not at all essential. In fact, you might want to avoid one, since they often suck up battery life and offer overly-glossy screens can be annoying. 
Some of the latest gaming laptops offer OLED displays. These allow for even sharper and more vibrant graphics, but often have slower refresh rates than what you get from LED displays (used by most gaming laptops). The display's maximum brightness should also a consideration, especially if you'll be gaming in brightly lit spaces. While a maximum brightness of at least 500 nits is fine, over 1,000 nits will work better in well-lit areas.
The problem with gaming laptops is that their battery life is typically very short. Don't expect to get more than six hours of continuous gaming per charge from even the most souped-up computers. As with any computer, the more impressive the specs, the more you can expect to pay. However, when you find popular gaming laptops on sale, you can typically get more computing power for a lot less money.
---
When is Amazon Big Deal Days?
The Amazon Big Deal Days sales event (also known as October Prime Day) kicks off tomorrow and runs through Wednesday, Oct. 11, 2023.
---
What else is on sale during Amazon Big Deal Days?
Amazon is offering some really great deals on all forms of consumer electronics, from TVs to robot vacuums. You'll be able to save big on projectors, laptop computers, tablets, headphones and earbuds, smartwatches, cameras and a wide range of smart home products. And that's just in the tech department.
During the Amazon Big Deal Days sales event, you'll also find big discounts across all of Amazon's departments, including home, fashion, beauty, kitchen and baby. This is the perfect time to kick off (and potentially even finish) your holiday shopping, without having to deal with Black Friday crowds and having the gifts you want to purchase being sold out. You'll find deals on luggage for your holiday travels, too.
---
Do you need to be a Prime Member to shop Prime Big Deal Days deals?
While some of the best Amazon Prime Big Deal Days offers are Prime-exclusive or invite-only, there will also be tons of deals that are open to all shoppers. So even if you don't have an Amazon Prime membership, there will be deals available to you.
If you want to shop the best deals, though, you'll want to sign up for a 30-day free trial of Amazon Prime. Prime memberships costs $14.99 per month or $139 per year, and include access to Amazon Prime Video (Thursday Night Football) and a number of other great perks.
---
What other stores are holding competing early Black Friday sales?
Savvy shoppers know that any of the Amazon Prime Day events offer the perfect time to find tens of thousands of popular products on sale from Amazon, including some at their lowest price of the year. However, many other popular online and retail merchants, like Walmart, Target, Best Buy and even your favorite department stores, like Macy's, all tend to kick off sales either at the same time or around the same dates as Amazon Big Deal Days.
Best Buy's 48-Hour Flash Sale is happening on Oct. 10 and Oct. 11, the same days as Amazon's Prime Big Deal Days.
Walmart's Holiday Kickoff sale will run from Oct. 9 through Oc. 12.
---
Do products on sale during Amazon Big Deal Days sell out?
You bet they do — and sometimes things sell out within hours. If you see something on sale that you want to get your hands on during the Amazon Big Deal Days sale, order it right away. Often, quantities are limited. Once a product is sold out at the sale price, Amazon won't always restock right away and when it does restock, the sale price likely won't be offered.
---
Can products bought from Amazon during Amazon Big Deal Days be returned?
Unless it specifically states in the product description or near the "add to cart" and "buy now" buttons that the product being offered on sale is a final sale or not returnable, Amazon's regular return policy for that product will be honored. 
On the right side of a product description on Amazon, just below the "buy now" button (and where it says "ships from and sold by"), look for the heading that says "returns." 
If the text says, "eligible for return, refund or replacement within 30 days of receipt," that's the return policy that will be honored. However, you may be responsible for paying return shipping to Amazon, unless you drop off the product as a Whole Foods or Kohl's, which accepts some Amazon returns.
---
The best October Prime Day deals at Amazon to shop now
The shopping experts at CBS Essentials are keeping track of the best deals on Amazon right now. Check out our coverage of Prime Big Deal Days below.
Best October Prime Day tech deals to shop now
The Prime Big Deal Days sale is one of your best opportunities this holiday season to save big on the hottest tech of 2023. Here are the best deals to shop now, while they're available.
Best October Prime Day home deals to shop now
Need a new robot vacuum, mattress or maybe a new set of tools? Amazon has deals on all that and more during its Big Deal Days early Black Friday sale.
Best early Black Friday deals at other retailers

Amazon isn't the only retailer holding an early Black Friday sale today. Here are more retailers offering deals.