Meghan Markle and Prince Harry's former top aide described being "forced to chant 'death to America,' 'death to Israel'" while growing up in Iran.
Mandana Dayani was president of Harry and Meghan's Archewell Foundation from June 2021 until December 2022 and spoke on social media about "activist" protesters whom she said "post terrorist propaganda."
Her comments come after Hamas terrorists launched an attack in southern Israel on Saturday, with the death toll climbing above 1,200, according to Reuters.
Israel since has been bombing the Gaza Strip and initiated a blockade that has seen the Palestinian territory's power station run out of fuel. Reuters reported more than 900 Palestinian deaths.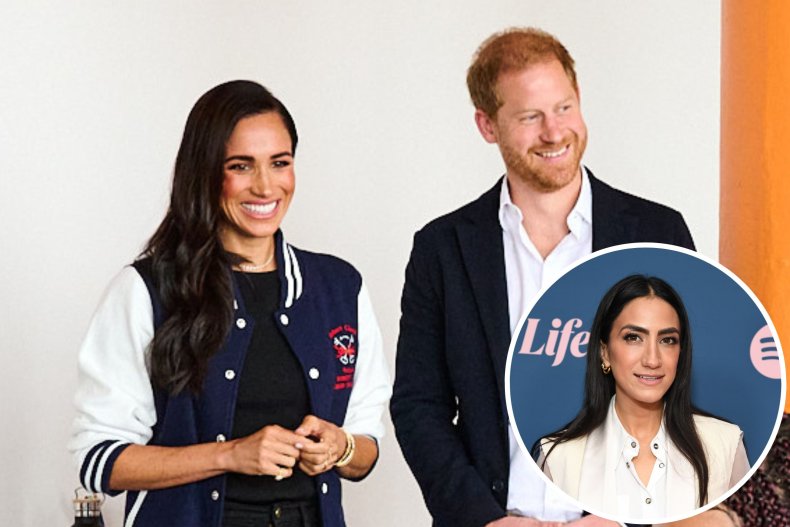 Dayani posted a video on X, formerly Twitter, where she said: "So I was born in Iran under the same regime that is supporting Hamas right now. And every single morning, we were forced to chant 'death to America,' 'death to Israel' and its almost shocking to watch these Americans support an organization that wants them dead and hates every single thing about their values.
"And the fact that you're all choosing to support a terrorist organization, and no you absolutely do not get to f****** rebrand Hamas as something other than a terrorist organization… the fact that you're choosing to defend the same people that use suicide bombers and beheading soldiers because somehow you've convinced yourself through all of this propaganda that they're somehow like freedom fighters, that they have no choice is so beyond delusional.
"You know who had no choice? The six million of my ancestors that were forced into gas chambers. And you know what they never did?
"They never raped and murdered and kidnapped German children because you don't do that unless you are a barbaric terrorist organization."
"You sit there and post terrorist propaganda," she added, "and somehow think that that makes you an activist or someone with some sort of deranged liberal values, you're going to rallies in Montreal, New York, Paris and London and celebrating the death of hundreds and hundreds of jews that were slaughtered on a religious holiday in their sleep.
"You think this is liberal? You think this is liberation? You think this is resistance? Where is your humanity."
Dayani's intervention came after King Charles III broke his silence on the conflict in the Middle East on Wednesday.
A spokesperson said: "This is a situation His Majesty is extremely concerned about, and he has asked to be kept actively updated.
"His thoughts and prayers are with all of those suffering, particularly those who have lost loved ones, but also those actively involved. His Majesty is appalled by and condemns the barbaric acts of terrorism in Israel."
The United Nations Office for the Coordination of Humanitarian Affairs said: "Over 263,934 people in Gaza are believed to have fled their homes."
Hamas responding to comments by U.S. President Joe Biden describing the attack as "evil" with a statement released to Newsweek saying that the president's words were "giving full cover" to Israel "to continue its massacres against defenseless children, women and the elderly."
Jack Royston is chief royal correspondent for Newsweek, based in London. You can find him on X, formerly Twitter, at @jack_royston and read his stories on Newsweek's The Royals Facebook page.
Do you have a question about King Charles III, William and Kate, Meghan and Harry, or their family that you would like our experienced royal correspondents to answer? Email royals@newsweek.com. We'd love to hear from you.