Representative Nancy Mace, one of the eight Republicans who voted to oust Kevin McCarthy as House speaker, walked into a closed-door candidates forum with a red "A" on her white shirt, igniting an avalanche of jokes at her expense.
Mace donned what she reportedly dubbed her "scarlet letter" as she entered a candidates forum on Tuesday evening where the leading contenders to replace McCarthy at the podium, Majority Leader Steve Scalise and House Judiciary Committee Chairman Jim Jordan, were scheduled to address their GOP colleagues. The House is scrambling to select a new speaker after Mace and seven other Republicans joined Democrats to vacate McCarthy from the speakership. While Jordan has landed the endorsement of GOP presidential front-runner and former President Donald Trump, he is unlikely to garner the necessary 218 votes to earn the gavel.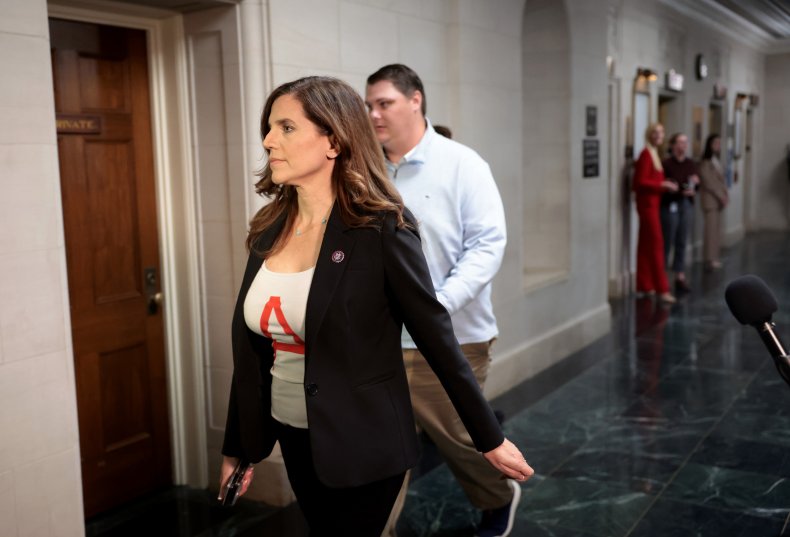 The South Carolina Republican's attire to the forum appears to be a nod to Nathaniel Hawthorne's classic 1850 novel, The Scarlet Letter, in which the main character, Hester Prynne, is forced to wear a scarlet A. In the book, set in the Puritan Massachusetts colony from 1642 to 1649, the letter serves as a public symbol of adultery and designed as punishment for Hester after she gives birth out of wedlock.
Newsweek reached out via Mace's website on Tuesday for comment.
Video shared by NBC News reporter Gary Grumbach on X, formerly Twitter, of Mace's shirt quickly went viral on the platform, amassing more than 1.7 million views and thousands of replies just two hours after posting.
"SC Rep. Nancy Mace is wearing a t-shirt with the letter 'A' on it," Grumbach said in the post. "When asked what it stands for, she said it's her 'Scarlet letter.'"
Mace's fashion choice sparked a slew of jokes on social media where multiple users questioned if the conservative lawmaker was making a public admission of adultery.
Some people said they didn't "get" the meaning behind Mace's shirt.
"Because she committed adultery in 1642? I don't get it," DrSandman11 posted on X.
Another X user shared a GIF of Alvin from the 2007 film Alvin and the Chipmunks in response to the video of Mace's "scarlet letter."
Others mocked the shirt choice, calling it "awkward."
One X user said that actress Demi Moore, who played Hester in the 1995 film, wore the iconic "A" better.
Some on social media questioned if Mace even knew the plot of The Scarlet Letter.
"Nancy Mace when asked if she knows what The Scarlet Letter is about," ThrillWHill posted on X.