The Las Vegas Sphere has mesmerized viewers since it was illuminated for the first time this summer.
Since, the Sphere has taken a number of different forms, including Earth, Mars, an enormous eyeball and many more – some more disconcerting than others.
But the gigantic construction is capable of more than just fancy colors and designs. Apparently, it can also judge visitors to the Wynn Golf Club in Las Vegas, Nevada, for their ability (or lack thereof) to drive off the tee.
The golfers involved in this video seemed to take the trolling in stride – the Wynn Las Vegas account posted an eyes emoji as a comment.
"Aside from this encounter we actually had a blast playing your golf course!" the original poster responded.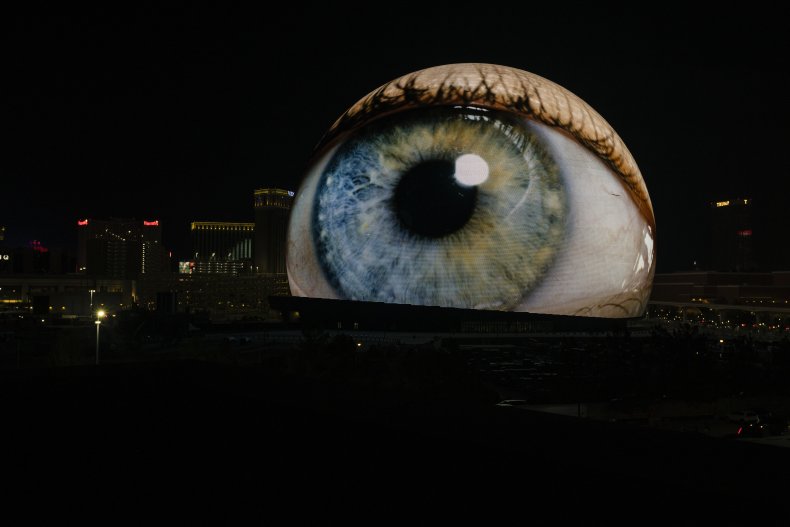 For those of us who aren't particularly good at golf, the idea of trying to hit a ball hundreds of yards under the watchful gaze of a gigantic judgmental orb sounds nightmarish, but perhaps some golfers like a little bit of additional pressure (as if the $600 greens fees at the Wynn Golf Club weren't pressure enough).
The Sphere was built by the Madison Square Garden Company, which is owned by Knicks owner James Dolan. Groundbreaking took place in 2018, and while the pandemic briefly halted construction, the project was completed earlier this year. Initial estimates placed the project cost at $1.2 billion, but MSG eventually surpassed $2.3 billion, making it the most expensive entertainment venue in Las Vegas history.
The interior boasts an array of state-of-the-art amenities. The rock band U2 took the stage last month, performing in front of a huge screen that featured clips and animations to enhance the experience. The Sphere is also hosting a movie by Darren Aronofsky, which the venue's website describes as "part sci-fi story, part nature documentary."
But most of the Sphere's viral moments thus far involved the outside. One of the earliest came in July when the NBA's annual Summer League arrived. The Las Vegas Summer League is one of the biggest events on the NBA calendar, and the Sphere welcomed visitors to Las Vegas in style.
On Monday, when the Packers took on the Raiders for ESPN's Monday Night Football, the Sphere lit up with the MNF logo.
So let it be known that the Sphere can be welcoming when it wants to be. It just thinks you should have kept your head down before you went to grip and rip off the tee.
Uncommon Knowledge
Newsweek is committed to challenging conventional wisdom and finding connections in the search for common ground.
Newsweek is committed to challenging conventional wisdom and finding connections in the search for common ground.