Los Angeles Chargers running back Austin Ekeler told reporters at practice Tuesday that there is a "99 percent" chance he plays in Week 6.
Having Ekeler back in the lineup for a Monday Night Football matchup with the Dallas Cowboys would be a welcomed sight for the Chargers. The 28-year-old has missed three games since he suffered an ankle injury in a season-opening loss to the Miami Dolphins. Ekeler previously described the injury as a "day-to-day, week-to-week" situation on his weekly "Ekeler's Edge" podcast. The Chargers are coming off of their bye week, which seems to have provided Ekeler with enough time to mend his ankle.
"Here's the update with the ankle," Ekeler said while streaming last week. "It's the bye week, so we have a lot of time to rest up and get this thing right. Mostly for me, I'm mentally drained by not being on the field. It sucks so much. So, the time is coming. We have a long time between now and Monday Night Football versus the Cowboys. Expecting by then to be back for sure."
Ekeler told reporters he was a full participant in practice Tuesday.
Despite not having their star running back on the field, the Chargers are back at .500 after starting the season 0-2. Here's a look at how the Los Angeles ground game and passing attack have fared without Ekeler, plus why fantasy football fans are about to be happy.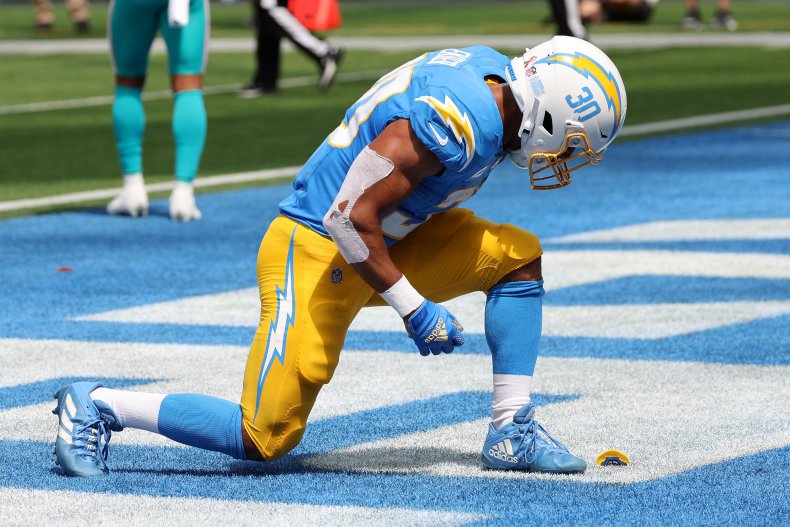 How Chargers Performed Without Ekeler
Ekeler entered the 2023 season coming off career-highs in rushing yards (915), rushing touchdowns (13), and receptions (107). It seemed the 5-foot-10 running back was well on his way to another standout campaign after totaling 164 yards from scrimmage and a touchdown in Week 1.
But injuries have a way of interfering with production.
Ekeler has missed consecutive games for the third time in his career but the latest injury spell marks the first time since 2020. The running back was hopeful to make it back for Week 4, though eventually stayed sidelined.
"If you know Austin, you know he's going to do everything he can do to get back," Chargers coach Brandon Staley said earlier this season.
Now, Ekeler is back. And the Chargers could sure use him.
In the three games in which Ekeler was out of the lineup, the Chargers barely matched their Week 1 total in rushing yards. Los Angeles ran for 233 yards overall with Ekeler healthy, then 246 from Weeks 2 to 4. Chargers quarterback Justin Herbert also didn't have his go-to safety valve in the passing game with Ekeler out.
Joshua Kelley, the Chargers' primary running back in Ekeler's absence, caught one pass on two targets with Ekeler injured. The Chargers passing game is in need of a reliable target now that wide receiver Mike Williams is out for the season with a torn ACL. Ekeler provides just that. The undrafted star has caught 393 passes over his seven-year NFL career.
Ekeler's Return a Win for Fantasy Football Fans
There may not be anyone who plays football who embraces fantasy football more than Ekeler.
The running back from Lincoln, Nebraska, often speaks about his love for the fake version of the sport he actually plays. Ekeler has played in multiple fantasy football leagues for years, he has said, and he often names his teams the "Fighting Ekelers." Part of the reason Ekeler may enjoy fantasy football so much at this point is because of how valuable he is in those virtual games.
Ekeler has finished as a top-five running back, in points per reception (PPR) formats, in three of the last four seasons, according to the fantasy football platform Sleeper. And Ekeler was widely regarded as the top fantasy RB again ahead of the 2023 season.
After his Week 1 performance, Ekeler joined a Sports Illustrated podcast to share a message for his fantasy managers.
"All of you fantasy owners out there, if you have me on your team, you're gonna be OK," Ekeler said. "All of you other people, I don't know."
With Ekeler finally back in the lineup, they actually will be OK. Ekeler went on to say that he couldn't draft himself in all of his leagues this season. In one particular league, Ekeler said, he drafted Las Vegas Raiders wide receiver Davante Adams with the No. 14 pick. Ekeler said he likes drafting himself because that's the only thing he can really control in fantasy football.
But Ekeler did get some Chargers representation on his team by eventually drafting Herbert. That pick was made, in part, because Ekeler knew he'd be catching passes and scoring touchdowns for Herbert, boosting his points.
Last week, Ekeler joked on his podcast about trying to trade for himself in fantasy now that he's about to see the field again.
Uncommon Knowledge
Newsweek is committed to challenging conventional wisdom and finding connections in the search for common ground.
Newsweek is committed to challenging conventional wisdom and finding connections in the search for common ground.