How to watch tonight's Denver Broncos vs. Kansas City Chiefs game on TNF: Will Travis Kelce play?
If there's anything the 2023 NFL season has taught us coming into Week 6, it's to expect the unexpected. The Denver Broncos head to Arrowhead Stadium to face Kelce's Kansas City Chiefs. The 1-4 Russell Wilson-led Broncos have struggled all season, while the Chiefs overcame a humbling Week 1 loss to the Detroit Lions and have remained undefeated ever since. While the odds are on the Chiefs' side in this Thursday Night Football Week 6 game, this is the season of surprises. Anything's possible. Just ask Travis Kelce.
Related: Best gifts for Kansas City Chiefs fans (and Taylor Swift fans, too)
Kelce is listened as questionable for Thursday's game against the Broncos after he suffered a low-ankle spraine during the Chiefs Week 5 victory over the Minnesota Vikings. 
---
How to watch tonight's Denver Broncos vs. the Kansas City Chiefs game on TNF
The Thursday Night Football game between the Broncos and the Chiefs will be played Thursday, October 12 at 8:15 p.m. ET. It will stream exclusively on Amazon Prime. If you're not an Amazon Prime member yet, but you want to stream the game, Prime is offering a one-week membership for just $1.99.
Already an Amazon Prime member? You can tap the button below to watch the game, or stream it via the Amazon Prime Video app on your phone, tablet or smart TV.
---
Waiting for the game to start? Check out Amazon's new Thursday Night Football store
If you're waiting for today's game to begin, now is a great time to check out Amazon's new Thursday Night Football store. Every week, Amazon updates the store with the best fan gear and gift ideas for fans of the two teams playing. (You'll also see some of Amazon's best post-Prime Big Deal Days offers if you missed them this week.)
This week, the Amazon TNF store is filled to the brim with the best Denver Broncos fan gear and the best Kansas City Chiefs fan gear you can buy through the retailer, including jerseys, team flags, T-shirts, hoodies and more. Tap the button below to head directly to the Thursday Night Football store page on Amazon.
---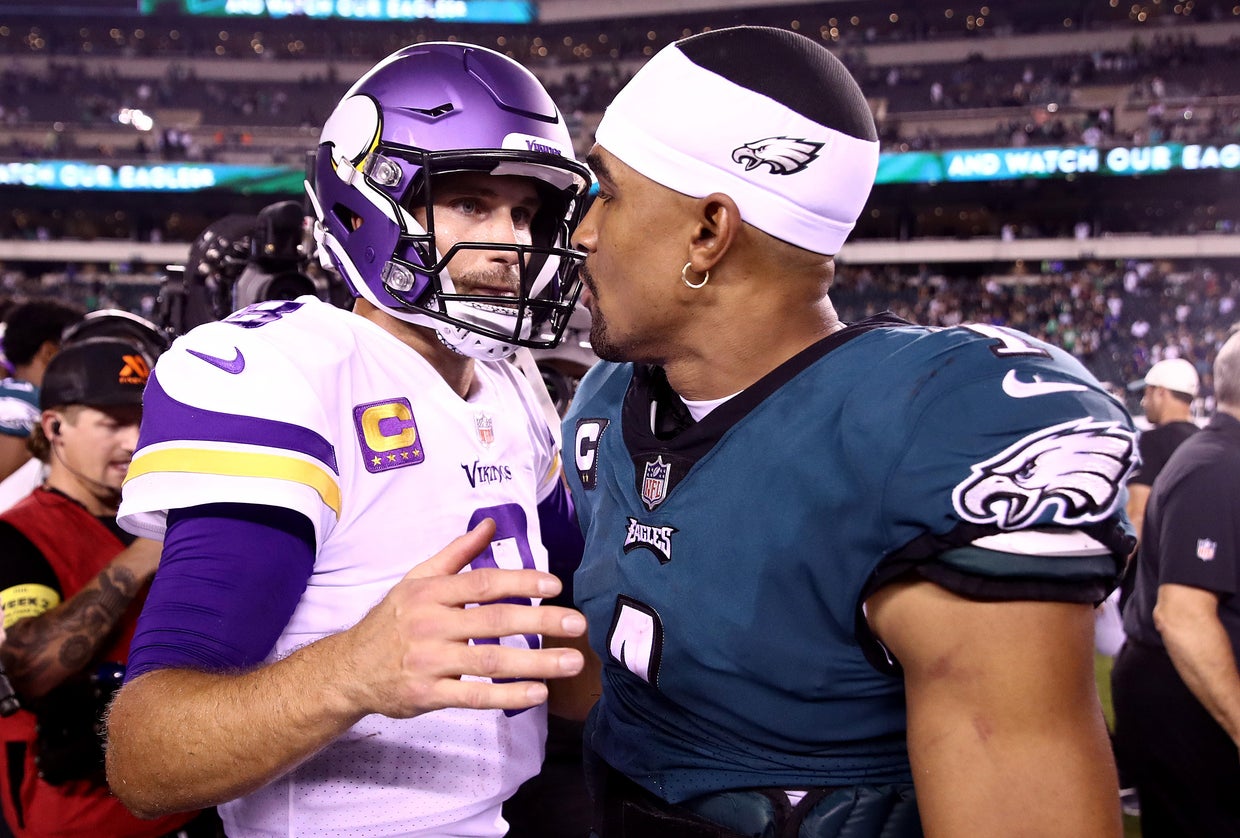 Starting in 2022, Amazon became the exclusive carrier of Thursday Night Football (TNF). This season, Prime ups its coverage with a riveting Thursday Night Football schedule that includes all 14 playoff teams from the 2022-2023 NFL season.
Thursday's pre-game coverage begins at 7:00 p.m. ET (4:00 p.m. PT).  Not only will fans watch two superstar quarterbacks face off, fans will experience the amazing new tech Amazon added to its Emmy-nominated coverage during the postseason.
Using AI-driven technology, Prime will display defensive alerts that highlight the player most likely to be able to blitz the quarterback. The feature uses real-time data and AI, which tracks players movements before the snap. All the new tech will live inside Prime Vision, Amazon's alternate Thursday Night Football stream with various graphic overlays on the screen that give viewers real-time data and analytics.
In addition to TNF, this season's Black Friday game, which will be played Week 12 on November 24 — Miami Dolphins vs. the New York Jets — will air exclusively on Amazon Prime, as well.
Amazon Prime is $1.99 for the first week. After one week, Prime is $14.99 per month ($139 annually) for all Thursday Night Football games, the NFL's first-ever Black Friday game, two-day shipping and Prime deals on Prime Day and Amazon Prime Day deals.
---
Watch the Broncos vs. Chiefs game on your phone with NFL+
If you want to catch this game on your phone — and all the amazing football ahead this season — check out NFL+. The premium streaming service, starting at $40 per year (or $7 per month), offers access to NFL Network. And yes, that includes games being broadcast out-of-market. To boost your NFL experience even further, you can upgrade to NFL+ Premium with NFL RedZone and watch up to eight NFL games simultaneously. A seven-day, free trial is available.
Top features of NFL+:
You get access to all NFL preseason games, including those that are out of market.
NFL+ lets you watch stream local and primetime regular season games on your phone or tablet, but not your TV.
Includes the NFL Network (and NFL RedZone with NFL+ Premium), so it's a good option for those who are looking to stream football on the go.
---
2023 NFL Season: Week 6

The 2023 NFL Season Week 6 schedule is below. All times listed ET. The game you see broadcast locally will depend on your geographical area. (*) Indicates broadcast is not available in all areas.
Thursday, Oct. 12
Chicago Bears vs. Washington Commanders, 8:15 p.m. (Fox*/Prime Video)
Sunday, Oct.15
Baltimore Ravens vs. Tennesse Titans, 9:30 a.m. (Live from London on NFL+) 
Carolina Panthers vs. Miami Dolphins, 1:00 p.m. (CBS)
New Orleans Saints vs. Houston Texans, 1:00 p.m. (Fox)
Washington Commanders vs. Atlanta Falcons, 1:00 p.m. (CBS)
Indianapolis Colts vs. Jacksonville Jaguars, 1:00 p.m. (CBS)
Seattle Seahawks vs. Cincinnati Bengals, 1:00 p.m. (CBS, ABC*)
Minnesota Vikings vs. Chicago Bears, 1:00 p.m. (Fox)
San Francisco 49ers vs. Cleveland Browns, 1:00 p.m. (Fox)
New England Patriots vs. Las Vegas Raiders, 4:05 p.m. (CBS)
Detroit Lions vs. Tampa Bay Buccaneers, 4:25 p.m. (Fox Sports, You Tube Primetime/NFL Sunday Ticket)
Arizona Cardinals vs. Los Angeles Rams, 4:25 p.m. (Fox)
Philadelphia Eagles vs. NY Jets, 4:25 p.m. (Fox)
NY Giants vs. Buffalo Bills, 8:20 p.m. (NBC)
Monday, Oct. 16
Dallas Cowboys vs. LA Chargers, 8:15 p.m. (ABC, ESPN)
---
Storylines we're following in the 2023 NFL season
Important dates to remember: 
The 2023 NFL regular season runs today through Jan. 7, 2024. 
Playoffs are scheduled for January 13 through Jan. 28, 2004.
Super Bowl LVIII is scheduled for Feb. 11, 2024 in Las Vegas.
Will Dak get to the Super Bowl (or close)? The Cowboys were off to a splashy 2023 season start, 3-1 coming into Week 5. QB Dak Prescott promised to throw less picks than last season when he led the league for picks thrown. He's at four this season. Cowboys fans hope he makes good on his promise.  But Dak's bigger focus is taking the Cowboys to the Super Bowl. Judging by the Cowboys' performance in Week 5, getting past the mighty San Francisco 49ers this season is going to be tough. But then again, it is for everybody.
Taylor Swift is the only thing bigger than the NFL: While Swifties were quick to 'ship Travis Kelce and Taylor Swift after the Eras Tour star showed up at Arrowhead Stadium during the Kansas City Chiefs Week 3 game against the Chicago Bears, Tay Tay herself seems all-in on her budding romance with the Chiefs superstar tight end. The Taylor-effect on the NFL has been massive, from Kelce gaining over half-a-million new Instagram followers in a day, to the NFL finding an entirely new fan base in Taylor-loving younger women — a coveted audience for the league.  The NFL has fully embraced the league's newest ambassador, friendship bracelets and all, much to the chagrin of Kelce who admitted on his podcast the league has "gone too far" with its Swelce/Kelswift coverage.  
That 49ers defense is dangerous: Brock Purdy silenced naysayers last season when he took over after both QBs Trey Lance and Jimmy Garoppolo suffered season-ending injuries. Coach Shanahan traded Lance and gave Purdy the starting job this season with little trepidation that the last pick of the 2022 NFL Draft had what it takes. Shanahan's decision has paid off five weeks in, the team is undefeated and Purdy shows full command of the team. But the 49ers Nick Bosa-led defense is what could take this team to the Super Bowl. The Niners came into Week 5 one of two undefeated teams remaining with no sign of slowing down.
---
Related content on CBS Essentials