A video appears to show Republican Representative Dan Crenshaw tripping the publisher of an alt-right website.
Crenshaw was walking near the U.S. Capitol as reporters and the publisher of the National File, a fringe conspiracy theory website founded by Alex Jones, bombarded the Texas Republican with questions on funding for Ukraine and the scramble to select a new House speaker to replace Representative Kevin McCarthy, who was ousted last week.
The tense interaction between the lawmaker and journalists, which was caught in a nearly two-minute video and shared on social media by National File, occurred Wednesday afternoon shortly after House Republicans nominated Louisiana Representative Steve Scalise to represent the party's selection for speaker. Scalise beat out Ohio Representative Jim Jordan, who received former President Donald Trump's endorsement, on a vote of 113 to 99. While he received the nod, it's unclear if Scalise has enough support to earn the gavel, which will require 217 votes on the House floor.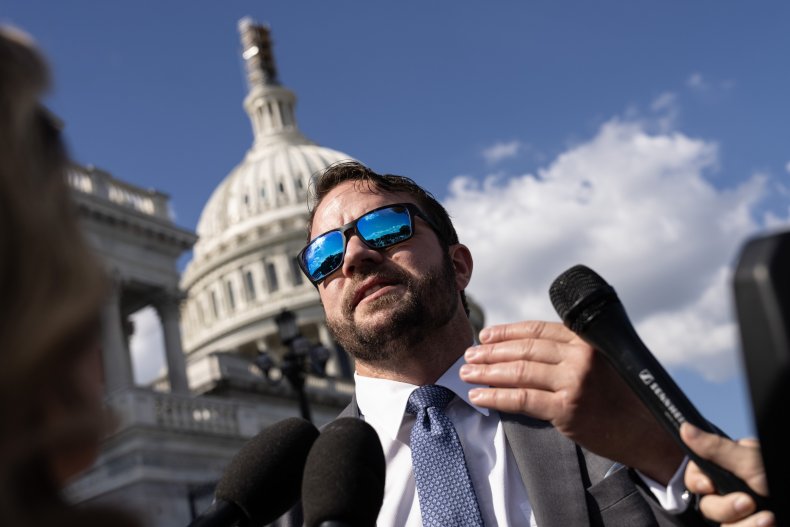 Newsweek reached out via email on Wednesday to Crenshaw's representatives for comment.
The last seven seconds of the video, posted on X, formerly Twitter, show the altercation.
"Dan Crenshaw INTENTIONALLY ASSAULTED National File publisher @NoelFritsch while @HowleyReporter was asking Dan about his support for the War Machine and Scalise's lack of votes needed to become #HouseSpeaker," National File posted on X.
In the clip, the National File reporters also question Crenshaw on whether funding for Ukraine will affect the speaker vote, saying that "a lot of people" don't want to see more money going to the war-torn country.
Scalise has routinely voted in support of American aid for Ukraine.
Charles Downs and Patrick Howley, reporters for National File, called Crenshaw, who lost his right eye while serving as a Navy SEAL in Afghanistan, a "warmonger" and "McCain 2.0." National File Publisher Noel Fritsch mocked the congressman, saying "America really hates you," as the gaggle followed Crenshaw while recording on cellphones.
The congressman fired back at the National File staffers probing him, calling them "miscreants" and telling them to "get a job."
Howley, calling Crenshaw "a warmonger," asks why the conservative congressman supports funding "the defense industry to keep these wars going." During that exchange, Crenshaw appears to walk behind Fritsch and kick his leg to trip the National File publisher, who said the lawmaker "intentionally assaulted" him.