A group of Christian leaders is protesting outside the Trump hotel in Miami this weekend as the venue prepares to host the controversial ReAwaken America tour.
Faithful America, a Christian group aimed at challenging Christian nationalism and white supremacy, is sponsoring a mobile billboard "calling attention to the dangers of the tour."
"Jesus warned us about ReAwaken America at Trump Doral: Beware of false prophets…," a message on the billboard reads. "Beware of false prophets" comes from Matthew 7:15-20, which warns of a person who falsely claims to speak for God and offer messages that contradict what God instructs.
Trump National Doral Miami is hosting the ReAwaken America tour on October 13-14. The tour, founded by conspiracy theorist Clay Clark and former Trump national security adviser Michael Flynn, has drawn controversy for holding far-right conferences that espouse QAnon, election fraud and anti-vaccine sentiments.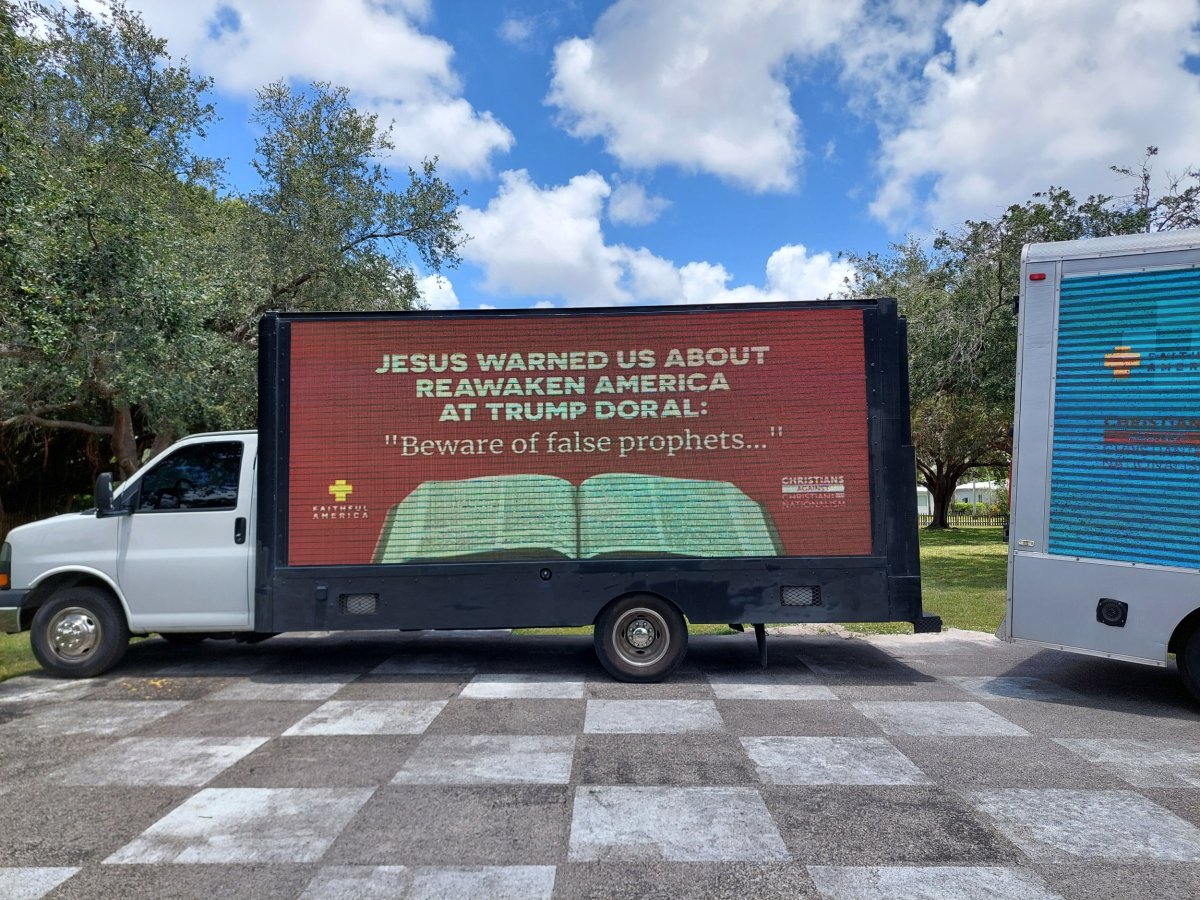 Former President Donald Trump's son, Eric Trump, Eric's wife, Lara Trump, Trump lawyers Alina Habba and Christina Bobb, Trump allies Roger Stone and Mike Lindell, and Ian Smith, a fitness influencer who has made statements denying the Holocaust, are expected to appear at this weekend's event.
This is not the first time Faithful America has protested ReAwaken America. The group has sponsored a mobile billboard at nearly every tour stop since February 2022, including its first stop at Trump Doral in May.
"ReAwaken America's return to South Florida proves what we already knew: The true spiritual home of MAGA's white Christian nationalism isn't a church, but a Trump hotel," Reverend Nathan Empsall, the executive director of Faithful America, said in a statement.
"Christians across Florida and the country are tired of watching these QAnon conspirators hijack Jesus's message of truth and peace for political gain," Empsall said. "For nearly two years, thousands of American Christians have rejected the ReAwaken America Tour's dangerous antidemocratic and antisemitic message. As long as Christian nationalist leaders seek to further their hateful agenda, grassroots Christians across the nation will reject it in favor of democracy and the common good."
More than 16,000 Christians have signed a petition from Faithful America rejecting the tour's return to Trump Doral, and nearly 14,000 have signed a petition calling on churches not to associate with ReAwaken America. The petition against the event at Trump Doral said that the tour has long-lasting impact on the local communities and churches, sowing hatred and conspiracy theories that risk "more division and violence in Jesus's hijacked name."
Newsweek reached out to Empsall via email for comment.