Taylor Swift fans are jumping into a sports debate after Kansas City Chiefs tight end Travis Kelce's mid-game ankle injury—going so far as to start a petition for the NFL to use real grass only on their fields, Newsweek was told.
Kelce's rumored relationship with Swift has generated unusual attention around the NFL as she began attending games last month to cheer him on. While fan interest in Swift-Kelce developments has been linked to an uptick in Chiefs ticket and merchandise sales, opinions on footage showing Swift in the stadium during games have been divided, with Kelce saying last week that the NFL is "overdoing it a bit."
The debate in question is whether or not to use artificial turf at some NFL stadiums. This interest was sparked by the Chiefs' October 8 game at the Minnesota Vikings' U.S. Bank Stadium in Minneapolis where Kelce suffered an injury to his right ankle during the second quarter. The U.S. Bank Stadium has artificial turf.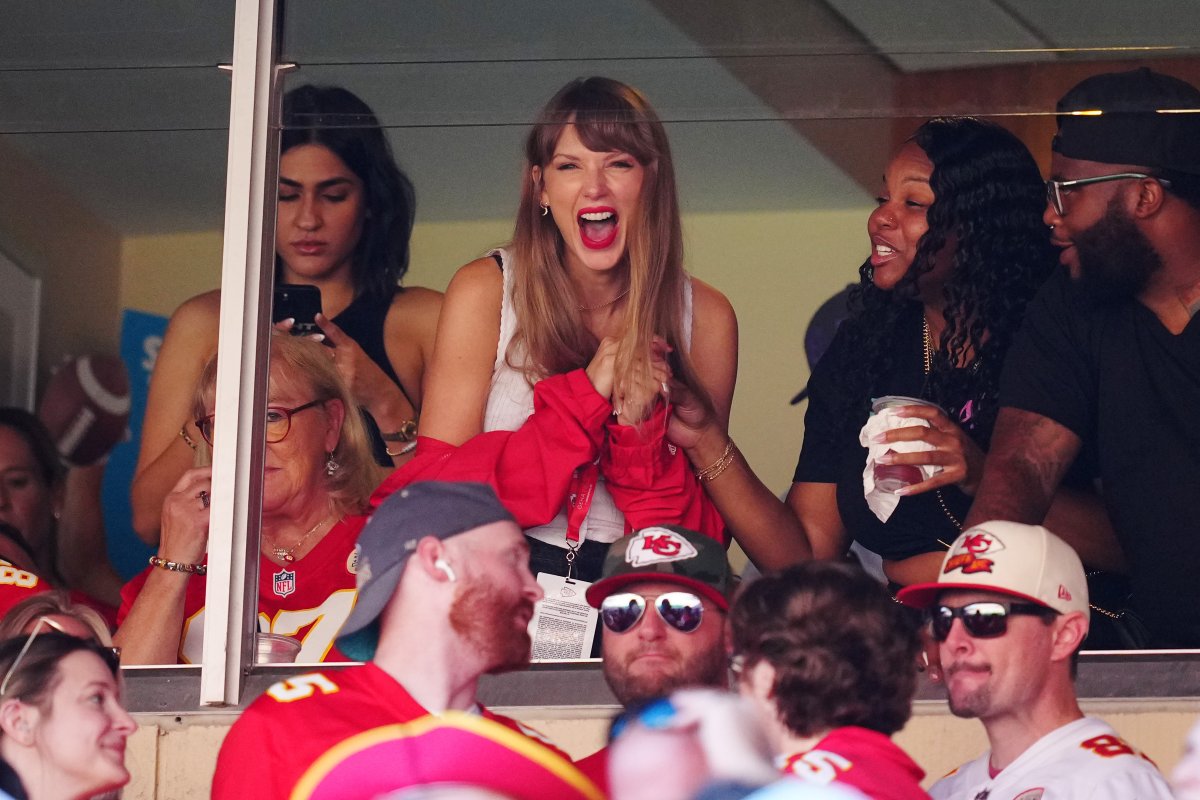 After Kelce's injury, the #SwiftiesAgainstTurf hashtag began gaining traction on X, formerly Twitter, among Swift and football fans alike as they chided the league for its use of artificial surfaces. An associate campaigner for the petition platform Change.org told Newsweek one Swift fan also launched a petition calling for all NFL stadiums to use real grass instead of artificial surfaces following Kelce's injury.
The person who launched the petition, identified on the digital form as Loren Webb, wrote that they have "noticed an alarming increase in injuries related to artificial turf," citing one study in particular that assessed injury rates among professional football players between 2012 and 2016. The petition summary ended with a call to help give athletes "a safe playing environment" and added the hashtags #SwiftiesAgainstTurf and #SwiftiesAgainstArtificialTurf.
The petition's initial goal was set at 1,500 signatures. It had more than 1,300 as of 6 p.m. ET on Thursday.
Several people who signed left Swift-inspired notes in the petition's comment section, many of which included references to Swift song lyrics.
"You would think team owners would want to help protect their investment but instead they choose to go the cheaper route and use turf knowing turf causes more injuries. So baby now we got problems! Signed ~ an NFL fan and a Swiftie," one person wrote.
"NFL, Travis got hurt, so now we got bad blood with artificial turf!" wrote another.
"[D]on't worry, swifties are on it," another comment said.
After his injury, Kelce returned to play in the second half of the October 8 game, and the Chiefs ultimately won 27-20. But the NFL's Wednesday injury report listed him as "questionable" and noted he did not participate in Monday's team practice. Even so, ESPN reported that he was expected to play in Thursday night's game.
Kelce and his brother, a center for the Philadelphia Eagles, both voiced opposition to artificial playing surfaces on an episode of their New Heights podcast that was released this week. Of the NFL's 30 stadiums, half have artificial turf and the other half have grass.
The artificial turf versus grass debate has been going on for years, and questions about which is safer for athletes extend to other sports, including soccer. While athletes like the Kelce brothers worry about injury risks on artificial surfaces, researchers say it's tough to contextualize safety-related data due to the many age, fitness and environmental variables at play, according to The Associated Press.
When reached by Newsweek for comment on Thursday, an NFL spokesperson acknowledged that the debate was a "complex issue" and said research surrounding injuries on both artificial and grass surfaces is ongoing.
"There is no higher priority than the health and safety of NFL players," the spokesperson said in an emailed statement sent to Newsweek. "Our collective bargaining agreement with the NFLPA established the Field Surface Safety & Performance Committee that meets regularly to advance research and share all injury data with the goal of advancing the understanding of fields and ultimately decreasing injuries. This involves substantial investment in data collection, surface testing, and research.
"We are actively working to gain a better understanding of what contributes to injury on both synthetic and natural grass surfaces," the statement continued. "This is a complex issue as no two fields play the same. Some natural grass surfaces have a lower injury rate than some synthetic surfaces, but some natural grass surfaces have higher injury rates than some synthetics. As our research continues, we are confident we'll be able to drive down injuries on all surfaces."
Uncommon Knowledge
Newsweek is committed to challenging conventional wisdom and finding connections in the search for common ground.
Newsweek is committed to challenging conventional wisdom and finding connections in the search for common ground.