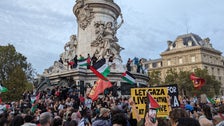 French authorities have cracked down on public displays of support for Palestinians — making no distinction between civilians and militants — as the war between Israeli forces and Hamas appears to be ramping up even further.
Israel has given people living in the Gaza Strip 24 hours to vacate Gaza City and the surrounding area, despite a warning from the United Nations that such an unprecedented move would be calamitous.
Bombs have continued to fall on Gaza as Hamas lobs rockets into Israel, which is equipped with high-tech defense systems. Israel's vaunted security apparatus suffered a catastrophic failure over the weekend when Hamas militants managed to storm across the border and slaughter Israelis by the hundreds.
Hamas' attack and Israel's retaliation have led to heightened tensions around the world and a spike in reports of antisemitic threats. Officials are reacting by stepping up the presence of police in cities like New York and London, particularly around places of worship.
This week, British Home Secretary Suella Braverman hinted at a similar crackdown to the one imposed across the channel, saying that waving the Palestinian flag "may not be legitimate" if it might be considered harassment of Jewish people or support for terrorism.
German officials on Thursday banned a group that reportedly handed out sweets in Berlin in celebration of Hamas' attack. Hamas uses force to rule the Gaza Strip, whose 2 million people are in dire straits amid a full siege and expected ground invasion by Israel.
"We know the humanitarian situation is urgent," U.S. Secretary of State Antony Blinken said Friday of the Palestinian enclave.
Around half of the population of Gaza is made up of children and teenagers.