The Kansas City Chiefs currently resemble a Rorschach Test.
If you're feeling optimistic, the club is in a good spot. The offense is yet to truly click, but Andy Reid's squad is still sitting pretty at 5-1. Once everything falls into place, the rest of the league better look out.
But if you're a bit more pessimistic, there is another read on the situation. You could argue that the Chiefs are genuinely underwhelming on offense and the generational talents of Patrick Mahomes and Travis Kelce are carrying the unit. Even if the results are currently working out, that's not a recipe for lifting the Lombardi Trophy.
And while KC doesn't really have to have an answer yet—it's a long season, and the AFC West isn't looking like Murderers' Row—the October 31 NFL Trade Deadline does accelerate the calculus a bit.
For a team like the Chiefs, making a trade isn't the ideal option. But, at this point, they'll have to genuinely consider making some compromises to help the receiver room.
Let's break it down.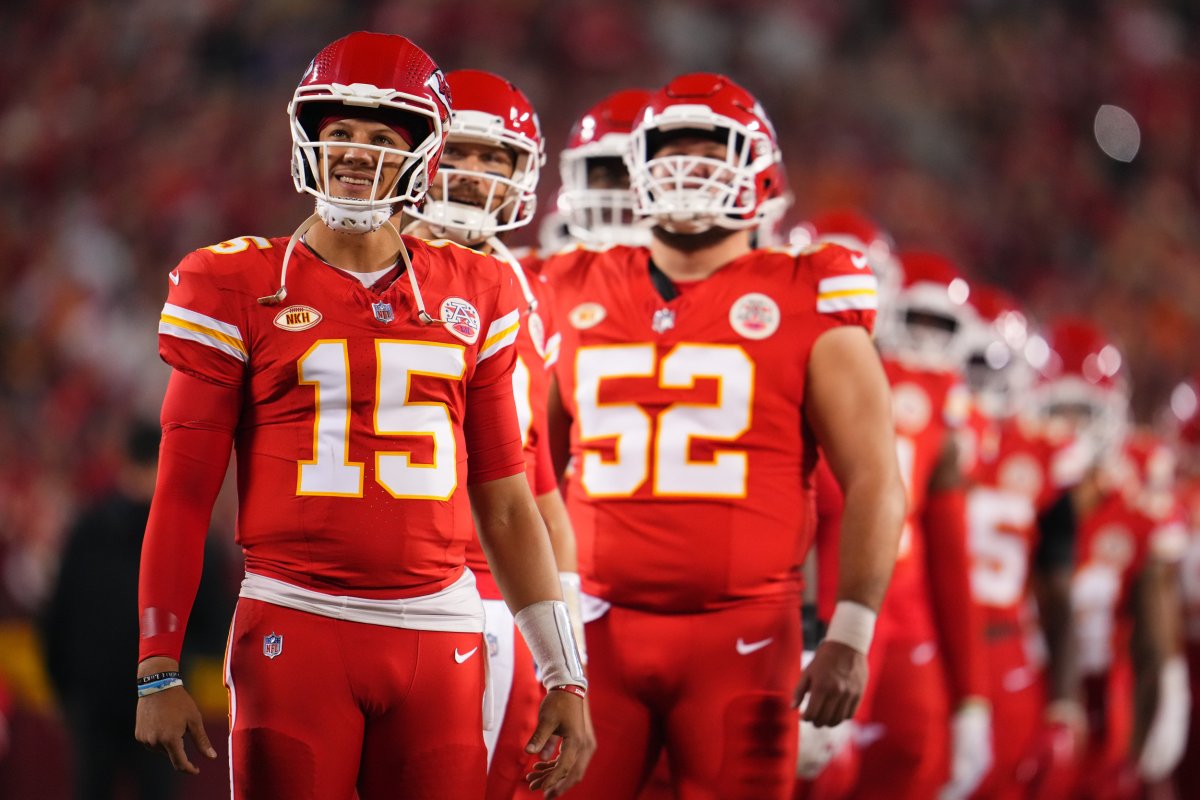 The Chiefs Offense Still Doesn't Look Right
On paper, Kansas City should have feasted against the Denver Broncos defense. That unit sat at the bottom of most of the league's leaderboards and, of course, surrendered an eye-watering 70 points to the Miami Dolphins. When the teams hit the Arrowhead turf on Thursday night, though, things seemed rather evenly matched.
The Chiefs moved the ball well (389 total yards) but struggled to finish drives. The reigning Super Bowl champs only found the end zone once all night, with kicker Harrison Butker accounting for most of the scoring.
Once again, KC's receivers stood out as the weak link. Kelce did more than his fair share (nine catches for 124 yards) and rookie Rashee Rice continued his upward trajectory (four catches for 72 yards), but that was about it. Barring running back Isiah Pacheco, no other Chief caught more than three passes and accumulated more than 22 receiving yards.
That created a log jam in short-yardage situations, whether it was in the red zone or in the open field. Kelce, for all of his talent, can't make something happen every single play. When no one else is able to consistently get separation, drives stall.
And, to be clear, this wasn't merely a bad night in the office. Thursday Night Football contests can often suffer on the quality front, but the Chiefs' receiver room has been an issue all year.
Through six games, Kelce is the clear standout. Once you move beyond the all-world tight end, no one wearing red, white and gold has more than 250 receiving yards. Things look equally bleak when it comes to raw receptions, with Rice (21) being the only one other than Kelce to have more than 20 catches thus far.
A Trade Deadline Compromise Could Be Required
In the world of modern, salary-capped sports, it's hard to compete year after year. Remaining atop the heap requires smart asset management, both in terms of salary cap space and draft picks.
To that end, the Chiefs haven't really gone big-game hunting. While there have been some major undertakings, like rebuilding the offensive line after an ugly Super Bowl defeat, most of the club's work has involved clearing the deck to keep big-time stars under contract.
Think of trading Tyreek Hill as the perfect example of that. If general manager Brett Veach wanted to keep Mahomes, Kelce and Chris Jones around, something had to give.
Making a trade costs salary cap space, which is a valuable resource. The Chiefs are close to this year's ceiling (we'll get to that shortly) and are going to be stretched for the foreseeable future, should an acquired contract stretch beyond this season.
Draft picks, which are commonly sent the other way in a trade, are also important for cash-strapped teams. There's no better way to fill out a roster affordably than slotting in players on rookie deals. Consider, for example, the bargain that someone like Nick Bolton and his sub-$2 million cap hit has been.
It's also worth noting that Andy Reid's offensive playbook is famously complex. Taking it on mid-season isn't easy, and it would theoretically take any new player some time to get up to speed.
None of those factors make a trade the ideal solution, but it could be time to consider making a compromise.
The pieces are clearly there. Mahomes and Kelce speak for themselves. Pacheco looks like a solid running back, and Rice seems to be on the right path. The defense is playing better than anyone would have expected, and the return of Charles Omenihu should only make the unit better.
Is it worth wasting all of that to retain an extra draft pick and/or some extra cap space? Or is this team close enough to another title that it's worth trading a bit of the future to take a legitimate run at another Lombardi Trophy?
That's KC's conundrum, but the receiver room suggests that it could be time to gamble.
KC's Trade Options at Receiver
Based on Over the Cap's resources, the Chiefs currently have a shade under $4 million in cap space for the 2023 campaign. While that represents a challenge, it doesn't take a deal off the table.
Adding Jerry Jeudy and his $2.8 million cap hit, for example, wouldn't be an issue. There are complications to that deal, though. Beyond the challenge of pulling off a trade within the division, KC would have to be convinced that Jeudy is capable of stepping up and making an impact. His cap hit also rises to nearly $13 million next season, which would complicate matters.
Arizona's Marquise "Hollywood" Brown is a free agent after this season, which would remove the problem of next season's salary cap, but he won't come cheap. His $13 million cap hit wouldn't currently fit on the Chiefs' books, so landing him would either require the Cardinals to retain some salary—that would require the Kansas City sending more compensation in return—or the Chiefs to some creative accounting.
Given the current KC roster, there really isn't much money to be saved by cutting or trading a player away; short of moving an untouchable star, there's simply not much to move. A contract restructuring would be an option, but trying to pull that off during the season isn't ideal, either.
Mecole Hardman would be cost-effective and know the system, but his previous time in KC didn't indicate that he's capable of being a reliable lead receiver. JuJu Smith-Schuster also knows the Chiefs' offense, but his 2024 and 2025 base salaries ($7 million and $6.5 million) might be more than the club wants to commit at this point. The wideout left Arrowhead, after all, to seek a larger paycheck than the Chiefs wanted to give him.
Elsewhere, Adam Thielen isn't an exciting option, but he's on a reasonable contract and represents a (figurative and literal) safe pair of hands. The complicating factor, however, could be Carolina's plans moving forward. If the club wants to provide Bryce Young with more help, would they trade away their most-reliable receiver?
But, then again, there's little room for sentimentality when you're 0-5 and (presumably) staring down the barrel of another defeat.
Once again, none of those trade targets are ideal. Compromises will have to be made somewhere. After six games, though, it seems pretty apparent that the Chiefs' receiver room is in need of a boost.
And, put it this way: Standing pat and banking on someone like Rice developing into a legitimate first-choice receiver over the course of the season is still a gamble of a different sort.
Uncommon Knowledge
Newsweek is committed to challenging conventional wisdom and finding connections in the search for common ground.
Newsweek is committed to challenging conventional wisdom and finding connections in the search for common ground.