Approximately 80 Jewish protestors were arrested Friday as they demanded officials in five major U.S. cities to stop Israel aggression toward Palestinians with fears of a "genocide" breaking out in Gaza, according to a press release from Jewish Voice for Peace obtained by Newsweek.
Over 2,000 Jews, including students, rabbis, and descendants of Holocaust survivors, protested in New York City, San Francisco, Seattle, Chicago and Los Angeles, calling for their elected officials to prevent a genocide of Palestinians. The protesters were arrested while blocking the streets outside of the homes and offices of Congress members, according to Jewish Voice for Peace, a progressive organization.
The mass protests come as Israel warned 1.1 million people in northern Gaza on Friday to evacuate within 24 hours as it strengthens its operation in the region, following Hamas' attack last week.
On October 7, Hamas led the deadliest Palestinian militant attack on Israel in history. Israel subsequently launched its heaviest ever airstrikes on Gaza. As of Saturday, at least 1,300 people had been killed in Israel, the Associated Press reported, citing the Israeli military. More than 1,500 people had been killed and more than 6,600 had been injured in Gaza, according to the Gaza Health Ministry, the AP said.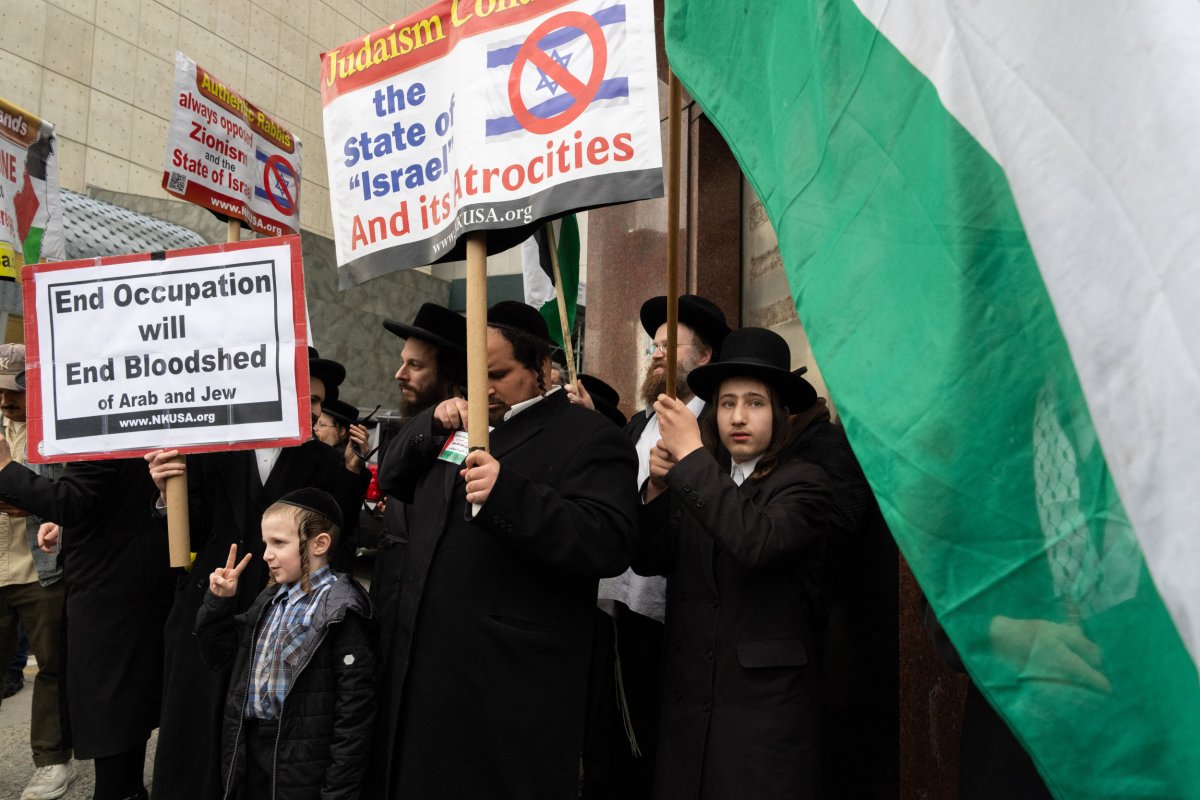 Israeli Prime Minister Benjamin Netanyahu has said his country is "at war" and has cut off supplies of food, fuel, electricity and medicine into Gaza.
The evacuation deadline expired at 5 a.m. on Saturday, but the Israeli Defense Force (IDF) said it would allow the people of northern Gaza to safely evacuate on approved routes between 10 a.m. and 4 p.m. local time on Saturday.
Many protestors who were arrested were gathered outside the home of Senator Chuck Schumer, who is Jewish himself. Thousands met at Grand Army Plaza in Brooklyn in New York City and marched to his home in Park Slope where approximately 60 people were taken away by police after blocking the road while 20 others were arrested, Jewish Voice for Peace stated.
Rabbi Alissa Wise, who was arrested outside Schumer's home, warned that supplying Israel with more weapons will lead to more violence.
"We recognize that for many, the call to unconditionally support Israel, including sending increased military funding, is coming from a place of deep grief, fear, and anxiety, but we know that more weapons will only bring more harm to everyone," she said in Jewish Voice for Peace's press release.
In other cities, hundreds gathered outside Representative Nancy Pelosi's office in San Francisco where police took 15 people into custody. Protestors held signs outside Senator Patty Murray's office in Seattle that read: "Jews against genocide of Palestinians." There were also protests outside the offices of Representative Brad Sherman in Los Angeles and Representative Jan Schakowsky's in Chicago, according to Jewish Voice for Peace.
The Seattle Police Department told Newsweek on Saturday in a phone call that it was not aware of any arrests in or outside Murray's office and that federal protective services would have jurisdiction of the building.
Newsweek reached out for comment from police departments in each of the cities and the individuals whose homes and offices saw protests.
"We are Jews in Los Angeles, gathered outside Representative Brad Sherman's office to demand that our government immediately calls for deescalation in Gaza. We refuse to let our grief be used to justify a second Nakba. Stop the ground invasion," Noa Kattler said in a press release from IfNotNow, a progressive Jewish organization in the U.S.
Kattler, an organizer for IfNotNow, continued: "Deescalate now. As we are gathered here now, Israel is on the brink of carrying out a genocide against Palestinians in Gaza. U.S. leaders, like our representative, Brad Sherman, need to push for immediate deescalation. The world is watching."
Meanwhile, the United Nations (UN) has said that a 24-hour evacuation of northern Gaza is "impossible" and that it will have "devastating humanitarian consequences."
Representative Ilhan Omar, a Minnesota Democrat, spoke out against Israel's warning on Friday, alleging that this sort of mass evacuation is a form of "ethnic cleansing."
"With communications and electricity shut down by Israel, the order cannot be communicated. Roads are bombed and many cars are out of fuel, making fleeing impossible for many," the congresswoman wrote in part on X, formerly Twitter.
While Omar has been a vocal critic of Israel for what she describes as human rights abuses against Palestinians, she also condemned Hamas' attack. "We need to call for deescalation and ceasefire," she wrote on X last week. "I will keep advocating for peace and justice throughout the Middle East."
Newsweek has also reached out to the IDF, Jewish Voice for Peace and IfNotNow for comment via email.