Former President Donald Trump is ahead of President Joe Biden in two swing states that could shape the 2024 presidential election, according to a poll published on Sunday.
The former president is leading in Arizona and Georgia—both of which helped him win in 2016 against his Democratic opponent Hillary Clinton, but then sided with Biden in 2020.
In Arizona, Trump is beating Biden by 5 points, 44 to 39 percent, according to polling data from Redfield & Wilton Strategies, in partnership with The Telegraph, taken between October 7 and 9. The former president is also beating Biden by 3 points in Georgia, 43 to 40 percent.
Arizona and Georgia are traditionally considered to be red states, with the majority of voters choosing the Republican nominee for most elections in the past few decades. However, that was until Biden turned both states blue in the 2020 election. Biden narrowly won Arizona by a margin of 0.3 percent and Georgia by 0.2 percent against Trump.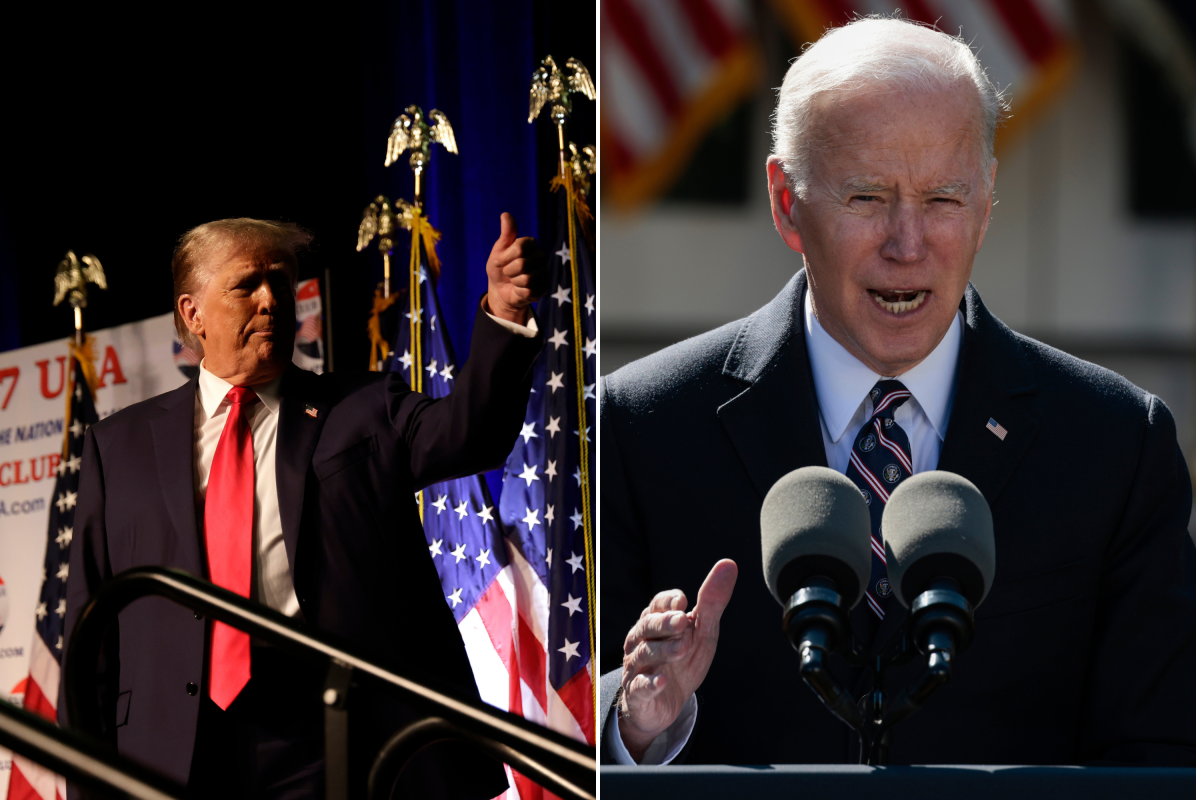 Meanwhile, Biden is just 1 point ahead of Trump in another contested state, Pennsylvania, 43 to 42 percent, according to the poll.
While Pennsylvania had voted for the Democratic nominee in the six presidential elections prior to 2016, Trump managed to win the 19 Electoral votes from the state with a margin of 0.7 percent. However in 2020, Pennsylvania turned blue once again, with Biden winning the state by 1.2 percent.
In Michigan, Trump and Biden are currently tied with 41 percent each. In recent history, the majority of people in Michigan voted Democratic—that was until the 2016 election when Trump won by a slim margin of 0.2 percent. Biden later would take Michigan in the 2020 election with a margin of 2.8 percent.
Trump is also leading the president by 5 points in Florida and North Carolina, which he won in 2016 and again in 2020.
Biden has a negative net approval rating in all six swing states that varies from 4 to 9 percent, according to the polling data. In Arizona, the president has a negative net approval rating of 8 percent and a negative net approval rating of 5 percent in Georgia.
However, a recent Rasmussen Reports survey found that Biden has an overall positive approval rating with 49 percent of Americans approving of his conduct while serving as president, compared to 48 percent who disapprove.
One big question ahead of the 2024 election is if the older candidates are fit to run for president.
Approximately two-thirds of voters in the new poll in all of the six swing states agreed that Biden is too old to seek a second term. However, pluralities of voters in every state except Florida also agreed that Trump is also too old for a second term.
Newsweek reached out to Trump's office and the White House for comment via email.