Donald Trump Jr. will appear at a fundraiser for an Illinois congressional candidate who has waged a campaign against a longtime GOP incumbent endorsed by Donald Trump.
Trump's eldest son will appear with Darren Bailey on October 27 at the Thelma Keller Convention Center in Effingham, Illinois. A flyer for the event said tickets start at $150 per person or $250 per couple and include a free copy of the former president's Letters to Trump book, said to be a $99 value. Those who want a private roundtable and photo opportunity with Trump Jr. will have to shell out $3,300 per couple.
Bailey, a former GOP state senator who in November 2022 ran unsuccessfully against Illinois' Democratic governor, J.B. Pritzker, is challenging five-term Representative Mike Bost. Both Bailey and Bost have received acclaim and endorsements from the former president in the past. A primary challenge for the GOP-held seat has led to party infighting.
Andrew Surabian, a spokesperson for Donald Trump Jr., referred Newsweek to reports that the appearance of the ex-president's son at Bailey's fundraiser does not mean an endorsement.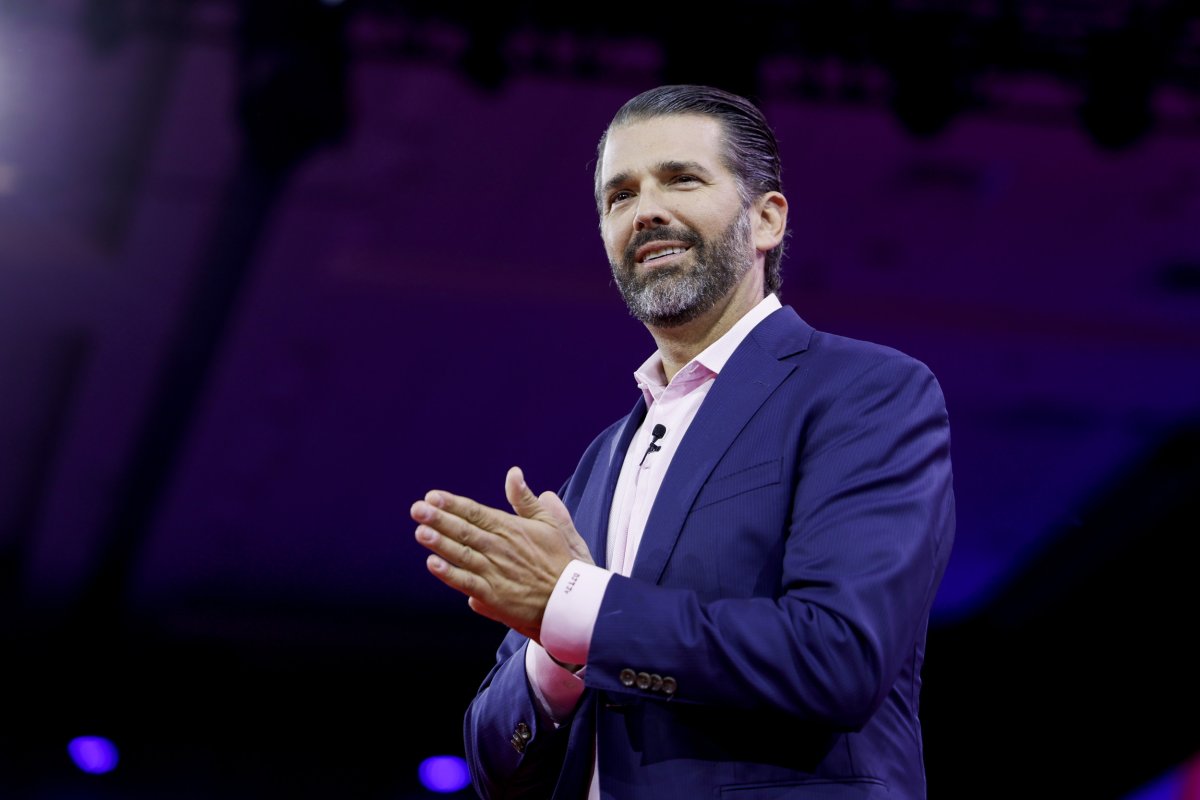 A source close to Trump Jr. reportedly told Punchbowl News' Jake Sherman that Bailey's gathering is merely a "book event" and that the president's son would happily participate in a similar event for Bost.
Surabian told Newsweek he had no further comment.
Animosity between the Bailey and Bost campaigns has seemingly begun already as both seek to represent Illinois' 12th Congressional District, which Trump won in 2020 with 56 percent of the vote.
Bailey reportedly referred to Chicago as a "hellhole," an "unruly child" and "the OK Corral" during his campaign against Pritzker, in which he lost by about 13 percentage points, according to the Chicago Sun-Times.
After he won the GOP nomination last year, Bailey was criticized for what some said were cavalier remarks made following a deadly shooting in the Highland Park suburb of Chicago.
"Let's move on and celebrate the independence of this nation," Bailey said in a Facebook Live video approximately two hours after the shooting occurred.
He has maintained his allegiance to Donald Trump and called it an "honor" to stand by him amid his legal troubles. Bailey and Bost are both seen as vying for far-right votes.
Following Bailey's announcement to run in July, Bost's campaign manager, Myles Nelson, reportedly labeled it a "shame" and accused Bailey of wanting to "divide conservatives."
Bost has held his seat since 2015 and represents 34 counties in southern Illinois.
"Bailey is putting selfish opportunism and personal ambition ahead of the interests of Southern Illinois conservatives," Nelson said. "Republican primary voters won't forget that."
During Bailey's congressional announcement, he said the United States is "at a crossroads."
Both he and Bost have railed against "woke" government and a lack of so-called common sense. Following his vote for the National Defense Authorization Act, Bost said that the Biden administration "has sacrificed recruitment and readiness for social justice campaigns and virtue signaling."
Newsweek reached out to both of their campaigns via email for comment.