Lab-grown meat could see a significant decrease in price if it continues its current trajectory, potentially matching conventional meat costs by 2030.
Cultivated meat, also known as lab-grown meat, is produced when animal cells are replicated using a bioreactor. The technique could reduce the reliance on farmlands. Livestock farming uses more than a quarter of the planet's ice-free land and contributes to about 15% of global greenhouse gas emissions, according to a McKinsey & Co. report.
But the cost of producing this alternative has provided a barrier to most consumers. The first lab-produced beef burger cost a whopping $325,000 back in 2013. Producers have since slashed production costs by 99 percent to roughly $17 per pound. Singapore approved cultivated meat for consumption in 2020, opening the floodgate for investors.
That same year, over 100 lab-grown meat start-ups secured around $350 million in funding. The number ballooned to $1.4 billion in 2021.
Still, hurdles remain in both broad sentiment and price parity. Regulatory challenges, the need for substantial investments, supply chains, and shifting global meat consumption habits stand in the path of lab-grown meat's broader acceptance.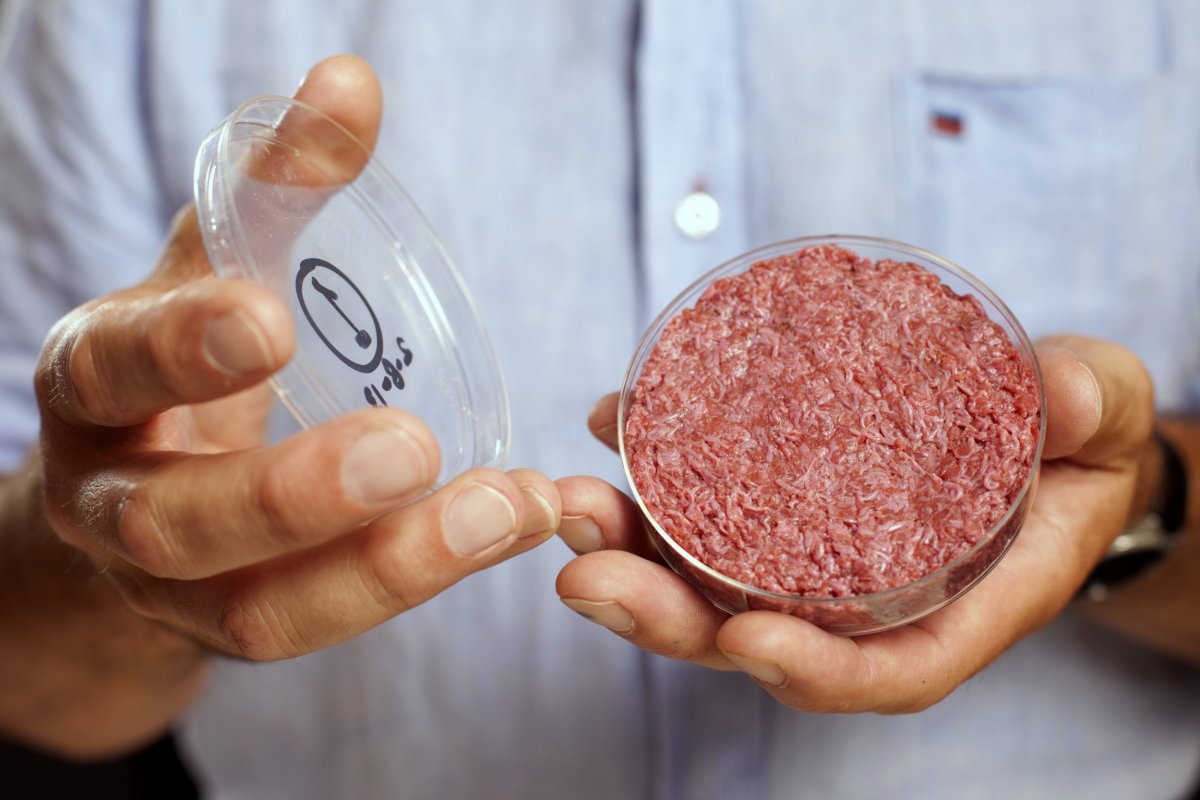 For perspective, plant-based meat has already seen price reductions, with Impossible Foods dropping its price by 20 percent in early 2021 and Beyond Meat aiming to undercut animal protein by 2024. In some stores, Beyond Meat costs only slightly more than traditional beef.
Cultivated meat promises not only to match conventional meat in flavor but perhaps even surpass it. Freed from the constraints of industrial farming, manufacturers can replicate the cell lines of premium animals like ostrich or wild salmon.
On the investor front, companies like Steakholder Foods, Beyond Meat, Tyson Foods, and CULT Food Science Corp are worth watching.
Consumers have varying opinions on man-made meat. Nick White, a 32-year-old homebuilder voiced a reluctance to Newsweek, saying, "I will never eat [lab-cultivated] meat; it doesn't feel natural."
But Chicago homeowner Mackenzie Kipp is open to trying it, saying it may replace her ground beef, but it will never replace her steaks.
A few regulatory updates issued earlier this year also bring good news for the U.S. market.
Cultivated meat has received the green light for sales, with companies such as Upside Foods and Good Meat, under the umbrella of plant-based egg substitute producer Eat Just, commencing production. The new approvals follow a series of regulatory green lights, ensuring the products' safety for U.S. consumers.