Two official Israeli accounts on X, formerly Twitter, posted and later deleted a video that claimed to show a Tuesday explosion at Gaza City's Al-Ahli Arab Baptist Hospital, adding to the confusion surrounding the incident that reportedly killed hundreds of people.
The Hamas-run Palestinian Ministry of Health said at least 500 people were killed by what it called an airstrike on the hospital, while Israeli officials have said the explosion was caused by Islamic Jihad, a Palestinian group fighting alongside Hamas against Israel.
Newsweek was unable to independently verify the number of casualties or the cause of the explosion.
Official X accounts for the State of Israel and Michael Herzog, the Israeli ambassador to the U.S., posted a video that claimed to show a rocket fired from Gaza caused the explosion at the hospital.
However, the video was later deleted from the accounts after Aric Toler, a journalist on the visual investigations team at The New York Times, disputed the accuracy of the footage due to time stamps on the video.
According to messages posted on X by Toler, the time stamps on the video shared by the Israeli accounts showed it was recorded at least 40 minutes after the explosion took place.
Though the posts about the hospital explosion on Herzog and the State of Israel's X posts still contained the original written messages, the video has since been deleted from both accounts.
Toler's post was not cited as a reason for the editing, and Newsweek reached out to the embassy of Israel to the United States via email for comment on Tuesday night.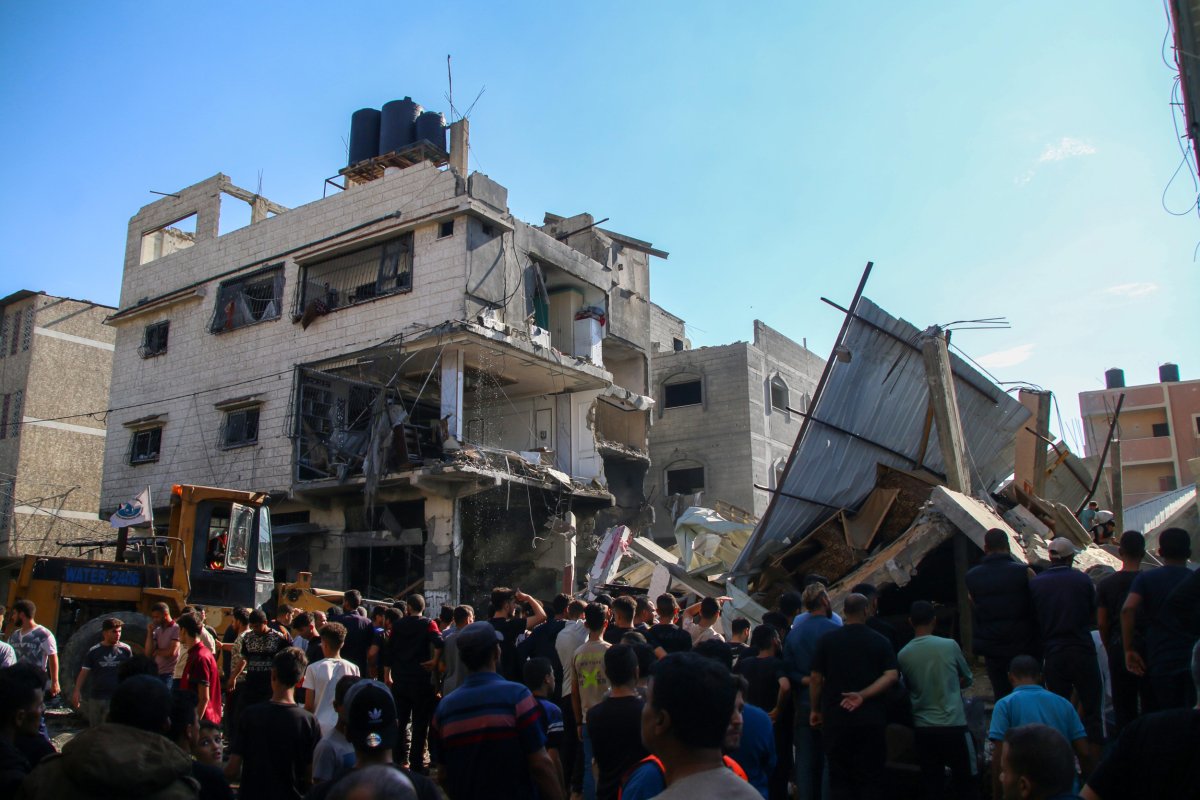 Israel Defense Forces (IDF) spokespeople Rear Admiral Daniel Hagari and Lieutenant Colonel Jonathan Conricus said the video posted was not associated with the IDF, but with Israel's Ministry of Foreign Affairs.
"On our account, the IDF, none of that was posted, and you'll have to ask them about what happened, why they posted, why it was taken down. I'm sure they are concerned about accuracy and veracity of information," Conricus said in response to a Newsweek question. "On our official accounts, nothing was posted until information was verified."
He added: "Anything that isn't related to IDF, we're not able to comment about."
While the IDF has maintained that the explosion was the result of a failed rocket strike by Islamic Jihad, multiple international non-government organizations have joined Hamas in blaming the incident on an Israeli airstrike.
Governments from countries such as Bahrain, Egypt, Iran, Iraq, Lebanon, Saudi Arabia and Türkiye were also among those to denounce what they called an Israeli assault.