Republican Congressman Jim Jordan lost GOP support in his second consecutive failed vote for House speaker just after former Speaker Kevin McCarthy blamed Representative Matt Gaetz for Jordan's failure.
Jordan mustered only 199 votes while losing his second vote on Wednesday. A total of 22 Republicans voted against Jordan, two more than during his failed first vote on Tuesday. All 212 House Democrats were united in voting for Minority Leader Hakeem Jeffries in both votes.
On Tuesday, Gaetz supporters received a fundraising email complaining that "RINOs" (Republicans in name only) were working with "radical Democrats" to block Jordan. Gaetz filed the unprecedented motion to vacate that successfully removed McCarthy as speaker earlier this month.
While Gaetz said that the email was sent without his "team's approval" and apologized, McCarthy called him out for hypocrisy in remarks to CNN's Manu Raju shortly before the second vote was held on Wednesday.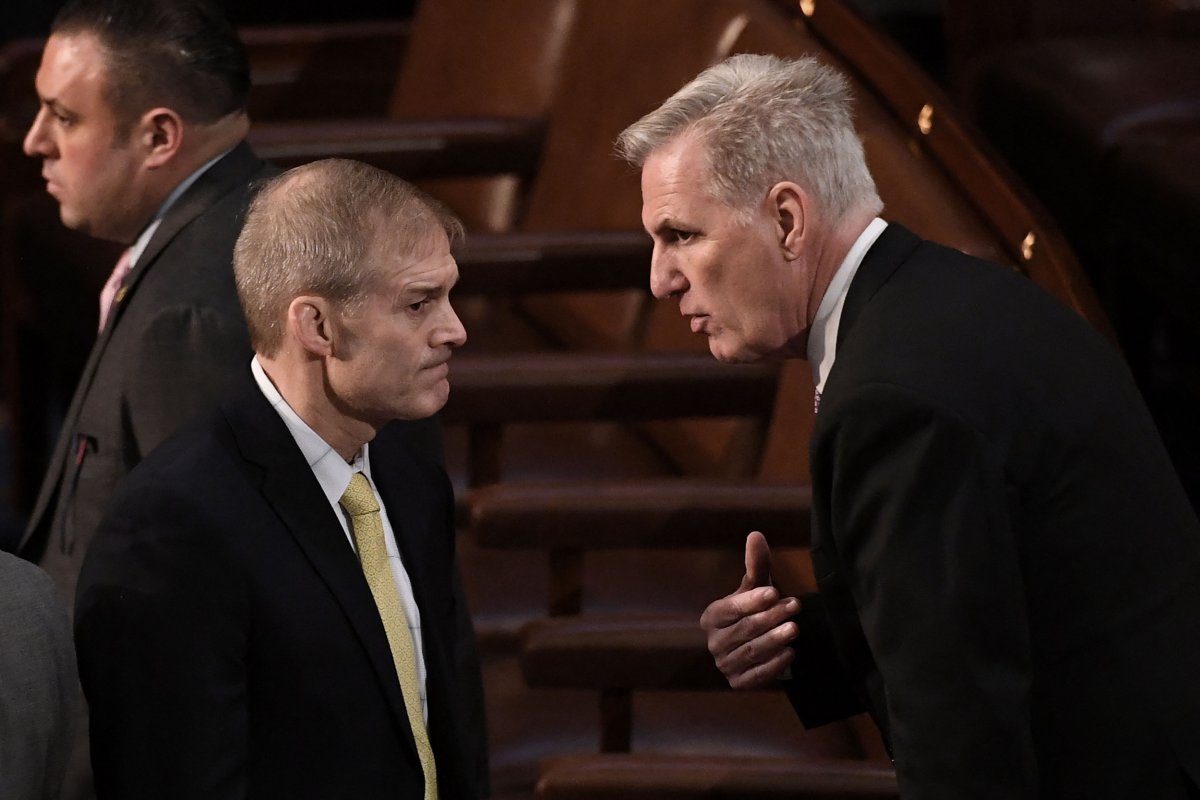 The former speaker also blamed Gaetz for the continuing chaos among Republicans in the still-rudderless House, arguing that the Florida congressman and the seven other "crazy" Republicans who backed the motion to vacate "did all this to us."
"The fundraising email he put out, accusing Republicans (of) working with certain Democrats when he had worked with every Democrat and then the crazy eights worked with him. That is infuriating," McCarthy said. "Every single Democrat with the crazy eights who are led by Gaetz put us in this place."
"And then he was fundraising last night off of this?" he continued. "Going after Republicans that would work with anything with Democrats when he did all this to us? I know that infuriates a lot of members about him."
In response to a request for comment, Gaetz's office pointed Newsweek to the congressman's apology for the email, which was posted on Tuesday night to X, formerly Twitter, in response to criticism from fellow GOP Congressman Mike Lawler.
"This email was sent by a vendor without my team's approval," wrote Gaetz. "It should not have been sent. I sincerely apologize to Mike Lawler and anyone else who felt targeted by this I'll-conceived [sic] email message. I will make changes to ensure this does not happen again. I intend to heed Speaker-Designate Jordan's call to not attack fellow Republicans as we work through this."
Lawler was one of the 22 Republicans who opted for a speaker other than Jordan on Wednesday, casting his vote for McCarthy instead. Assuming unity from Democrats, Republicans can only afford to lose four votes on any speaker nominee due to the party holding the House by a slim 221 to 212 margin.
Speaker Pro Tempore Patrick McHenry immediately called for a recess after the second vote failed. A third vote was expected, with a spokesperson for Jordan indicating that the congressman would continue on with his quest to win the gavel, despite losing support.
Meanwhile, a group of bipartisan lawmakers were working on an alternate plan to empower McHenry to resume normal House operations in the absence of a permanent speaker. McHenry's role is currently limited to overseeing the election of a new speaker.