Former Democratic turned independent presidential hopeful Robert F. Kennedy Jr. may pull votes away from Donald Trump and improve Joe Biden's chances of reelection in 2024, according to a poll.
An NPR/PBS NewsHour/Marist survey of 1,218 registered voters, conducted on October 11, found that Biden narrowly beats Trump—the two presumptuous Democratic and GOP presidential candidates—in a hypothetical head to head by 49 to 46 percent.
However, when Kennedy is introduced in the poll as a third candidate, Biden's lead over Trump increases by seven points (44 to 37 percent), with Kennedy getting the support of 16 percent of voters. With Kennedy in the race, Biden's support falls five points among Democrats, whereas Trump loses 10 points among Republicans.
The results suggest that Kennedy, who previously challenged Biden in the Democratic presidential primary before confirming earlier this month he is switching to an independent candidacy in his long shot White House bid, may have an oversized influence in determining who wins the 2024 election.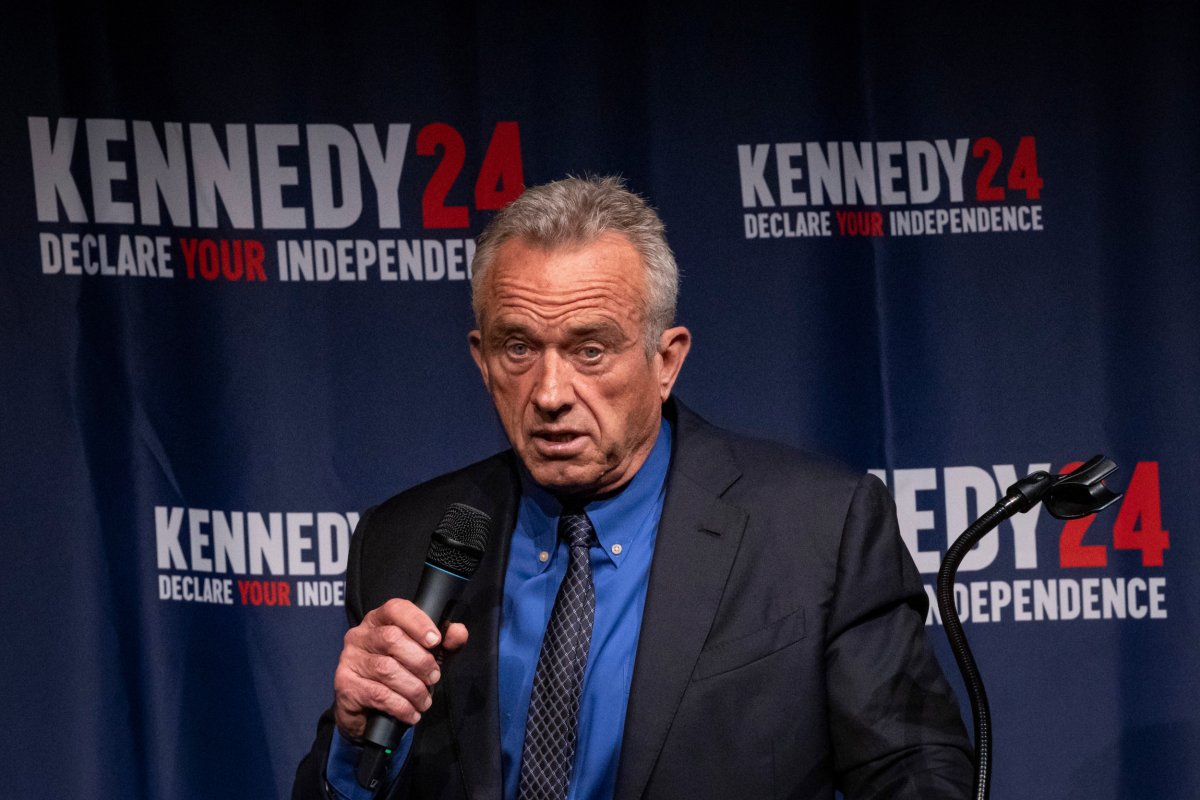 With numerous polls suggesting Democratic voters do not want 80-year-old Biden to run for president again, it was believed that Kennedy may provide an alternative to these potential disillusioned voters as an independent candidate.
However, Kennedy, who has pushed misinformation about COVID-19 and vaccines, appears to be better liked among GOP voters and may syphon votes away from Trump in a 2024 election.
"Although it's always tricky to assess the impact of a third-party candidate, right now Kennedy alters the equation in Biden's favor," Lee M. Miringoff, director of the Marist College Institute for Public Opinion, said in a statement.
"What this does speak to, however, is that about one in six voters are looking for another option, especially independents."
Trump's office has been contacted for comment via email.
Third party candidates are often cited as being responsible for pulling votes away from Democratic challengers, as seen with Green Party candidate Ralph Nader in the 2000 election which Al Gore narrowly lost to George W. Bush in a race that essentially boiled down to just a few hundred votes in Florida.
Nader received more than 2.8 million votes overall in the 2000 election, including more than 97,000 votes in Florida.
In 2016, Democratic candidate Hillary Clinton lost three key states to Trump by less than one percentage point—Michigan, Pennsylvania and Wisconsin—helping pave the way for the Republican's victory.
In each case, Green Party candidate Jill Stein had received enough votes in the three states to have swung it for Clinton if her supporters backed the Democrat instead.
When Kennedy announced he is running as an independent candidate, his own siblings—former Democratic Maryland Lt. Gov. Kathleen Kennedy Townsend, former Massachusetts Democratic congressman Joseph Kennedy II, Rory Kennedy and Kerry Kennedy—described the 69-year-old as "dangerous to our country" who does not share the same values of the Kennedy political dynasty, which also includes his late father, Sen. Robert F. Kennedy, and uncle, President John F. Kennedy.
"Bobby might share the same name as our father, but he does not share the same values, vision or judgment," the Kennedy siblings said. "Today's announcement is deeply saddening for us. We denounce his candidacy and believe it to be perilous for our country."