Steve Bannon's support for Robert F. Kennedy and his longshot White House bid appears to have backfired as a poll suggests the Democratic candidate-turned-independent could pull votes away from former President Donald Trump in 2024.
Bannon, a longtime Trump ally and former White House chief strategist, frequently praised Kennedy while he was challenging President Joe Biden for the Democratic nomination.
The 69-year-old member of the Kennedy political dynasty revealed on October 9 that he would instead be running as an independent.
In August, Bannon said on his War Room podcast that a Trump-Kennedy ticket would "win a massive landslide."
In an April episode of his show, Bannon said he had received a "standing ovation" from a "hardcore MAGA" crowd when he suggested that Kennedy would be an "excellent choice" for Trump's running mate, according to NBC News.
Robert Costa, chief election and campaign correspondent for CBS News, posted on social media in April that "per several people familiar" with the situation, Bannon had been encouraging Kennedy to run as a Democrat "for months," believing he could be "both a useful chaos agent in the 2024 race and a big name who could help stoke anti-vax sentiment around the country."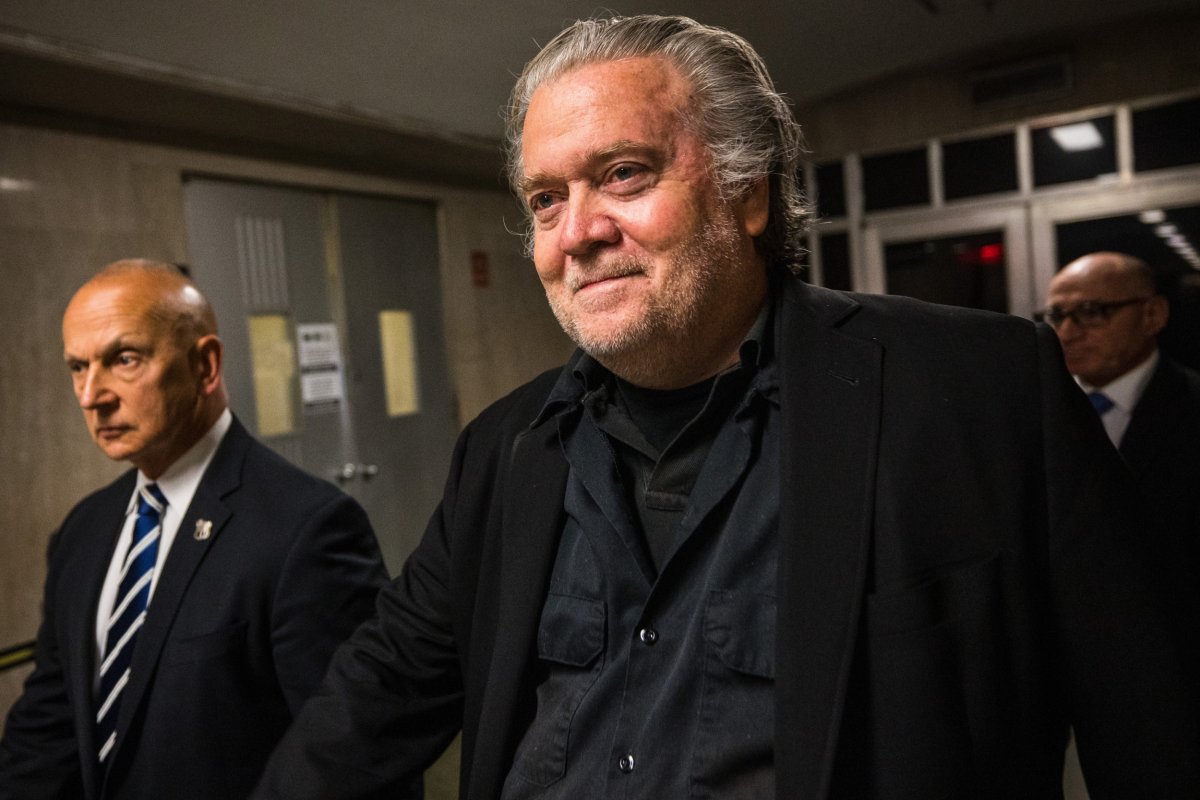 Kennedy, who has garnered support in conservative circles for his views on vaccines, denied that Bannon had persuaded him to enter the 2024 race.
He posted on X, then known as Twitter, in April: "Steve Bannon has nothing to do with my presidential campaign. I have never discussed a presidential run with Mr. Bannon."
A few days after Kennedy confirmed he was no longer running for the Democratic nomination, a poll suggested his independent candidacy would siphon more votes from Trump than Biden in a 2024 race.
The NPR/PBS NewsHour/Marist survey of 1,218 registered voters, conducted on October 11, found that Biden would beat Trump in a hypothetical head to head by 49 to 46 percent.
When Kennedy—the son of Senator Robert F. Kennedy and nephew of President John F. Kennedy—is introduced as a third choice, Biden's lead over Trump increases to seven percentage points.
In this match-up, Biden receives 44 percent of the vote, with Trump on 37 percent and Kennedy on 16 percent. With Kennedy in the race, Biden's support falls by five points among voters who give their "party identification" as Democrat (from 91 to 86 percent). Trump loses 10 points among Republican voters (from 91 to 81 percent).
Bannon's office has been contacted for comment via email.
"Although it's always tricky to assess the impact of a third-party candidate, right now Kennedy alters the equation in Biden's favor," Lee Miringoff, director of the Marist College Institute for Public Opinion, said in a statement.
"What this does speak to, however, is that about one in six voters are looking for another option, especially independents."
Bannon is not the only conservative figure who tried to elevate Kennedy's position as a a challenger to Biden in the primary.
Trump himself called Kennedy a "very smart guy, and a good guy" in a June interview.
Turning Point USA founder and political commentator Charlie Kirk described Kennedy in April as one of the "most articulate and thoughtful political activists going," saying he would vote for him over Republicans such as Mitt Romney or Lindsey Graham.
Political consultant Roger Stone has also pushed the idea of a Trump-Kennedy 2024 ticket on social media and in TV interviews.
Michael Flynn, a former Trump national security adviser turned QAnon figurehead, posted on X in April: "I am really starting to like this presidential candidate's attitude."
When Kennedy announced he was running as an independent, four of his siblings issued a joint statement describing the 69-year-old as "dangerous to our country" and saying he did not have the values of his famous political family.
"Bobby might share the same name as our father, but he does not share the same values, vision or judgment," they said. "Today's announcement is deeply saddening for us. We denounce his candidacy and believe it to be perilous for our country."