Former President Donald Trump is ahead in yet another voters poll in key swing states a little more than a year before the presidential election.
The GOP front-runner has been in the lead of recent polls, with Democratic incumbent Joe Biden trialing. In a poll shared by Morning Consult on Thursday, Biden was 4 percentage points behind Trump in seven swing states. The poll conducted on behalf of Bloomberg News looked at registered voters in Arizona, Georgia, Michigan, Nevada, North Carolina, Pennsylvania and Wisconsin.
Newsweek reached out to Kevin Wagner, pollster and professor at Florida Atlantic University, via email for comment on Thursday.
Independents may play a pivotal role in the 2024 election. In 2016, they narrowly favored Trump, by 4 points, in his campaign against former U.S. Secretary of State Hillary Clinton. However, they sided with Biden in 2020, with the president garnering a 14-point lead among independents nationally.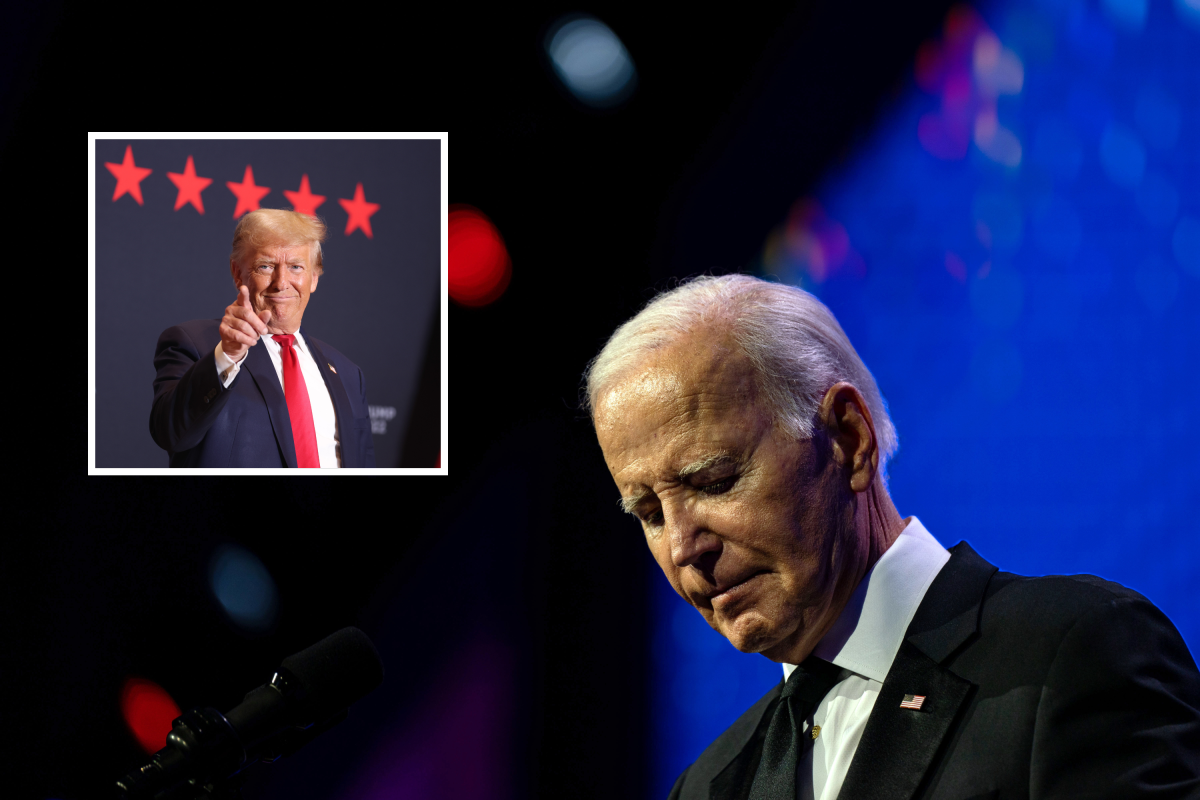 Three years ago, Biden held the largest edge among independents since former President Bill Clinton's reelection win against Republican Bob Dole, but Morning Consult's new poll shows a potential different fate for Biden's reelection.
The 1,323 self-identified independents across the seven swing states put Biden 10 points behind Trump on the ballot that includes third-party candidates. Looking at just Biden and Trump, Biden still trails by 8 points among the independents in the swing states.
The poll shows that swing-state voters trust Trump significantly more than Biden on the economy, as 40 percent supported Trump to 35 percent for Biden. Independents have even less trust in Biden on the economy, where Trump was favored 47 percent to 25 percent.
While it is still very early in the 2024 race to the White House, other recent polls show encouraging results for Trump. Surveys conducted by Emerson College Polling last week show that Trump is leading Biden by 9 points in Pennsylvania and 2 points in Wisconsin.
Polling data from Redfield & Wilton Strategies, in partnership with The Telegraph and gathered from October 7 to October 9, shows Trump beating Biden by 5 points in Arizona and 3 points in Georgia. However, at the time that these polls were taken, Biden was narrowly ahead of Trump in Pennsylvania, by 1 point. In the same poll, Trump and Biden were tied in Michigan, each with 41 percent of the vote.
Ahead of the second Republican primary debate, Trump showed an impressive lead among his GOP rivals. An ABC News/Washington Post poll taken from September 15 to September 20 showed 54 percent of voters supporting Trump, while FiveThirtyEight's polling aggregate found the former president leading with 55.4 percent of the vote.