The world is just two weeks away from the first global safety summit on artificial intelligence (AI), and event organizers have already begun revealing what the top areas of discussion will be for the political and technology leaders who attend.
The two-day AI Safety Summit is scheduled to begin on November 1 at Bletchley Park in England. United Kingdom (UK) Prime Minister Rishi Sunak has said his country is hosting the summit because he wants the UK to be "the home of AI safety regulation."
The summit's focus will be on "how to best manage the risks from the most recent advances in AI," also known as frontier AI, according to event information shared online by the UK's Department for Science, Innovation & Technology (DSIT).
Five Objectives of AI Safety Summit
The DSIT further identified five main objectives for the summit. These include a "shared understanding" of frontier AI's risks and the "need for action" to address them, a strategy for "international collaboration" on AI, the steps needed to support safety efforts, an understanding on when countries can collaborate on AI safety and a demonstration of why AI safety is in everyone's best interest.
Risk Areas of AI
Event organizers are also pointing to two risk areas that they say are likely to come into play as AI development moves forward. "Misuse" of AI, such as when the technology is deployed to cause "significant harm," is one risk of concern, organizers said. The other is "loss of control," which could occur if the technology reaches a point where human involvement is no longer required to keep development moving forward.
Geoffrey Hinton, a computer scientist known by many as the "Godfather of AI," raised concerns about the potential to lose control over AI during a recent interview with 60 Minutes. With some AI tools already able to create computer code, Hinton said humans have to be careful about how this technology progresses because it's "a possibility" that AI systems could one day "take over" and surpass humans as the world's most intelligent species.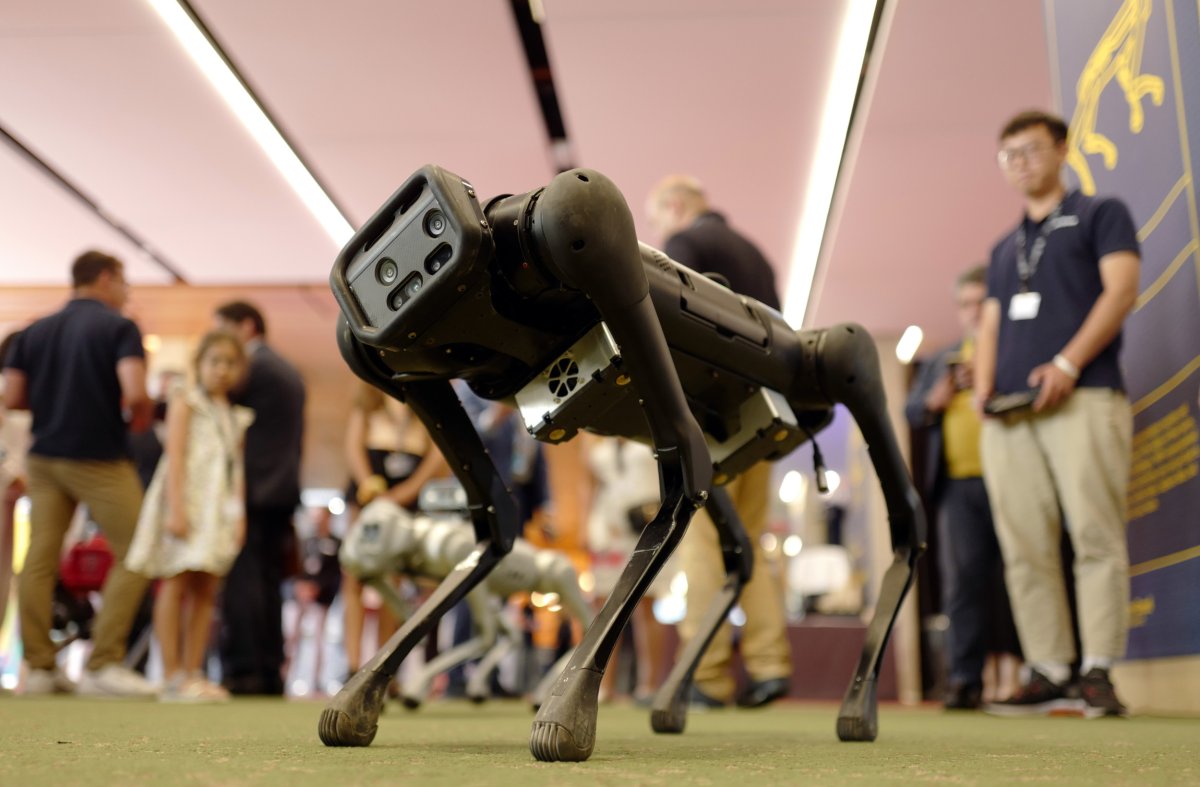 Above, people assess robot development progress during the AI For Good Summit on July 7, 2023, in Geneva, Switzerland. A different event, called the AI Safety Summit, will mark the first global gathering of its kind in the United Kingdom in November.
Johannes Simon/Getty Images
Hinton and other tech leaders have said guardrails are needed to help developers ensure that frontier AI progresses safely. Despite the risks AI poses, experts say the technology also has the potential to benefit humans, particularly when it comes to health care and drug development.
"To seize these opportunities however, we must grip the risks, not just here but as a global endeavour," the DSIT said in AI Safety Summit preparation materials.
Vice President Kamala Harris is expected to be one of about 100 people attending the summit, according to Reuters, which also reported the anticipated attendance of Google DeepMind CEO Demis Hassabis.
Newsweek reached out to the National Security Agency's new AI Security Center through an online NSA submission form on Wednesday for comment.