Rashida Tlaib has hinted she still believes that an Israeli air strike was responsible for a blast at a hospital in Gaza that the Hamas-run authority said killed 500 people on Tuesday night, despite counter-claims from Israel that it was the result of a misfired militants' rocket.
Speaking through waves of tears at a pro-Palestinian rally in Washington, D.C., and calling for a cease-fire, the Michigan Democratic representative said it was "painful" for her to "continue to watch people think it's ok to bomb a hospital," as she criticized America's pro-Israel stance on the issue.
"I'm telling you right now, President Biden: not all America's with you on this one, and you need to wake up and understand that," she added. "We are literally watching people commit genocide and killing the vast majority just like this [clicks fingers]. And we still stand by and say nothing."
Elsewhere in Tlaib's speech, held in front of the U.S. Capitol, she argued that the attacks on Israelis and Palestinians were the result of "oppression," and suggested America's support for Israel was contributing to the violence.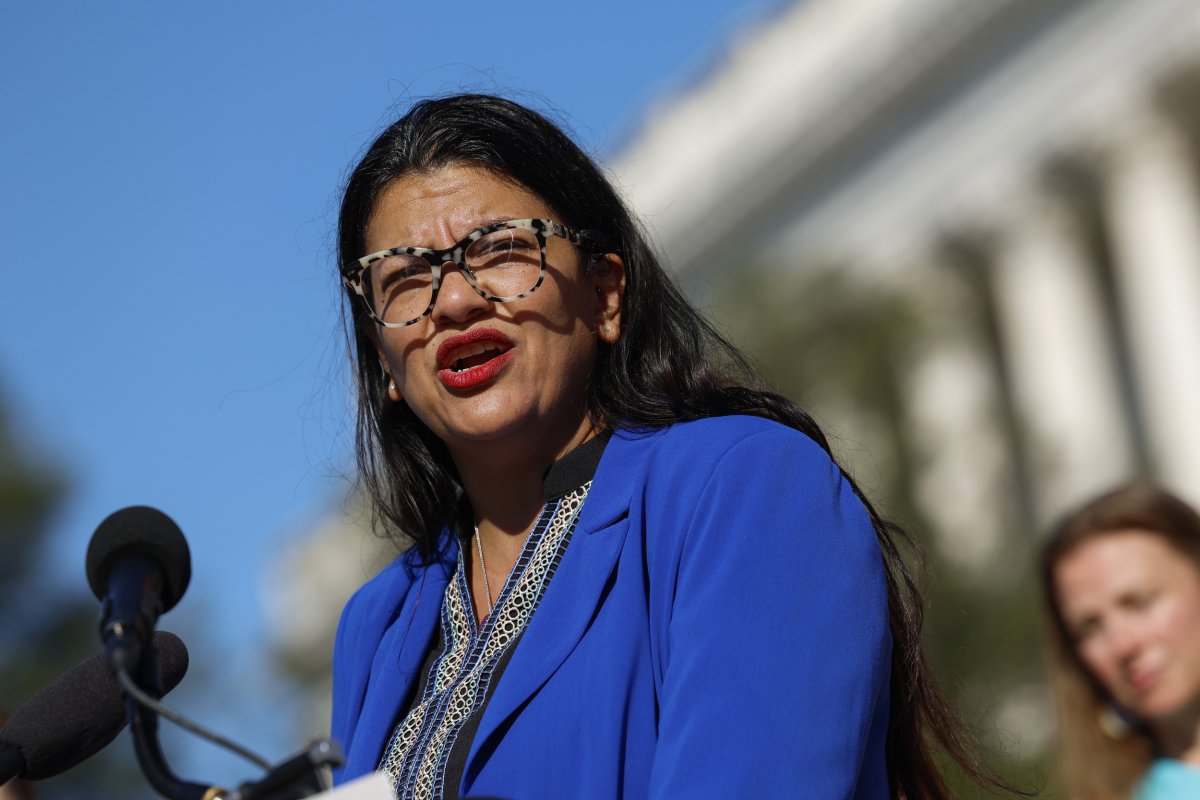 Republicans were quick to criticize her speech, which the original poster of the footage said showed her attributing the hospital explosion to Israel, though she didn't explicitly say that. Rep. Marjorie Taylor Greene described Tlaib as the "Hamas Caucus Leader," while Rep. George Santos—who is currently facing a fraud case—accused her of "peddling falsehoods."
"Why continue to spread this lie spewed by Hamas?" wrote Tim Walberg, a GOP Michigan representative. "Americans are still being held hostage and perpetuating this lie will only endanger more lives."
Newsweek approached Tlaib's office via email for comment on Thursday.
There have been conflicting accounts of how the Al-Ahli Arab Hospital in Gaza City was hit. While Hamas was quick to blame the Israel Defense Forces (IDF)—who have been conducting an intensive campaign of air strikes on the Palestinian territory—the IDF released a flurry of evidence it claimed showed the explosion was a result of an Islamic Jihad rocket aimed at Israel misfiring.
During a visit to Israel on Wednesday, Joe Biden sided with Israel over the matter, telling Netanyahu in a meeting: "Based on what I've seen, it appears as though it was done by the other team, not you." However, he added that there were "a lot of people out there" who weren't sure what caused the blast.
U.S. defense officials have since told Newsweek that they too had concluded that the hospital explosion wasn't due to Israeli air strikes, with one saying imagery and signal intercepts showed "that a rocket fired from inside Gaza landed near the hospital, not on it."
Another said early intelligence suggested a few dozen people had died, which while it was a "tragedy," highlighted "massive exaggeration and blatant lying on the part of Hamas."
Other progressive Democrats have revised their opinions of the blast. After insinuating that the IDF may have been responsible for one of "the gravest of war crimes," Rep. Ilhan Omar said: "Our office cited an AP report yesterday that the IDF had hit a Baptist hospital in Gaza.
"Since then, the IDF denied responsibility and the U.S. intelligence assessment is that this was not done by Israel. It is a reminder that information is often unreliable and disputed in the fog of war."
Meanwhile, British Prime Minister Rishi Sunak, who arrived in Israel on Thursday, told the House of Commons on Wednesday: "We should not rush to judgement before we have all the facts on the appalling situation that we saw yesterday."
Since about 1,500 Hamas militants launched their attack on Israel, killing civilians including children and the elderly, the Israeli Air Force has been conducting an intensive campaign of air strikes on Hamas targets in Gaza.
As of Thursday, the Gaza Health Ministry said 3,478 Palestinians have been killed and more than 12,000 wounded in Israeli actions since October 7, according to the Associated Press, while Israel says more than 1,400 Israelis were killed, and at least 199 others were taken hostage in the same period.
Since the violence began, Tlaib, who is of Palestinian descent, along with other progressive Democrat representatives, have called on Biden to de-escalate the crisis and call for a cease-fire.
In her home state, the Detroit suburb of Dearborn—which has the largest Muslim population in America—was host to a pro-Palestinian rally that accused Israel of "racist ethnic cleansing" and an "inhumane blockade" of Gaza.