A pregnant Airbnb host wound up homeless and hundreds of thousands of dollars in debt after a guest flooded her home and damaged her pipes.
In April, Erika Gemzer, who operates under the username @ErikaCoaches on X, formerly known Twitter, woke up to the sound of dripping water.
"At first, I thought it was raining, but looking out my bedroom window, the sky was bright blue," Gemzer said. "I jumped out of bed and ran into the hallway. Waterfalls of water were pouring from the ceiling and light fixtures."
Gemzer had used her life savings to buy a two-unit building in San Francisco. As two flats stacked on top of each other, the property was ideal for renting.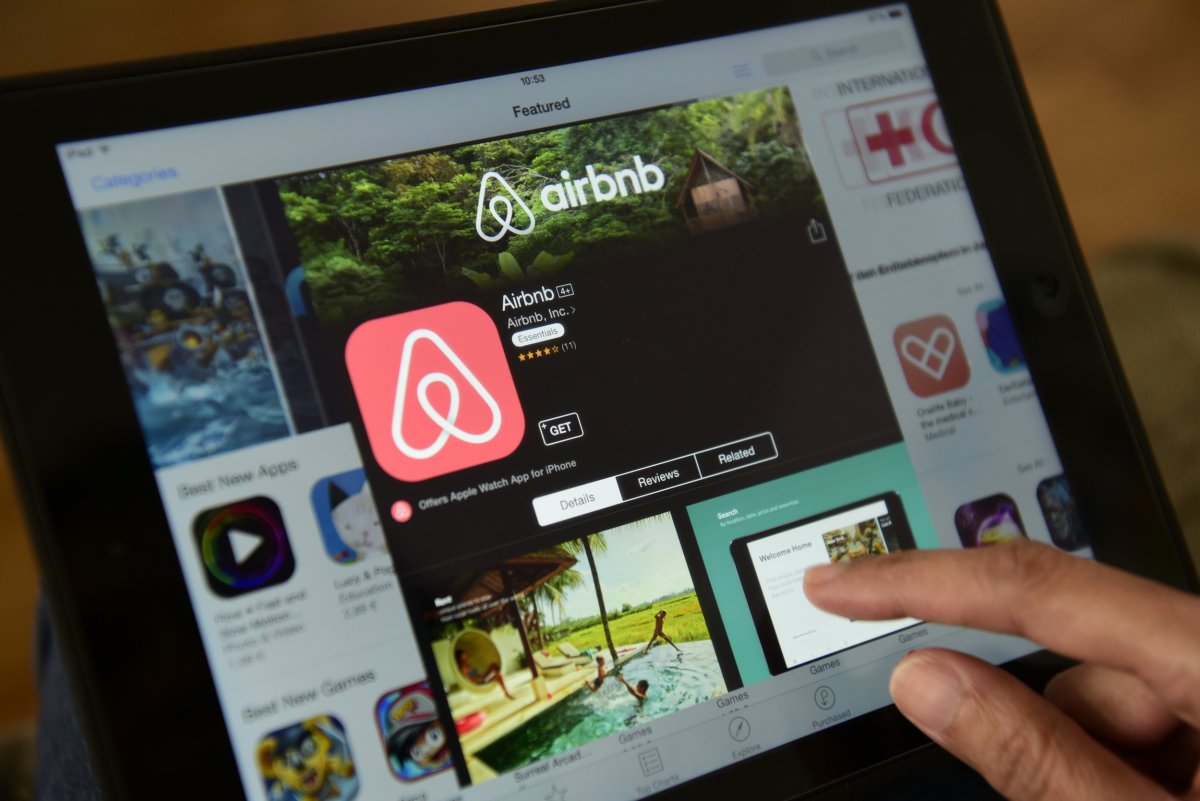 While Gemzer lived in the smaller lower unit with her husband, she rented the larger apartment. After her long-term tenants moved out during the COVID-19 pandemic, Gemzer hoped that she and her husband could use the upper unit for their families to stay over and help with their soon-to-arrive baby.
But before Gemzer's pregnancy ended, it seemed like a perfect time to rent the space out on Airbnb for some extra spending money. In April, Gemzer and her husband hosted a guest for one month, but the guest packed up early with no warning.
"They had clogged the bathroom toilet with baby wipes and human waste," Gemzer said. "They also damaged the valve that manages water flow from the tank to the bowl. A perfect storm."
Gemzer woke the next morning to a nightmare in her own home. The water had been running from the tank over the bowl and into the apartment nonstop for more than 15 hours.
"I went to bed at a normal hour, dealing with ungodly pregnancy nausea and with no idea that the unit above was flooding," she said.
Suddenly, all three levels of the building that Gemzer bought with her life savings had been near destroyed by fecal water. She estimated that half of the building had been ruined in the span of 15 hours.
Believing Airbnb would be liable for the damage made to her home from the guest, she called them first, but the answer she got was far from what she hoped. The company allegedly told Gemzer that she had to get repairs done first and then file a claim against the guest for the full amount. Only if the guest refused to pay would Airbnb create a case for Host Damage Protection.
"I was aghast," Gemzer said. "This wasn't a broken lamp. It's a building that's 50 percent destroyed."
She knew there was no way the guest could afford to pay it. While Airbnb previously touted its $3 million Host AirCover Guarantee, there was no support in getting Gemzer's home fixed or any kind of temporary housing in the meantime.
Airbnb's official damage protection appears helpful, promising to protect your home alongside valuables along with all parked cars and boats on your property.
"AirCover for Hosts provides top-to-bottom protection every time you Airbnb your place," the company says on its website. "It now includes even more protection, with guest identity verification, reservation screening, $3 million USD damage protection, protection for your valuables, and protection for parked cars and boats on your property."
The company then goes on to outline that those with damages can visit the Resolution Center to submit a reimbursement request.
"If the guest does not respond or pay within 24 hours, you'll be able to involve Airbnb," the company says.
Pregnant and on the Streets
Just one week after Gemzer hit the 12-week pregnancy milestone and had started to share the good news with friends and family, she found herself homeless.
"I watched final drips of water coming down the 120-year-old coffered ceiling, and my brain could barely register what had happened. The gravity of the situation hit hard," she said.
Since then, Gemzer has spent dozens of hours trying to get on the phone with Airbnb.
"It's been stressful and has consumed an incredible amount of energy," Gemzer told Newsweek. "The flooding happened at the peak of my pregnancy stress, as the pregnancy was inherently risky and I was on prescription drugs to temper all-day nausea.
"This incident has siphoned joy from my life this year, replacing excitement with fear, anxiety, and an unpaid part-time job trying to get my house put back together."
Gemzer said Airbnb didn't seem to care or understand that she wasn't going to be able to submit a receipt for rebuilding 50 percent of her house in the 14-day claim window. She was able to submit one estimate for just the drying out of the house, a whopping $130,000. The guest promptly said he couldn't pay for that, and Gemzer was put in the Airbnb case system two weeks after the flooding.
Over the next six weeks, Gemzer exchanged roughly 93 emails with Airbnb and a third-party adjuster to investigate her claim. Because Airbnb had refused to discuss the case until their third-party investigation was finished, Gemzer was kept waiting, even as the third party never came to the house as five weeks had passed.
Finally, after seven weeks, the third party hired a plumber to investigate the toilet and confirmed the issue. But even that brought on hassles of its own. Gemzer said the plumber refused to leave until she paid him $375 because he didn't trust he would get paid by Airbnb.
After that, the bad news kept rolling in.
"Airbnb emailed me alluding to some doubt about the origin of the baby wipes and feces," Gemzer said. "They hinted at concerns about maintenance issues on the toilet. People have lived here for years with no broken valve or flooding or excessive flushing of baby wipes."
At one point, Airbnb offered $6,000 in damages and asked Gemzer to sign away her rights to future payments. Then, the offer disappeared from the app, never to be seen again.
In all, Gemzer had already lost money for the $19,451 in booking canceled, $5,000 for her insurance deductible, $375 for the plumber, $6,270 in insurance premium increases, $19,547 in damage demolition and $2,100 for water damage mold testing. That was already $52,743 in losses.
That didn't include the lost revenue from the time the unit has been unusable or Gemzer's mortgage payments, property taxes, damaged appliances and other costs not covered by insurance.
When Gemzer reached out to someone she knew who worked at Airbnb, she found out that there's an internal escalation processes for cases like hers. Gemzer said it's for "cases where the host isn't getting anywhere, and they happen to know an employee and can get them to file an internal bug."
"Ask yourself how broken that sounds," she said.
Gemzer now has a case manager who somewhat regularly responds to emails, but there's been no timeline for moving back into her home or a single dollar to cover what has now surpassed to $300,379 in expenses.
Gemzer said it's been "just headaches and 146-plus back-and-forth emails with Airbnb support."
This week, the company made its final offer of $31,000, roughly 10 percent of Gemzer's total out-of-pocket expenses. And by accepting a reimbursement, Gemzer also has to sign away her rights to future claims.
According to Gemzer, Airbnb claims that the $3 million AirCover policy doesn't cover 90 percent of her expenses, including the water bill, lost revenue, and mold testing and demolition.
Today, it's been six months since Gemzer's home was destroyed by an Airbnb guest, and she remains homeless and pregnant. The baby is due any day now.
Airbnb also emailed Gemzer last week saying she lost her "superhost" status.
"I truly cannot imagine that a company like Airbnb intends to leave hosts homeless and otherwise high and dry in their darkest moments," Gemzer said. "Especially when the source of the hardship was 100 percent caused by guest damages."
Gemzer told Newsweek that as of Friday morning, there has been no new word from the company.
After providing Airbnb with what she called mountains of documentation spanning estimates for repairs and losses as well as itemized expenses over the past six months, Gemzer still has hope the company could live up to the promises of AirCover.
She also hopes that Airbnb will better educate hosts in the future on the limitations of their policy, so other hosts don't mistakenly believe they're covered top to bottom.
"I want to believe that Airbnb will make this right," she said. "I want to believe this is a mistake. I want a home to bring my baby home to. Most of all, I want this nightmare to end."
Newsweek reached out to Airbnb for comment.