For centuries, women have looked to royal brides for inspiration when choosing their wedding dresses, whether it be the virginal white gown of Queen Victoria in 1840 to the simple boat-necked creation worn by Meghan Markle in 2018.
Royal wedding dresses over the years have become historic artifacts, made available for thousands to see in person at royal palaces and museums, in addition to the millions able to study closely each design through news footage and photographs.
Here, Newsweek looks at six iconic royal wedding dresses that have made fashion history.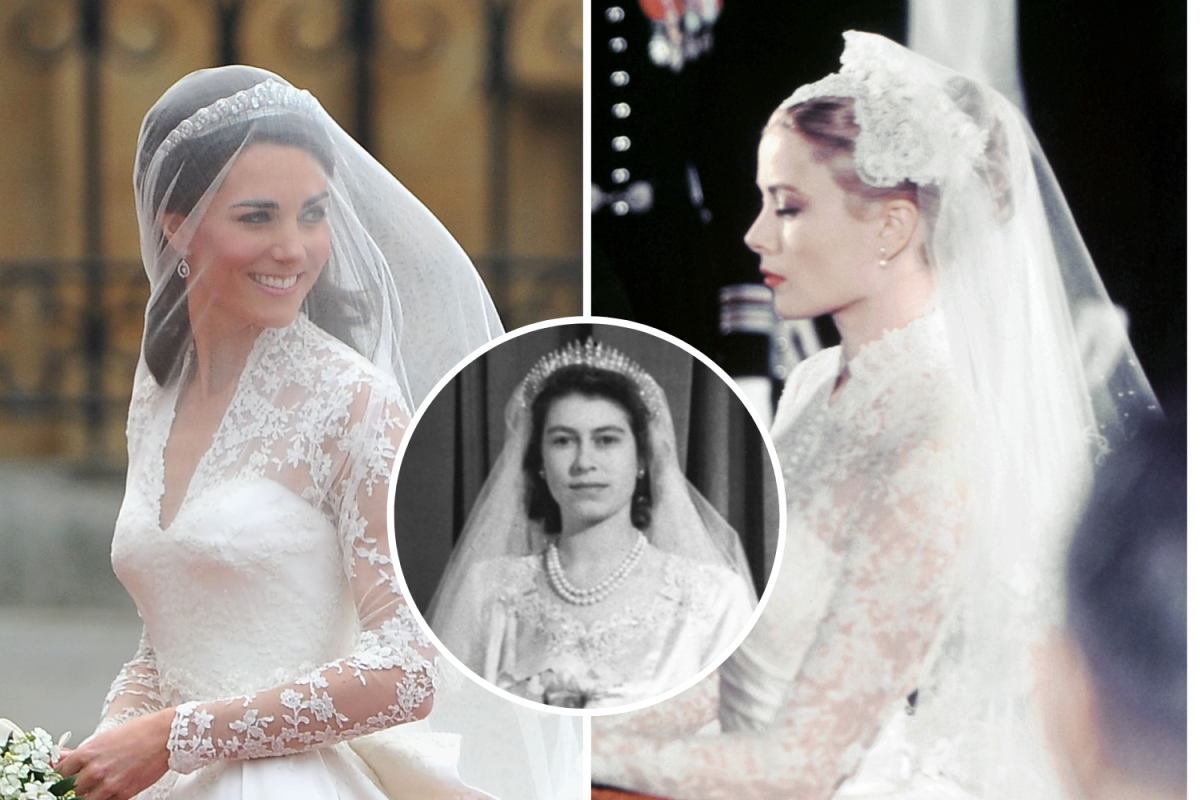 Queen Victoria
Queen Victoria's wedding dress, worn to her February 1840 wedding to Prince Albert at St James's Palace in London, is perhaps the most influential wedding dress of all time.
The elegant full-skirted gown with close fitting bodice and bateau (boat) neckline is credited with being the dress that started the tradition of brides wearing white on their wedding days.
Until then, women had been married in whichever of their clothes had been their best, owing to the high price of textiles. Royal brides and aristocrats had ordered new dresses but these were usually in rich fabrics of any color, including cloth of gold or silver.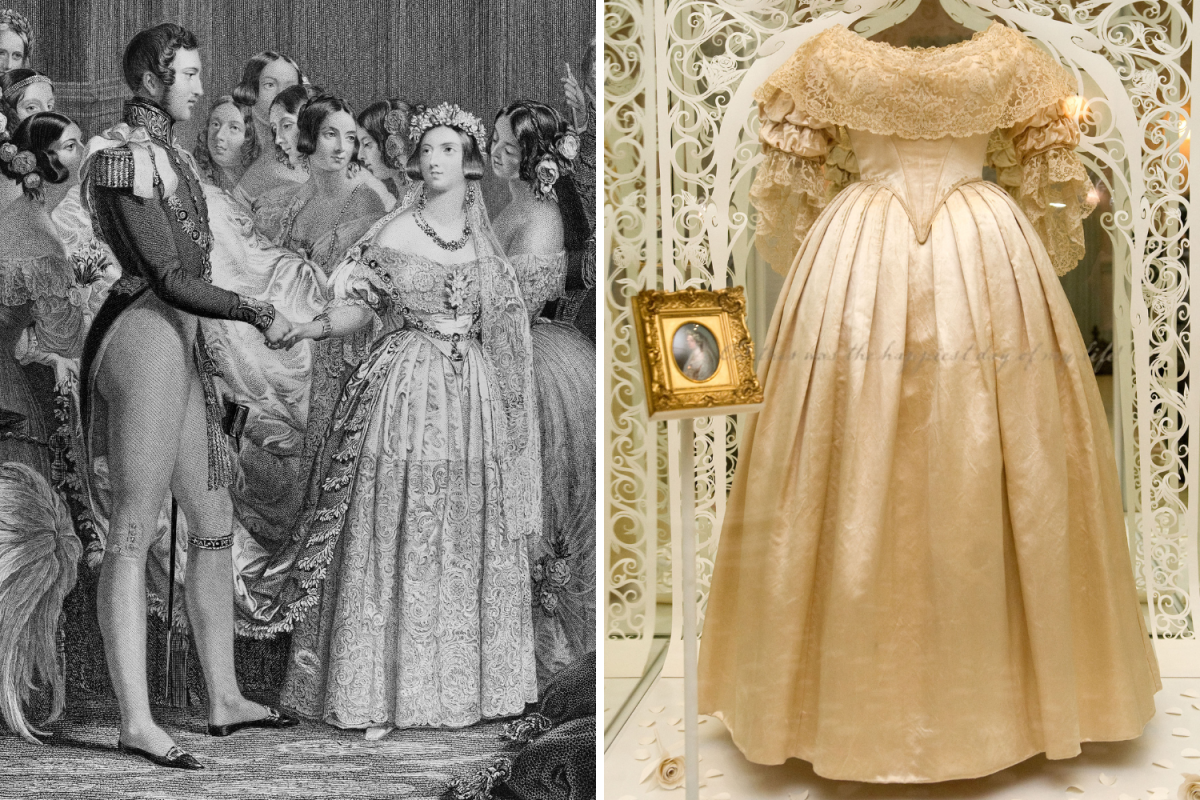 When marrying Albert, Victoria wanted to do so in a way that did not highlight the fact she was a queen and he a mere prince. Therefore she did not wear a crown, tiara or robes of state. Instead she wore a wreath of orange blossoms in her hair and the simple white gown.
The queen's choice soon set a trend replicated by women throughout Britain and, through colonial rule, the British empire around the world, contributing to the tradition still observed today.
Queen Elizabeth II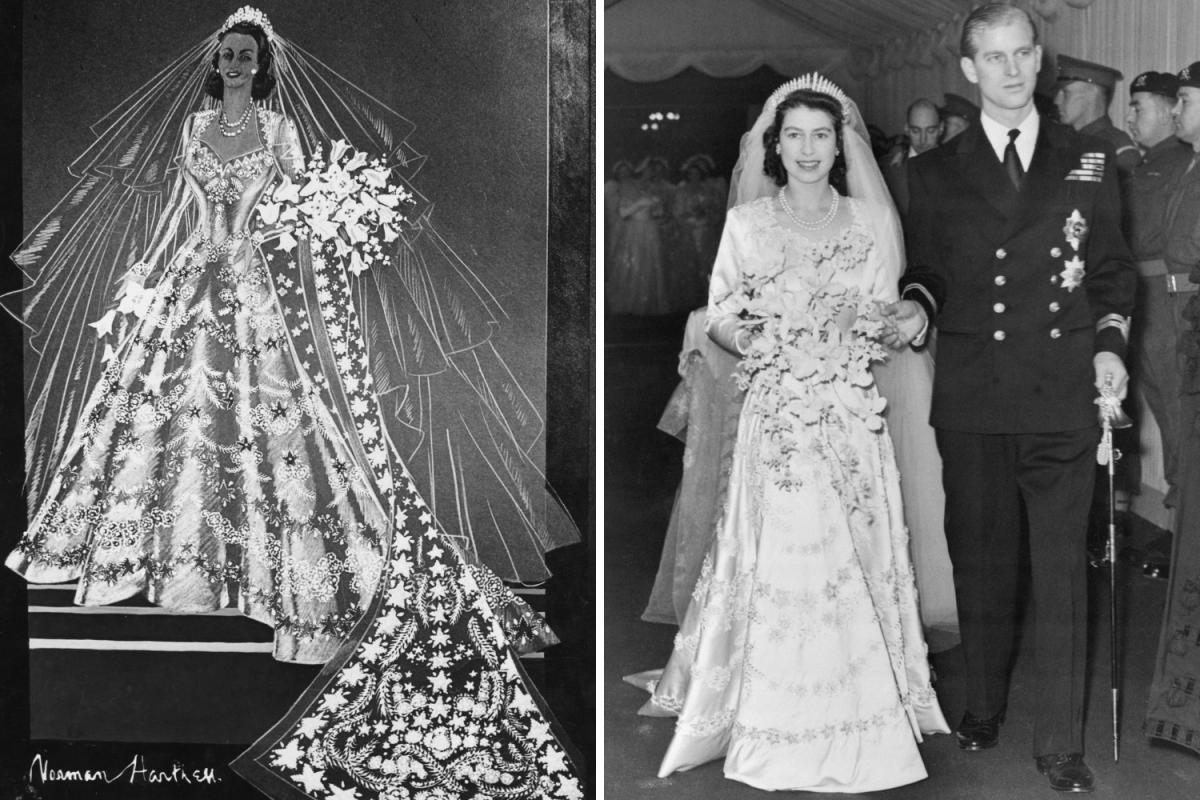 When Princess Elizabeth (later Queen Elizabeth II) married Philip the Duke of Edinburgh (later Prince Philip) in 1947, she did so as Britain was still feeling the aftereffects of World War II, when clothing and food items were still rationed.
The wedding dress became a symbol of Britain's post-war recovery, and Elizabeth appointed favorite royal fashion designer, Norman Hartnell, to undertake the commission.
Hartnell based his design on Botticelli's Primavera painting, embroidering the symbols of spring onto the long-sleeved gown with open neckline and fluted skirts.
Princess Grace of Monaco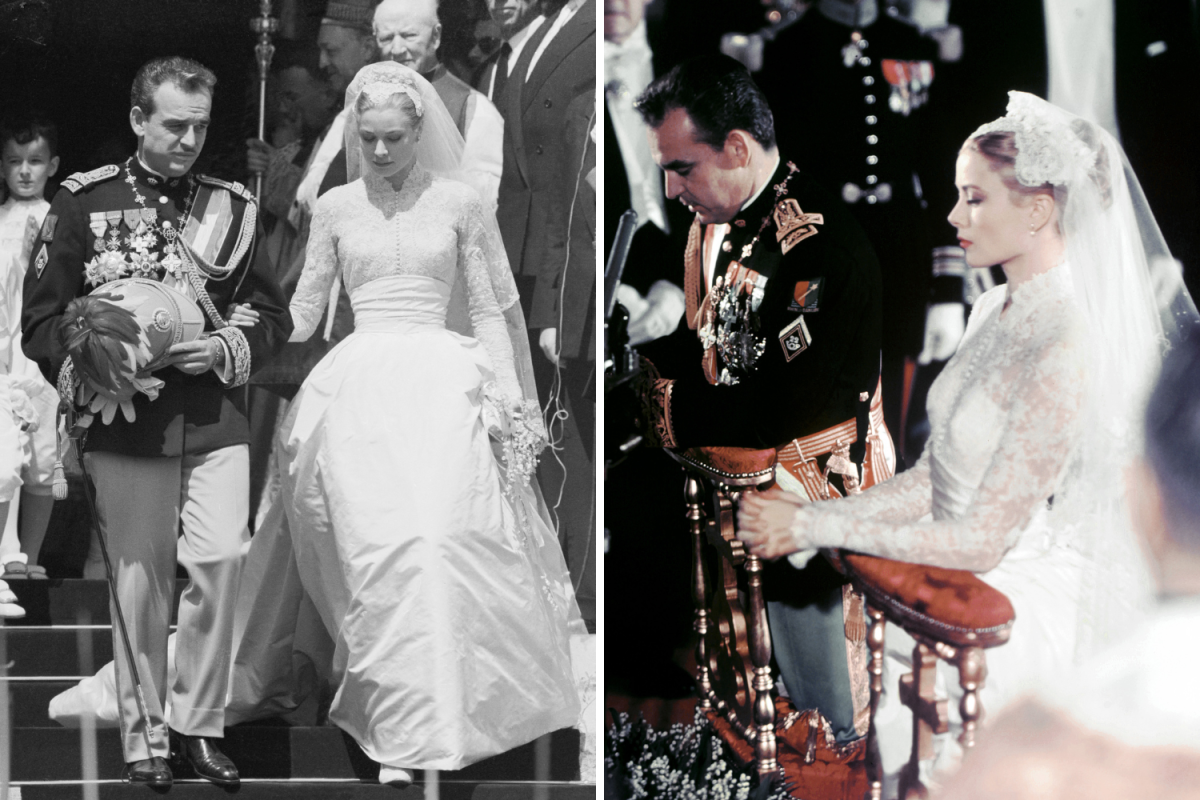 A Hollywood fairy tale came true in 1956, when Oscar-winning American actress, Grace Kelly, married Prince Rainier III of the small principality of Monaco in the French Riviera.
Kelly married at the Prince's Palace and Saint Nicholas Cathedral wearing an elegant white gown with full skirts bound at the waist with a wide band from which fell a train, and a close-fitted bodice with lace overlay and sleeves.
The dress was designed by Hollywood costume designer, Helen Rose, and has formed the basis of a number of famous wedding gowns in the years since, including the one worn by the Princess of Wales at her 2011 wedding to Prince William.
Princess Diana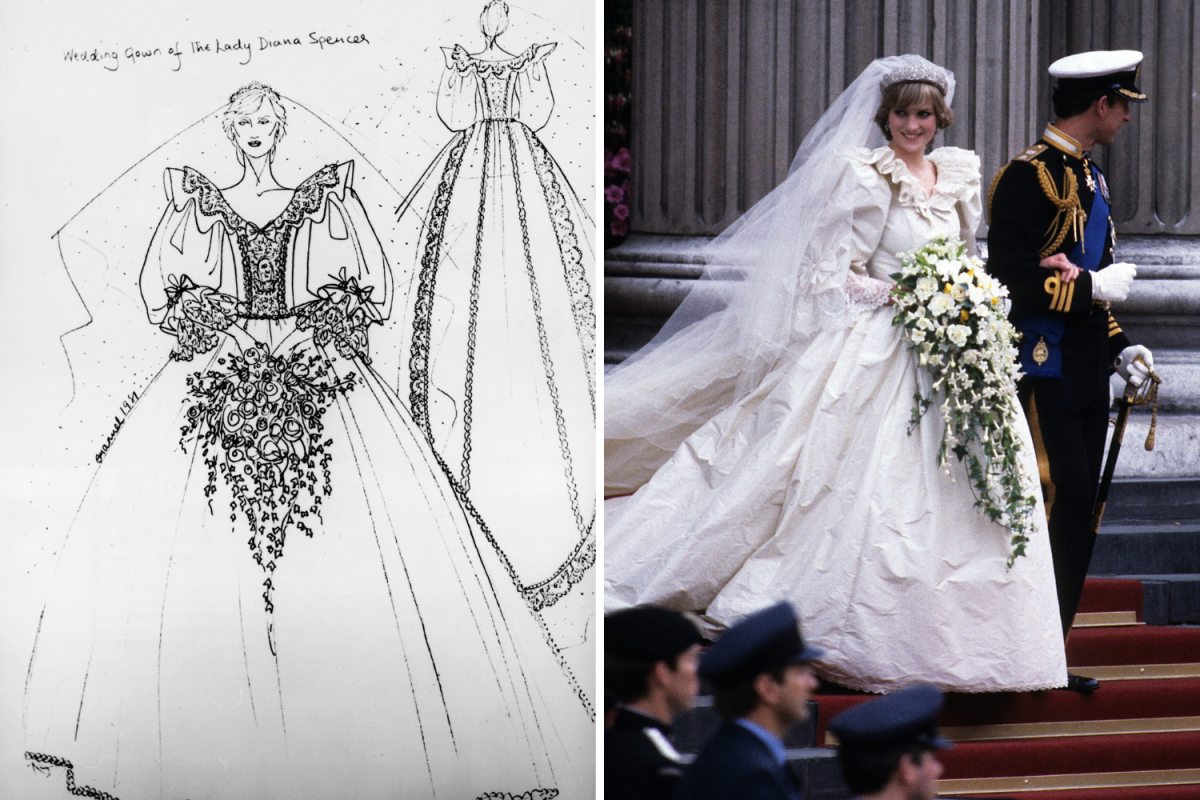 Princess Diana's 1981 dress worn for her marriage to Prince Charles (now King Charles III) at St Paul's Cathedral was an exercise in 1980s excess.
The gown, designed by David and Elizabeth Emanuel, featured layers of ivory silk taffeta with a bell-shaped skirt and close-fitted bodice, accentuating the bride's small waist with oversized puffed sleeves and ruffled neckline.
Department stores hired teams of dressmakers to create replicas of the dress after it made its debut at the cathedral on July 29, 1981, and after the princess' untimely death at the age of 36 in 1997, it was inherited by her two sons, Prince William and Prince Harry.
Princess of Wales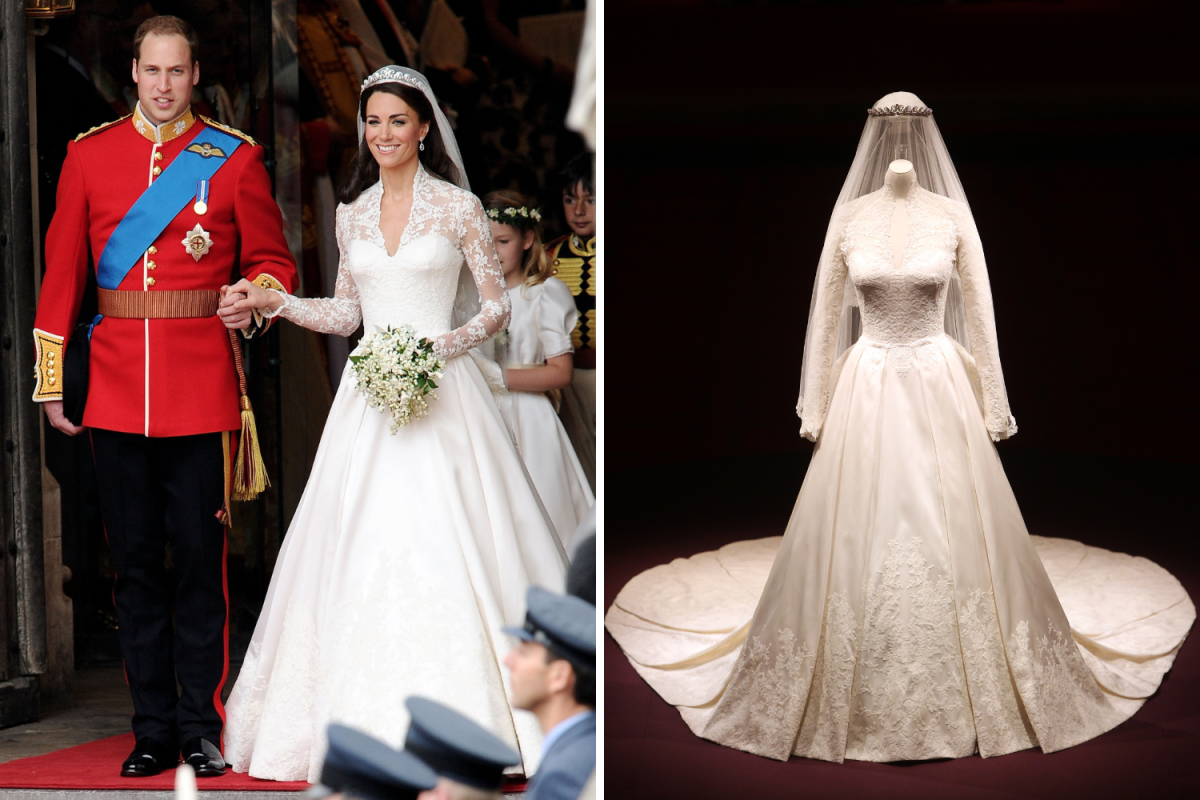 When Kate Middleton married Prince William in April 2011, she surprised some fashion followers by appointing Sarah Burton from Alexander McQueen to design her all-important dress.
The McQueen label is known for its out-of-the-box designs, drawing on dark themes combined with British heritage and expert tailoring.
The resulting dress was classic in its aesthetic, drawing some inspiration from Grace Kelly's 1950s gown with the sweetheart neckline bodice overlayed with lace-paneled neckline and long sleeves.
Where the McQueen twist was implemented was in the expertly tailored skirt which featured engineered silk panels, designed to fan perfectly to their full volume as Kate took the long walk down the aisle of Westminster Abbey.
Duchess of Sussex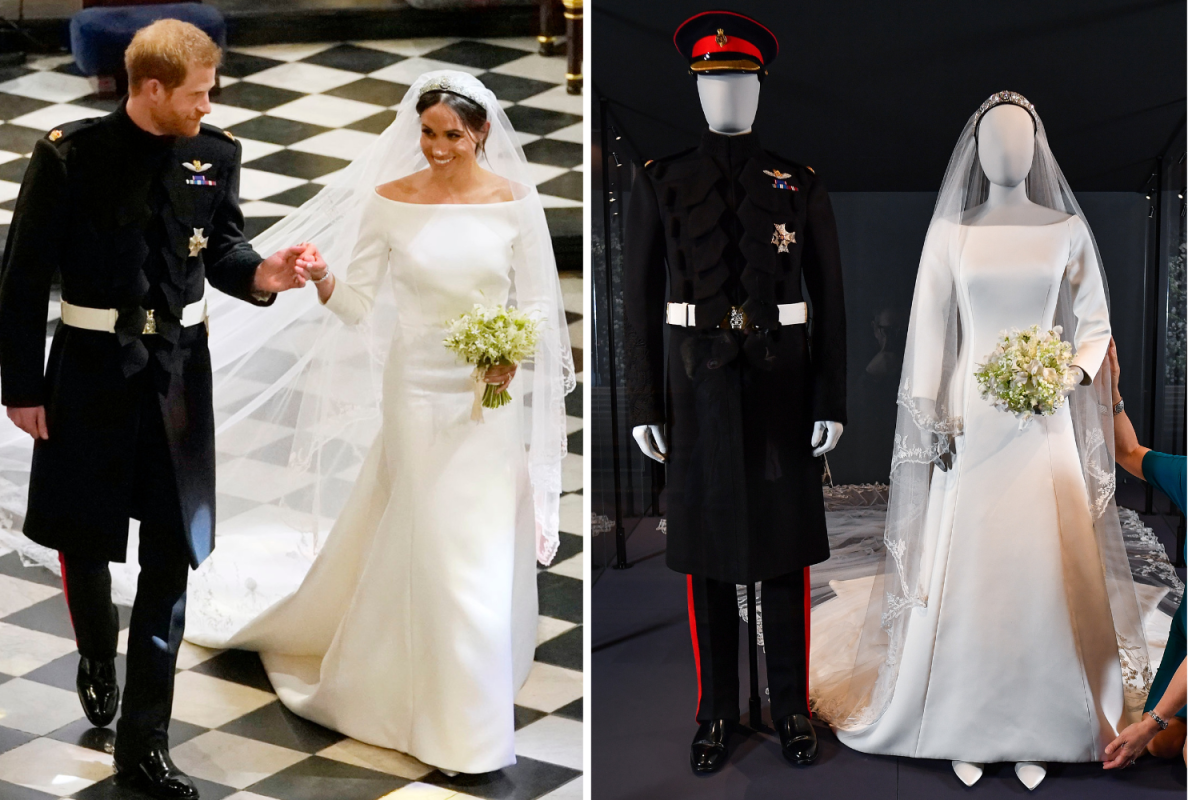 Meghan Markle broke away from the traditional British royal custom of ordering her wedding dress from a U.K. designer, instead looking to the haute couture salons of Paris for inspiration.
Meghan's gown was made by Givenchy, designed by creative director Clare Waight Keller, and was the height of simplicity in its longline shape with open neckline falling to the peak of the shoulders and paneled train.
Meghan's dress was accentuated by the cathedral length veil, which was embroidered with all the floral emblems of the Commonwealth nations as a nod to the institution she was marrying into.
James Crawford-Smith is Newsweek's royal reporter, based in London. You can find him on X (formerly Twitter) at @jrcrawfordsmith and read his stories on Newsweek's The Royals Facebook page.
Do you have a question about King Charles III, William and Kate, Meghan and Harry, or their family that you would like our experienced royal correspondents to answer? Email royals@newsweek.com. We'd love to hear from you.
Uncommon Knowledge
Newsweek is committed to challenging conventional wisdom and finding connections in the search for common ground.
Newsweek is committed to challenging conventional wisdom and finding connections in the search for common ground.