Major League Baseball has experimented with a number of changes to the way the game is presented over the last few years, to mostly positive reviews.
The most notable, of course, is the pitch clock. The 15-to-20-second timer between each pitch has sped the game up to an enormous degree, eliminating the five-hour marathons that used to take place on a nightly basis during the postseason.
Baseball broadcasts have also added some intriguing elements, including the umpire camera which provides the viewer with a unique angle to watch the game. While a camera attached to an umpire's mask is unsurprisingly shaky at times, it provides the viewer with an up-close look at what batters see when an MLB pitcher rears back to throw.
Sometimes, the results are a little scary. Just ask Houston Astros second baseman José Altuve, who was forced to hit the deck on Thursday when a changeup from Texas Rangers pitcher Dane Dunning flew high and tight to his face in the fourth inning of Game 4.
Altuve stood up chuckling after the frightening moment and assured the umpire he was okay. He then proceeded a coax a walk out of Dunning, which was part of a four-run fourth. Altuve scored when Jose Abreu obliterated a 438-foot three-run homer that gave the Astros a 7-3 lead. They went on to win 10-3, evening the series at 2-2.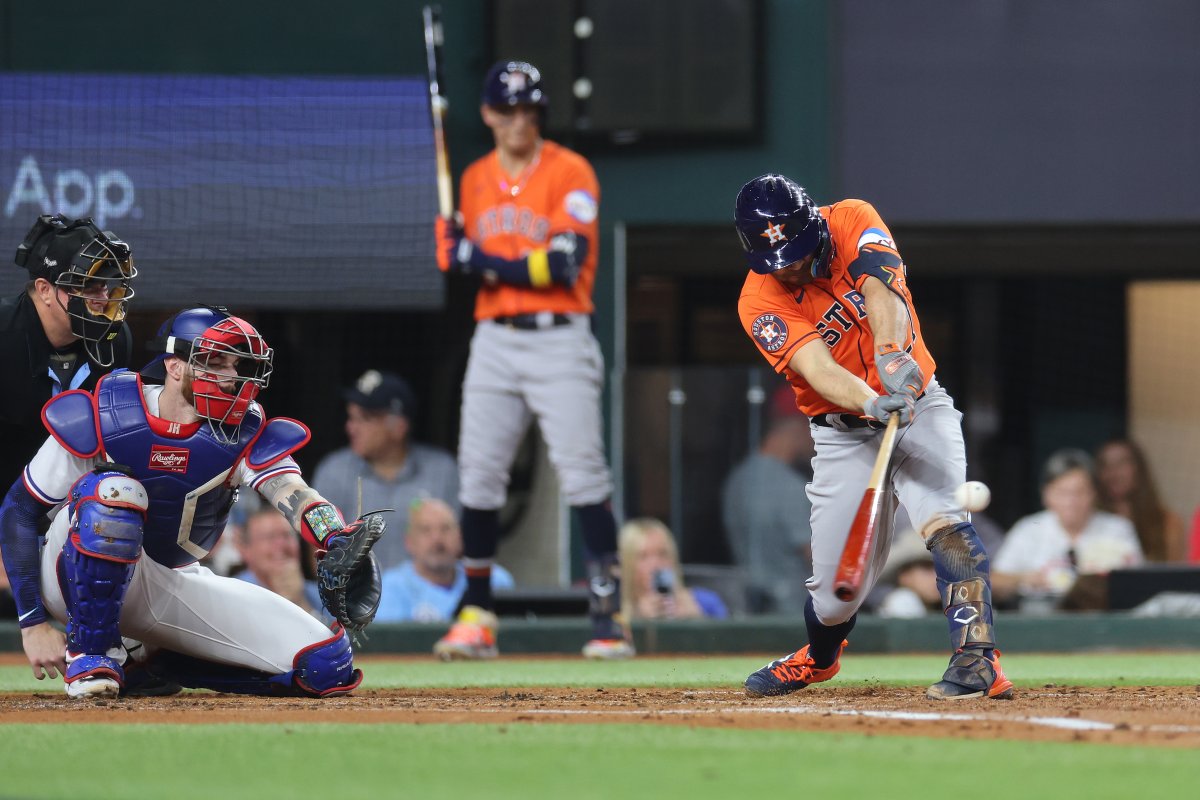 The umpire cam was first used by FOX Sports during the 2022 All-Star Game, and ESPN aimed to use it 15 times during broadcasts this past season.
"To have one guy whose job is to stand in the perfect place to watch the pitch, right over the catcher shoulder and not move his head, that is a big deal to get a camera in that spot because all the other cameras are basically on a 400-foot circular perimeter on the outskirts," ESPN VP production Phil Orlins told Sports Business Journal in March. "By definition, his job is to put his head right where you want to put a camera."
Thanks to umpires, we know what an 84-mph changeup looks like coming straight at one's face. We also know what it looks like to try to line up and hit a 99 mph fastball.
Hitting a fastball is widely considered one of the most difficult things to do in professional sports (which is why even the best hitters in the world record a hit roughly three times in 10 at-bats). With a close look like this, it's easy to see why.
Always wear your helmet, kids.
Uncommon Knowledge
Newsweek is committed to challenging conventional wisdom and finding connections in the search for common ground.
Newsweek is committed to challenging conventional wisdom and finding connections in the search for common ground.