The Chicago Bears have ruled starting quarterback Justin Fields out for Sunday's game against the Las Vegas Raiders because of the dislocated thumb on his right hand.
Rookie backup quarterback Tyson Bagent will get the nod under center in Week 7, making him just the fourth Division II QB to start an NFL game in the past 20 years. Bagent joined the Bears as an undrafted free agent in May. The 23-year-old then beat out P.J. Walker for a roster spot in the preseason and has solidified himself as Chicago's No. 2 quarterback.
Bagent made his NFL debut last week after Fields left with his injury.
"I think coming from where I come from, I've pretty much beat every odd that there was for me," Bagent said this week. "So I've got nothing to lose. I'm going to go out there and fight with these guys to the death and try to stack up as many wins as I can until we get Justin back."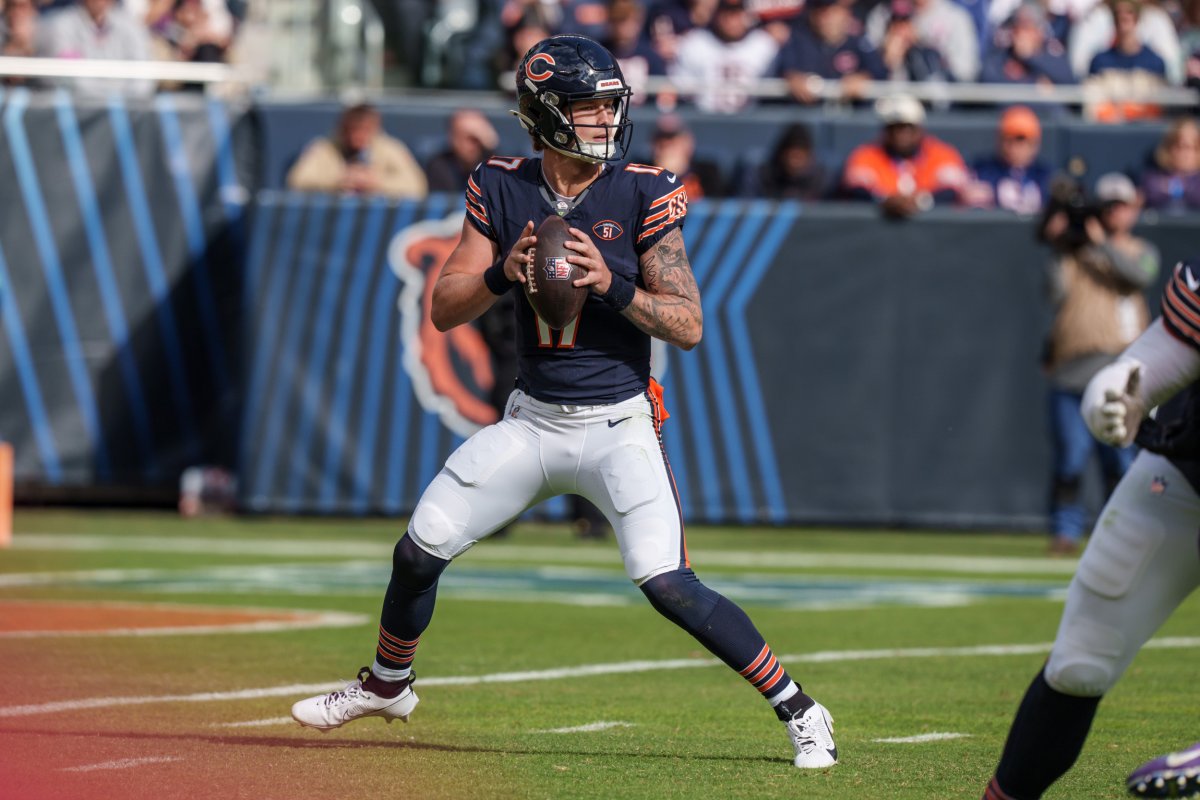 Head coach Matt Eberflus said Friday that the team doesn't think Fields will need to go on injured reserve, though he is considered week-to-week. So Bears fans might need to acclimate themselves with the sight of Bagent under center.
The Bears (1-6) host the Raiders (3-3) at 1 p.m. ET Sunday. Here are five things to know about the rookie before kickoff.
Division II College Football Record-Setter
Bagent won two state championships and passed for 7,800 yards and 112 touchdowns over his career at Martinsburg High School in West Virginia. But that production didn't lead to much interest from colleges, at least at the Division I level.
Albany and Robert Morris were the only D-1 schools to offer Bagent a shot, according to ESPN. The 6-foot-3 QB went in a different direction.
Bagent decided to play college football in his home state at Shepherd University, a Division II school that both of his parents previously attended. Turns out, that was a good choice. The rookie ended his college career holding the NCAA record for all-time touchdown passes (159) and is the Division II record-holder for all-time passing yards (17,034) and total touchdowns (171).
"I didn't know that he was that Division II quarterback that set all the records," Bears cornerback Jaylon Johnson said this week. "When I found out, it started to make sense. He knows he can play at a high level. He can sling a ball. You see that throughout practice. He just carries himself different than the normal rookie quarterback, undrafted."
Won Award Named After Former Bear
The Division II record-setter was connected to the Bears before he ever put on an NFL uniform.
Bagent was the 2021 Harlon Hill Trophy winner, the Division II equivalent to the Heisman Trophy. That season, as a junior, Bagent threw for 5,000 yards and 53 touchdowns on his way to earning the status as Division II's most outstanding football player.
The award's namesake played for the Bears from 1954-61. Hill, who played both defensive back and the equivalent of a wide receiver, earned NFL Rookie of the Year and Most Valuable Player honors in his time with the Bears. The three-time Pro Bowler is still second in franchise history in receiving yards (4,616) and receiving touchdowns (40).
Coached by Bears OC in Senior Bowl
Bagent's standout play in college made him the rare Division II player to earn a spot at the Senior Bowl earlier this year. The event is a key step along the NFL Draft process for players hoping to get noticed by coaches at the next level. And the coach of Bagent's Senior Bowl squad was none other than current Bears offensive coordinator Luke Getsy.
Though the Bears didn't use a draft pick on Bagent, his time spent with Getsy certainly factored into the franchise's decision to bring him in as a free agent.
"He has a lot of confidence, and he works his butt off," Getsy said of Bagent this week. "The preparation is what gives him his confidence. In the beginning of the [Senior Bowl] week, I kind of thought he was a nervous dude, but I think it was because he was working his tail off so much. By the time we got to Wednesday, Thursday, I saw a guy ready to rock and roll.
"The cool part about him is just the work ethic and the kind of teammate that he is, that he brings to that huddle, and to be able to go command the huddle right away in his first opportunity to do so, he did a really nice job."
Father Is Arm Wrestling Champion
Safe to say there were a lot of wrestling matches in Bagent's home growing up.
Or at least the arm-wrestling kind. Bagent is the son of professional arm wrestler Travis "The Beast" Bagent, a 17-time world champion in the sport. Bagent's father has won titles with both arms and proclaims himself the greatest arm wrestler of all time.
Had Backup Plan if NFL Didn't Work Out
What would Bagent be doing right now if he didn't earn a spot in the NFL?
"CrossFit my life away and get as ripped and jacked as I could," Bagent said this week, also adding he would be a teacher at his alma mater.
That plan will just have to wait. Fields injured his hand in the third quarter of Chicago's Week 6 game against the Minnesota Vikings. Bagent was suddenly thrown into his first-ever NFL action. The rookie completed 10 of 14 passes for 83 yards in his debut, and scored his first professional touchdown on a QB sneak that made it a one-score game.
But Bagent was intercepted, his second turnover of the day, on Chicago's final offensive drive in a 19-13 Bears loss. Bagent acknowledged postgame that he needed to play better moving forward. But several Bears players have been outspoken in their support of the Division II rookie throughout the week.
Will there be nerves ahead of Bagent's first NFL start? Maybe. But it beats the alternative.
"To look where I'm at and to look how everything has fallen into place," Bagent said, "just nothing but extreme gratitude and just feeling super blessed."
Uncommon Knowledge
Newsweek is committed to challenging conventional wisdom and finding connections in the search for common ground.
Newsweek is committed to challenging conventional wisdom and finding connections in the search for common ground.