Israeli forces conducted an airstrike on the Al-Ansar mosque in Jenin, a city in the northern West Bank, which they said was being used by Hamas and Islamic Jihad militants "who were organizing an imminent terror attack."
In a joint statement from the Israel Defense Forces (IDF) and the Israel Securities Authority on Sunday morning, officials said the cell that they claim had been operating out of the building was "responsible for several terror attacks over the last months," including one on October 14 in which a remotely controlled explosive device was detonated near a security fence.
Israeli authorities claimed the mosque had been "used by the terrorists as a command center to plan the attacks and as a base for their execution" since July, and said that the militants based there had been "neutralized."
Unlike the Gaza Strip, which is run by Hamas, the West Bank is run by the Palestinian Authority and has IDF forces deployed within its borders.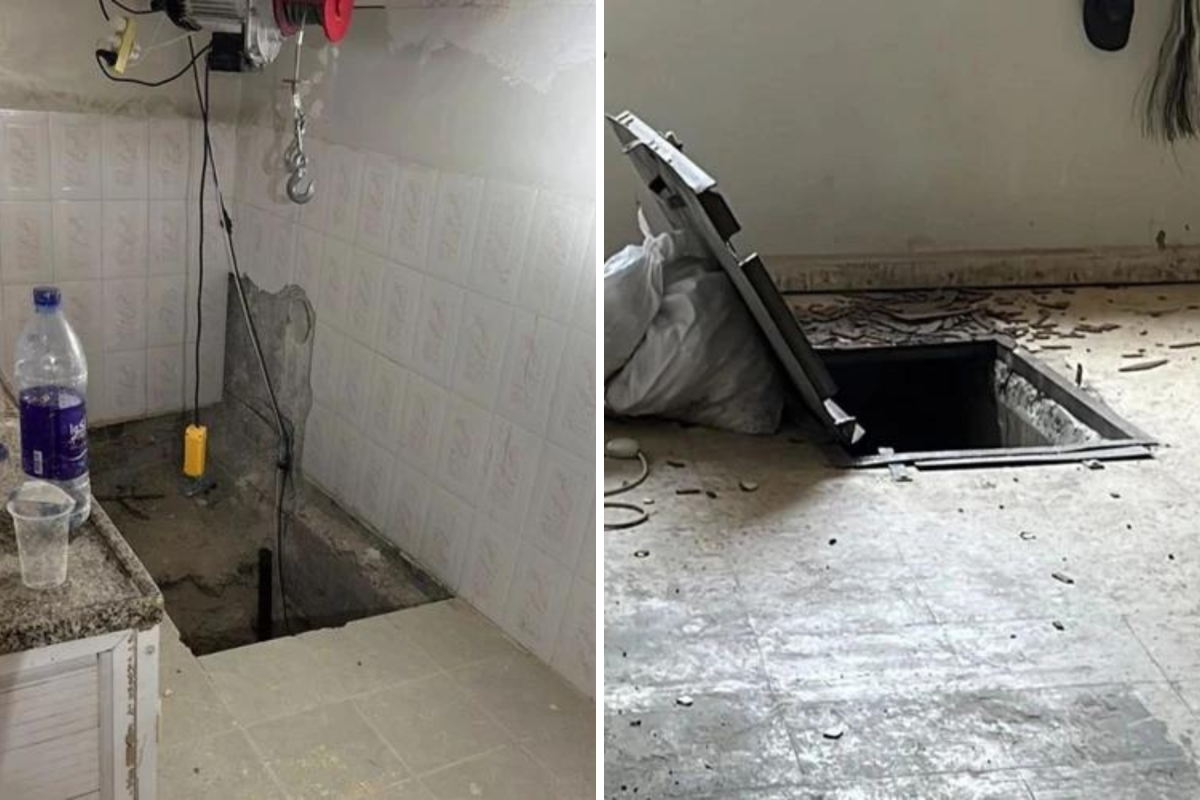 Since an estimated 1,500 Hamas and Islamic Jihad militants launched a surprise attack on Israel on October 7, there has been unrest and recorded clashes between militants and IDF forces in the West Bank.
On Saturday, there were 21 distinct clashes in the Palestinian territory, as well as three improvised explosive devices detonated around IDF checkpoints or vehicles, the Institute for the Study of War, a Washington D.C.-based think tank, said.
The IDF produced video footage from a raid inside the Al-Ansar mosque, conducted in July, showing two shafts leading underground on opposite sides of the building. Israeli soldiers can be seen recovering what appear to be materials for making improvised explosive devices, including gas cannisters and wiring, as well as a flak jacket bearing the Islamic Jihad symbol.
Several local outlets reported that two men were killed in the airstrike, citing the Palestinian Ministry of Health. Earlier, the Red Crescent emergency service said one person had been killed and a further three injured.
Newsweek has contacted the Palestinian Authority for comment via email.
Unverified footage circulating on social media shows a plume of smoke rising from a building at night, while in the morning light men can be seen moving rubble. Images and video produced by Reuters show the mosque still standing, though badly damaged.
Al Jazeera reported that the airstrike on the mosque, located in a densely populated Palestinian refugee camp to the north of Jenin, had taken residents by surprise as it was unusual for Israel to conduct aerial attacks on the West Bank.
Since militants attacked Israel from Gaza, killing civilians including children and the elderly, the Israeli Air Force has been conducting an intensive campaign of airstrikes on Hamas targets in the territory, which it says are often placed within civilian areas or buildings.
As of Sunday, the Hamas-run Gaza Health Ministry said 4,300 Palestinians have been killed in Israeli actions since October 7, including the disputed death toll from a hospital explosion, according to The Associated Press, while Israel says more than 1,400 Israelis have been killed and at least 212 others have been taken hostage in the same period.
Israel has indicated it is preparing a much larger offensive in Gaza.
Uncommon Knowledge
Newsweek is committed to challenging conventional wisdom and finding connections in the search for common ground.
Newsweek is committed to challenging conventional wisdom and finding connections in the search for common ground.