The stabbing death of a Detroit synagogue board president on Saturday has ignited a wave of criticism of Democratic Rep. Rashida Tlaib, who has been under mounting scrutiny after blaming Israel for a deadly strike on a Gaza hospital.
Samantha Woll, 40, who led the Isaac Agree Downtown Synagogue since 2022, was found stabbed multiple times early Saturday morning outside of her home in Detroit's Lafayette Park neighborhood, according to local media reports.
Woll was pronounced dead at the scene, according to the Detroit Police Department (DPD). A motive has not been determined, nor had a suspect been made public as of Saturday evening, the department said, adding that the investigation is ongoing.
Despite the unclear motive, the news of Woll's slaying sparked fresh backlash against Tlaib on social media, with people blasting the Michigan Democrat over a post she shared last week on X, formerly Twitter.
Newsweek reached out to the representatives for Tlaib and the DPD via email and Facebook on Saturday night for comment.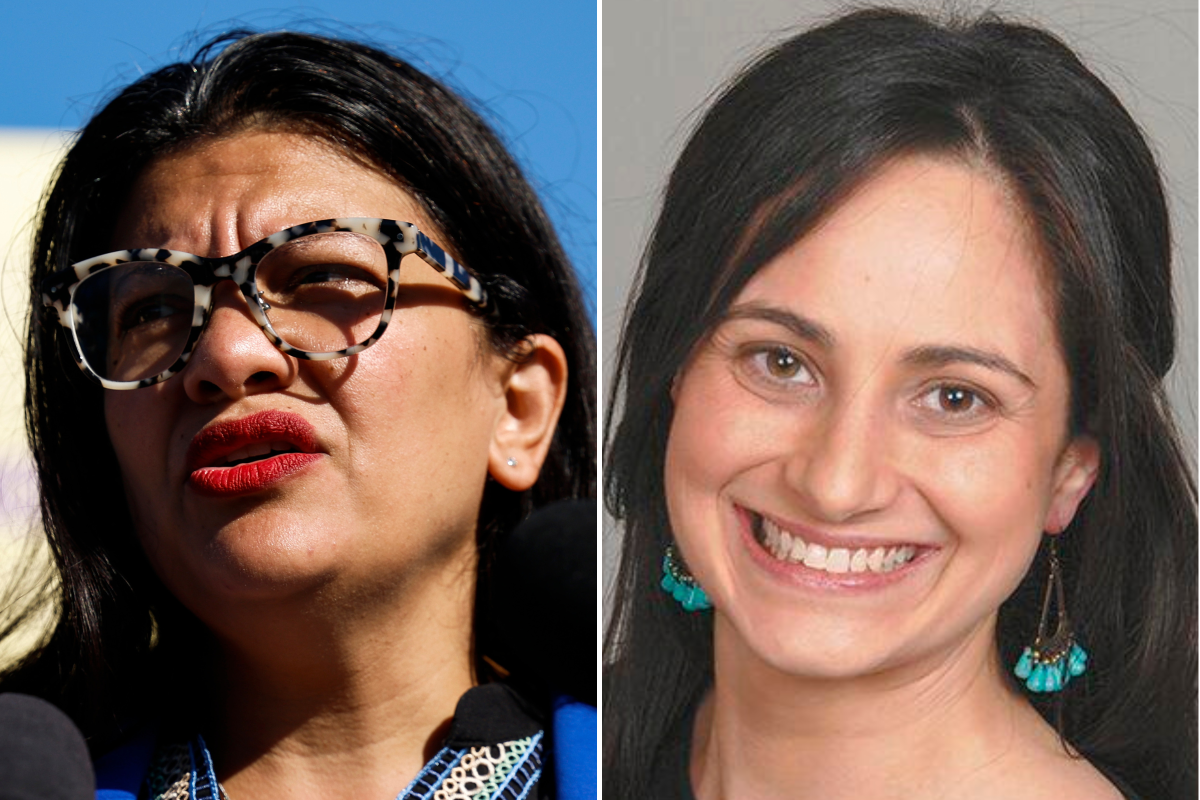 In the controversial social media post, Tlaib blamed Israel for the deadly blast at the Al-Ahli Arab Baptist Hospital in Gaza City on Tuesday that claimed nearly 500 lives, according to Palestinian officials.
"Israel just bombed the Baptist Hospital killing 500 Palestinians (doctors, children, patients) just like that," Tlaib said in the post. "@POTUS this is what happens when you refuse to facilitate a ceasefire & help de-escalate. Your war and destruction only approach has opened my eyes and many Palestinian Americans and Muslims Americans like me. We will remember where you stood."
Israel, Hamas and militant group Palestinian Islamic Jihad have all denied responsibility for the devastating strike.
While it is unclear if Woll's death has anything to do with the conflict in the Middle East, social media users accused Tlaib of inciting violence.
Laura Loomer, a far-right political activist and supporter of former President Donald Trump, lashed out at the Democratic lawmaker, saying that Woll's death was "likely incited" by Tlaib's comments.
"Michigan Jewish synagogue president Samantha Woll found dead outside Detroit home with multiple stab wounds in @rashidatlaib's district," Loomer said in a post on X. "This is a hate crime. Likely Incited by Rashida's calls for violence against Jews and her support for HAMAS."
Ellie Cohanim, a former Deputy Special Envoy to Combat Antisemitism under the Trump administration, blamed Tlaib for "spreading a blood libel" in a post on X.
"'I point my finger at @RepRashida Tlaib for spreading a blood libel against Israel & Jews'" I told @FoxFriendsFirst," Cohanim said in the social media post. "Now, Jewish member of Tlaib's district—the president of a synagogue—Samantha Woll was found stabbed to death."
Avraham Berkowitz also took to X to call out Tlaib.
"Samantha Woll, 40 years old, President of Jewish Synagogue in Detroit, stabbed to death outside her home," Berkowitz said. "If Samantha was Muslim @RashidaTlaib @RepRashida would have already accused and blamed Jews of her murder. Samantha was also the founder of the Muslim-Jewish Forum of Detroit, a grassroots organization aimed to build relationships between young adults of both faiths. She previously worked for @RepSlotkin Details on who is responsible and if it is related to the war in Israel, is not yet known."
Sam Dubin, a spokesperson for the Jewish Community Relations Council (JCRC), told Newsweek on Saturday night that the advocacy group is "absolutely heartbroken" over Woll's death.
Dubin said Woll, who was a JCRC member as well as a board member of the Jewish Historical Society of Michigan, was an "incredible leader" and a "passionate Muslim-Jewish bridge builder."
Tlaib, who is of Palestinian descent, has been under increasing scrutiny since Hamas' surprise attack on Israel on October 7, with fellow lawmakers demanding she condemn the militant group's actions. The Michigan Democrat previously released a statement mourning the loss of life on both Israeli and Palestinian sides, but she has not directly condemned Hamas' attack.
As of Saturday, more than 1,400 people in Israel have been killed and an estimated 4,000 Palestinians in Gaza have died, the Associated Press reported
Shortly after the attack on Southern Israel earlier this month, Israeli Prime Minister Benjamin Netanyahu said his country is "at war" and cut off food, fuel, electricity, and medicine supplies into Gaza, home to an estimated around 2.3 million people, including roughly 600 Palestinian-Americans.
Uncommon Knowledge
Newsweek is committed to challenging conventional wisdom and finding connections in the search for common ground.
Newsweek is committed to challenging conventional wisdom and finding connections in the search for common ground.