Samantha Woll, the Detroit synagogue leader who was killed on Saturday, was known as a "bridge builder" between Muslims and Jewish communities, according to her loved ones and local advocacy groups.
Woll, 40, the board president of the Isaac Agree Downtown Synagogue (IADS) since 2022, was found stabbed to death Saturday morning outside her home in Detroit's Lafayette Park neighborhood, according to the Detroit Police Department and Michigan State Police (MSP).
"The Michigan State Police is on the ground and working with the Detroit Police Department as they continue to investigate the tragic death of Samantha Woll," MSP Col. James F. Grady II said in a statement.
A motive for Woll's slaying had not been determined at the time of publication. DPD Chief James E. White cautioned against drawing conclusions while urging people to be patient as the investigation continues, according to a statement by the department Saturday night.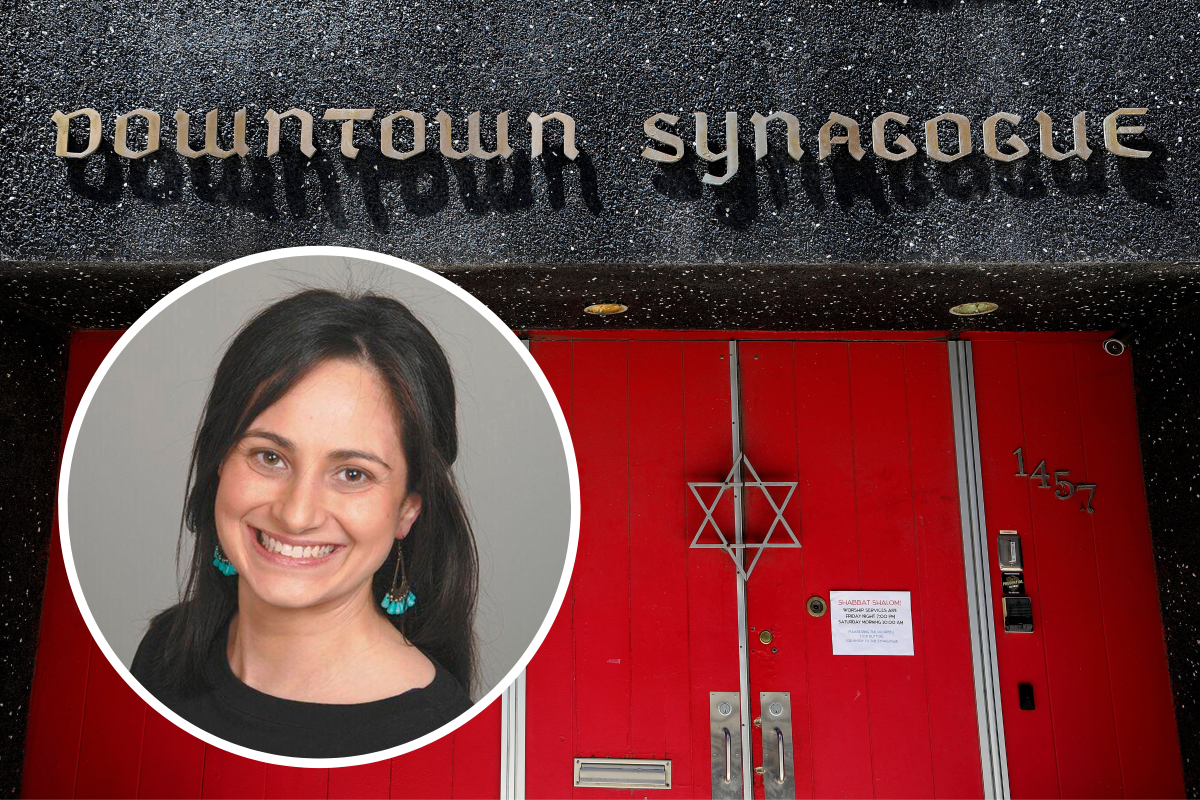 Newsweek reached out via email and Facebook on Saturday to the DPD and the IADS for comment.
Woll was lauded for her professional accomplishments in the feature article "36 Under 36" by The Detroit Jewish News in 2017. The outlet noted that she had been "instrumental" in founding the Muslim-Jewish Forum of Detroit, which fosters positive relationships between those communities.
The "36 Under 36" feature said that the forum Woll co-founded has helped to "build and deepen" relationships that did not previously exist between the young Jewish and Muslim people in the area.
"By extending her hand and creating space for connection between Muslims and Jews, she has exemplified the values of healing the world," The Detroit Jewish News wrote.
Newsweek reached out via Facebook to the Muslim-Jewish Forum of Detroit for comment.
Sam Dubin, a spokesperson for the Jewish Community Relations Council (JCRC), told Newsweek on Saturday night that the advocacy group is "absolutely heartbroken" over Woll's death and harkened her as "an incredible leader."
Dubin said Woll, who was a JCRC member, was a "passionate Muslim-Jewish bridge builder."
"We are grieving for her family and our community," Dubin said. "She will forever be remembered as a ray of sunlight to all who knew her."
Woll has led efforts to unite the two communities for years, including a 2015 event she hosted at Wayne State University to bring together "unconventional allies," Woll told Detroit public radio station WDET. The public event was planned by the Greater Detroit Muslim Jewish Solidarity Counciland included artwork and essays from Muslim and Jewish high school students who participated in a program called "We Refuse to Be Enemies."
During her role as board president of the IADS, a century-old institution that is the only free-standing synagogue in downtown Detroit, Woll recently led the renovation of the renovation of the historic building on Griswold Street.
Detroit Mayor Mike Duggan wrote in a post on X, formerly Twitter, praised Woll's efforts on the renovation and said that he was "devastated" by the loss of "one of Detroit's great young leaders."
"Just weeks ago, I shared a day of joy with Sam at the dedication of the newly renovated Downtown Synagogue," he wrote. "It was a project she successfully led with great pride and enthusiasm."
In a subsequent post, the mayor added: "Sam's loss has left a huge hole in the Detroit community. This entire city joins with her family and friends in mourning her tragic death."
Woll was also the co-chair of the American Jewish Committee's ACCESS Detroit Young Leadership Program and a board member of the Jewish Historical Society of Michigan.
In addition to being active in the Jewish community, Woll also had political connections. She previously worked for U.S. Representative Elissa Slotkin and on the campaigns of Michigan Attorney General Dana Nessel and State Representative Stephanie Chang, all Democrats.
Chang said in a Facebook post that Woll was a "beautiful friend."
"Sam Woll was an endlessly positive, brilliant, creative, supportive, beautiful friend with a big heart and wonderful smile," Chang said in the post, adding that Woll was "passionate about social justice, Detroit, her faith, and bringing people together."
Uncommon Knowledge
Newsweek is committed to challenging conventional wisdom and finding connections in the search for common ground.
Newsweek is committed to challenging conventional wisdom and finding connections in the search for common ground.