DEIR AL-BALAH, Gaza Strip (AP) — Israeli warplanes struck targets across Gaza early Monday, including in areas where Palestinian civilians have been told to seek refuge, after another small aid shipment was allowed into the besieged Hamas-ruled territory.
Israel is widely expected to launch a ground offensive in Gaza following Hamas' brutal Oct. 7 rampage into southern Israeli communities. Tanks and troops have been massed at the Gaza border, and Israel says it has stepped up airstrikes in order to reduce the risk to troops in the next stages.
Fears of a widening war have grown as Israeli warplanes have struck targets in the occupied West Bank, Syria and Lebanon in recent days. It has frequently traded fire with Lebanon's Hezbollah militant group, which is armed with tens of thousands of rockets.
Prime Minister Benjamin Netanyahu told troops in northern Israel on Sunday that if Hezbollah launches a war, "it will make the mistake of its life. We will cripple it with a force it cannot even imagine, and the consequences for it and the Lebanese state will be devastating."
Hezbollah's political movement is part of Lebanon's fractious government, but its fighters operate outside the state's control. Israel heavily bombed Beirut's airport and civilian infrastructure during a 2006 war with Hezbollah. Israel is meanwhile evacuating some communities on its own side of the border.
Rear Adm. Daniel Hagari said Israeli forces had wiped out eight militant cells in Lebanon over the past 24 hours and more than 20 since the start of the war, without elaborating.
More than 1,400 people in Israel have been killed — mostly civilians slain during the initial Hamas attack. At least 222 people were captured and dragged back to Gaza, including foreigners. Two Americans were released Friday, hours before the first shipment of humanitarian aid.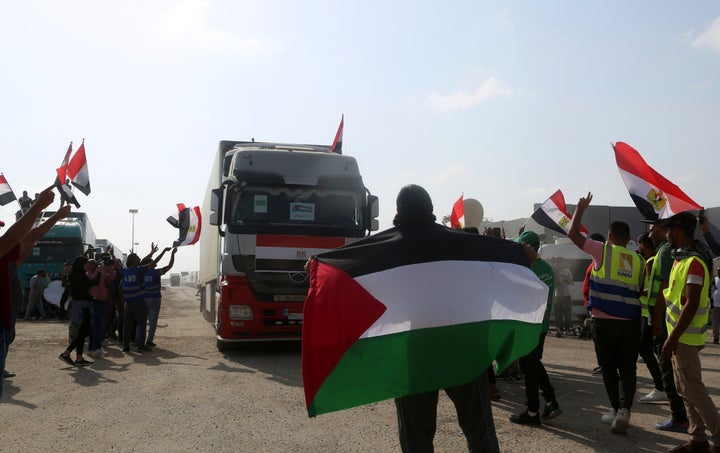 More than 4,600 people have been killed in Gaza, according to the Hamas-run Health Ministry. That includes the disputed toll from a hospital explosion.
Israel has carried out limited ground forays into Gaza, and on Sunday, Hamas said it had destroyed an Israeli tank and two armored bulldozers inside the territory it has ruled since 2007. The Israeli military said a soldier was killed and three others were wounded by an anti-tank missile during a raid inside Gaza.
The military said the raid was part of efforts to rescue hostages abducted in the Oct. 7 attack. Hamas hopes to trade the captives for Palestinian prisoners held by Israel.
On Saturday, 20 trucks entered Gaza in the first aid shipment into the territory since Israel imposed a complete siege at the start of the war. Israel allowed a second convoy of 15 trucks into Gaza on Sunday. Both entered from Egypt through the Rafah crossing, the only way into Gaza not controlled by Israel.
COGAT, the Israeli defense body responsible for Palestinian civilian affairs, said the aid was allowed in at the request of the United States, and included water, food and medical supplies. It said Israel inspected everything before it entered Gaza.
In a Sunday phone call, Netanyahu and U.S. President Joe Biden "affirmed that there will now be continued flow of this critical assistance into Gaza," the White House said in a statement.
Relief workers said far more aid was needed to address the spiraling humanitarian crisis in Gaza, where half the territory's 2.3 million people have fled their homes. The U.N. humanitarian agency said the 20 trucks that entered Saturday amounted to 4% of an average day's imports before the war and "a fraction of what is needed after 13 days of complete siege."
The Israeli military said the humanitarian situation was "under control," even as the U.N. called for 100 trucks a day to enter.
Israel has not allowed any fuel to enter Gaza, where there has been a full power blackout for more than a week and where hospitals say they are scrounging for generator fuel in order to keep operating life-saving medical equipment and incubators for premature babies. The World Health Organization said seven hospitals in northern Gaza have been forced to shut down due to damage from strikes, lack of power and supplies, or Israeli evacuation orders.
The lack of fuel has also crippled water and sanitation systems. Hundreds of thousands of Palestinians sheltering in U.N.-run schools and tent camps are running low on food and are drinking dirty water.
Israel repeated its calls for people to leave northern Gaza, including by dropping leaflets from the air. It estimated 700,000 have already fled. But hundreds of thousands remain. That would raise the risk of mass civilian casualties in any ground offensive.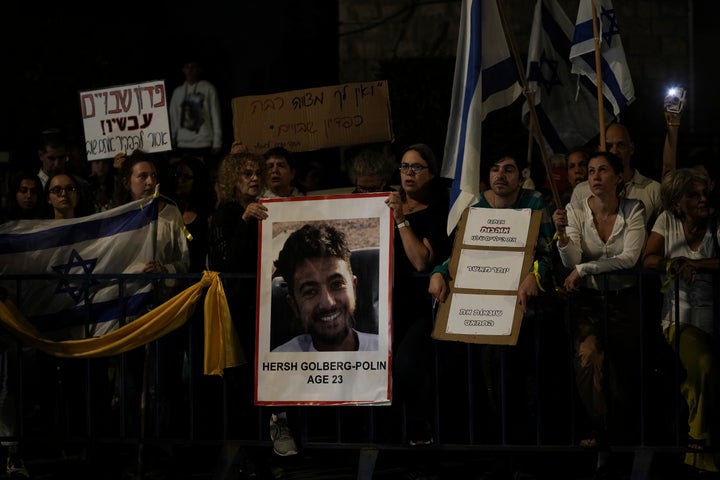 Secretary of State Antony Blinken said Israel "can't go back to the status quo" in which Hamas controls Gaza and is able to threaten it, but that Israel has "absolutely no intent" to govern Gaza itself.
"Something needs to be found that ensures that Hamas can't do this again, but that also doesn't revert to Israeli governance of Gaza," he told NBC's "Meet the Press" on Sunday. "It's something that needs to be worked even as Israel is dealing with the current threat."
Israel captured Gaza, along with the West Bank and east Jerusalem, in the 1967 Mideast war. The Palestinians want all three territories for a future state. Israel withdrew troops and settlers from Gaza in 2005, but Israel and Egypt have imposed a blockade of varying degrees since Hamas seized power from rival Palestinian forces in 2007.
Heavy Israeli airstrikes and shelling continued overnight across Gaza, the Hamas-run Interior Ministry said. It said airstrikes hit residential apartments in the town of Khan Younis and the Nuseirat refugee camp, both of which are south of the evacuation line.
The Palestinian Red Crescent medical service reported heavy overnight airstrikes near al-Quds hospital in Gaza City. Aside from patients, the hospital houses more than 12,000 displaced people, it said.
The Israeli military says it does not target civilians. It says Palestinian militants have fired over 7,000 rockets at Israel since the start of the war.
The military said Monday that it had struck 320 militant targets throughout Gaza over the last 24 hours. It said it had destroyed anti-tank positions and other targets that could endanger forces preparing for "a maneuver in the Gaza Strip," an apparent reference to a ground operation.
Tensions are also high in the Israeli-occupied West Bank, where over 90 Palestinians have been killed since the start of the war, mainly during violent protests and gunbattles during military arrest raids. Two Palestinians were shot dead during a raid into the Jalazone refugee camp early Monday, the Palestinian Health Ministry said.
Magdy reported from Cairo and Krauss from Jerusalem. Associated Press journalist Amy Teibel in Jerusalem contributed.