A video on Sunday from the Ukrainian military shows massive explosions as they wipe out Russian equipment amid its ongoing counteroffensive toward Moscow's invasion.
The National Guard of Ukraine posted the video to X, formerly Twitter, and said that special forces were eliminating "enemy equipment."
Ukraine's video of equipment destruction comes as Kyiv officials celebrate Russia losing over 5,000 tanks, since Russian President Vladimir Putin launched a full-scale invasion of the Eastern European nation in February 2022. "5000+ Russian tanks were destroyed during the full-scale invasion," Ukraine's Defense Ministry wrote Friday in a post on X. "Ukrainian power is stronger than occupiers' steel!"
Newsweek reached out to the Ministry of Defense of Ukraine via email for additional information and comment on Sunday.
Friday also marked one of Russia's deadliest days since it invaded Ukraine, with over 1,300 troops lost in 24 hours, according to Kyiv's military. This brought the total number of Russian casualties to 292,060 since the start of the war, according to figures released by the General Staff of the Armed Forces of Ukraine on Friday. However, estimates of casualties can vary, with Kyiv's figures usually exceeding those of its Western allies. Newsweek couldn't independently verify the figures.
Russian forces, meanwhile, continue to endanger the lives of Ukrainian civilians. On Saturday, six postal workers between the ages of 19 and 42 were killed in a Russian missile strike from an S-300 air defense system at the Nova Poshta depot, a postal distribution center in the village of Korotych in the outskirts of Kharkiv city, the regional governor, Oleg Sinegubov, wrote on Telegram.
Approximately 17 people were injured in the strike, Ukrainian President Volodymyr Zelensky said in a video posted to X on Sunday.
"We will undoubtedly respond to Russia for every manifestation of its terror including this attack," Zelensky said. "Terrorists will not break the Ukrainian will to defend and protect own state, own independence by any means."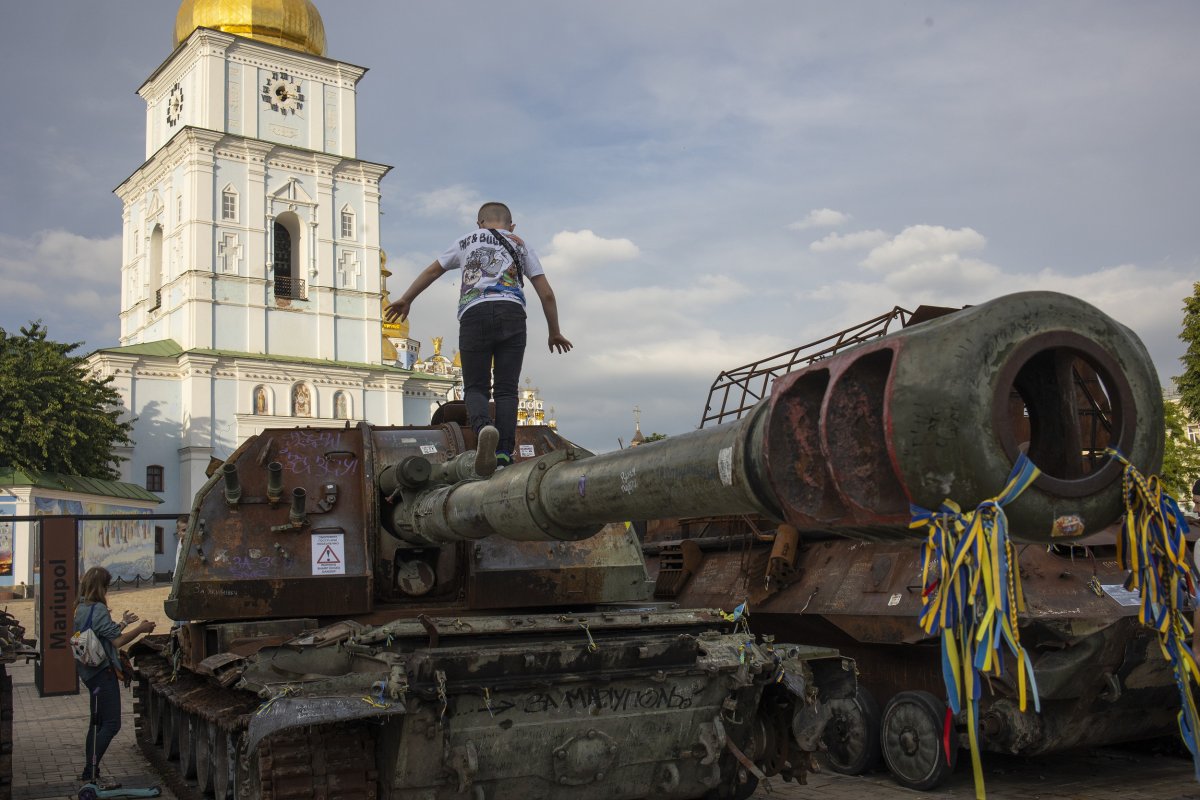 Bridget Brink, the U.S. ambassador to Ukraine, also condemned the attack on X, writing on Sunday: "The Kremlin's disregard for life is for all the world to see."
The United States has backed Ukraine since the beginning of the war, with Congress approving approximately $113 billion in aid to Ukraine so far, according to calculations by the U.S. State Department Office of Inspector General and the Committee for a Responsible Federal Budget. Meanwhile, President Joe Biden asked Congress on Friday for an additional $61 billion to help Ukraine win its war against Russia.
At least two more people were killed on Sunday in separate Russian attacks on villages near the Ukrainian city of Bakhmut, The Guardian reported, citing officials.
Casualties on both sides are continuing to rise amid Kyiv's counteroffensive, which began in early June. On October 10, Moscow's forces mounted their biggest offensive in months in an attempt to capture the long sought-after town of Avdiivka in Ukraine's Donetsk region. The next day, the head of the local military administration in Avdiivka, Vitaliy Barabash, said on national television that "two dozen missiles" struck the region, resulting in multiple causalities.
Update 10/22/23, 3:23 p.m. ET: This article has been updated with additional information.
Uncommon Knowledge
Newsweek is committed to challenging conventional wisdom and finding connections in the search for common ground.
Newsweek is committed to challenging conventional wisdom and finding connections in the search for common ground.