Social media users have been captivated by a brave woman who not only asked her waiter out on a date, but rather than suggesting the usual dinner and drinks, she invited him straight to a family wedding that same night.
In a viral video posted by TikTok user Carley, who goes by the handle @caarrlleeyy, the family is all seen gathered at a diner for some food, but her sister only had eyes for one person there. The hilarious video explains that she thought the "waiter was cute at breakfast and invited him to our family wedding that night."
The bold move not only impressed her family members, who were all filmed laughing and cheering at her decision, but social media users were left in shock. Since the video was posted on September 25, it has been viewed more than 27 million times and it has received over 4 million likes on TikTok.
Footage from the wedding later that evening shows the waiter arriving as promised, and he was even happy to mingle with his date's entire family throughout the night.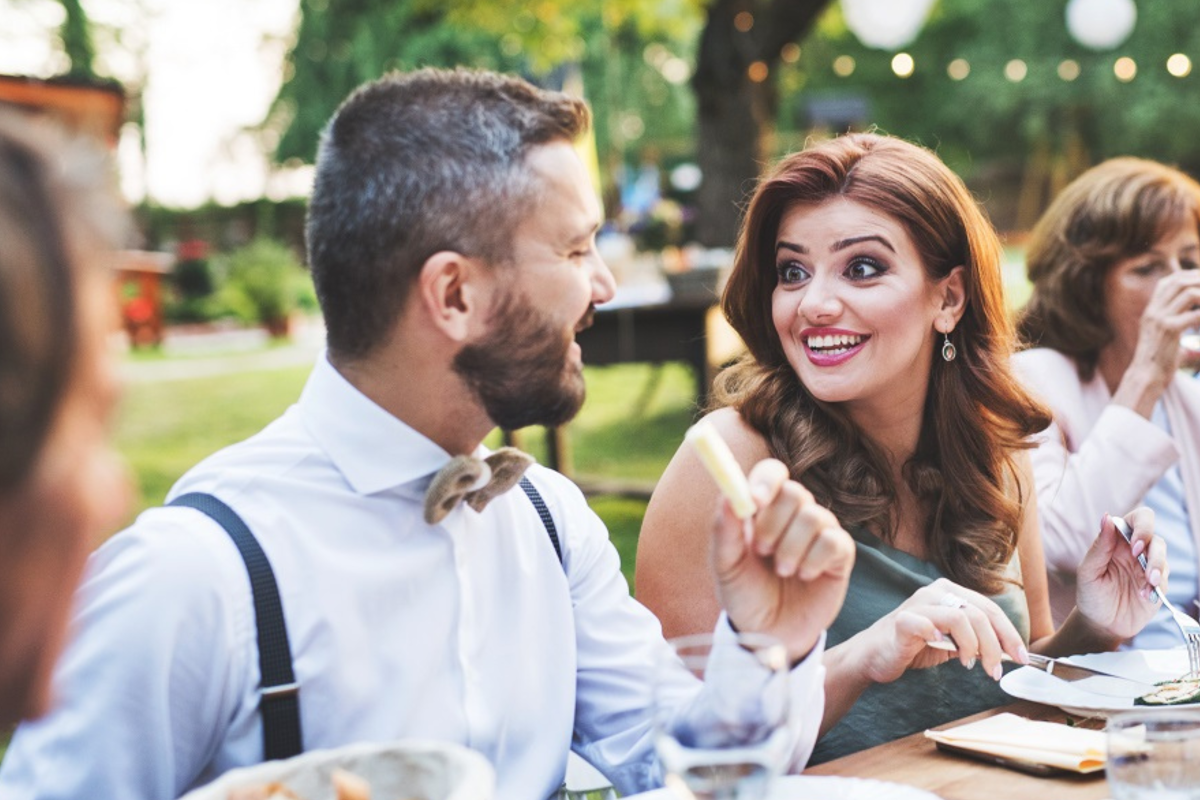 Many people might claim that the rise in online dating has made it easier to connect with others, but according to data from Pew Research Center, 67 percent of people say their dating lives aren't going well, and 75 percent found it difficult to meet new people. The research also found that 50 percent of single people aren't looking to date, as most young daters said they have more important things to focus on.
For those who are married or in a committed relationship, 32 percent met their partner through friends and family helping to connect them, and 18 percent said they met through work. Meeting a partner in a bar or restaurant was far less common, with just 8 percent of the vote.
TikTok user Carley was stunned by her sister's confidence to ask the waiter out, as she joked that you just have to "shoot your shot" alongside the viral clip.
After the post received such huge interest online, Carley shared a follow up video several days later to provide more details about the meeting. Although the pair sadly live very far apart, they have remained in touch and the waiter has already been invited to any future family weddings.
The impromptu first date captured the attention of many TikTok users, and the post had received over 16,100 comments at the time of writing. Many people praised the waiter for happily going to the wedding and creating so many fun memories.
One comment reads: "This is big golden retriever energy lol, updates please!"
Another person wrote: "This should be a Hallmark movie."
While one TikToker commented: "It seems like he's even more part of the family than you."
Newsweek reached out to @caarrlleeyy via TikTok for comment. We couldn't verify the details of the video.
Do you have any funny wedding videos or pictures that you want to share? We want to see the best ones! Send them in to life@newsweek.com and they could appear on our site.
Uncommon Knowledge
Newsweek is committed to challenging conventional wisdom and finding connections in the search for common ground.
Newsweek is committed to challenging conventional wisdom and finding connections in the search for common ground.