The NBA is finally back on Tuesday, with two marquee Western Conference matchups to tip things off. First, the Los Angeles Lakers take on the defending champion Denver Nuggets at 7:30 p.m. ET, followed by the new-look Phoenix Suns against the Golden State Warriors at 10 p.m.
Here are five of the biggest storylines as the season opens.
What's Happening With James Harden?
The Philadelphia 76ers never lack for drama, and this preseason has been no exception as star guard James Harden remains away from the team for an unspecified reason. Harden has demanded a trade and publicly called out Sixers GM Daryl Morey, but after all of his trade requests in the past, other teams reportedly aren't willing to offer much to acquire his services (and for his part, Harden reportedly has only expressed interest in playing for the Los Angeles Clippers). For a Sixers team that is doing its best to take advantage of a rapidly closing title window with Joel Embiid, that's a tough pill to swallow.
Harden's trade demand will dominate headlines until he is actually dealt. Will he show up for the Sixers' first game? Will he show up at all? Will the Clippers make any concession to the Sixers that moves trade conversations along?
How Do the Celtics and Bucks Match Up?
The Miami Heat spoiled a showdown between the Bucks and Celtics last year by knocking the Bucks out in the first round (and then by knocking the Celtics out in the Eastern Conference Finals).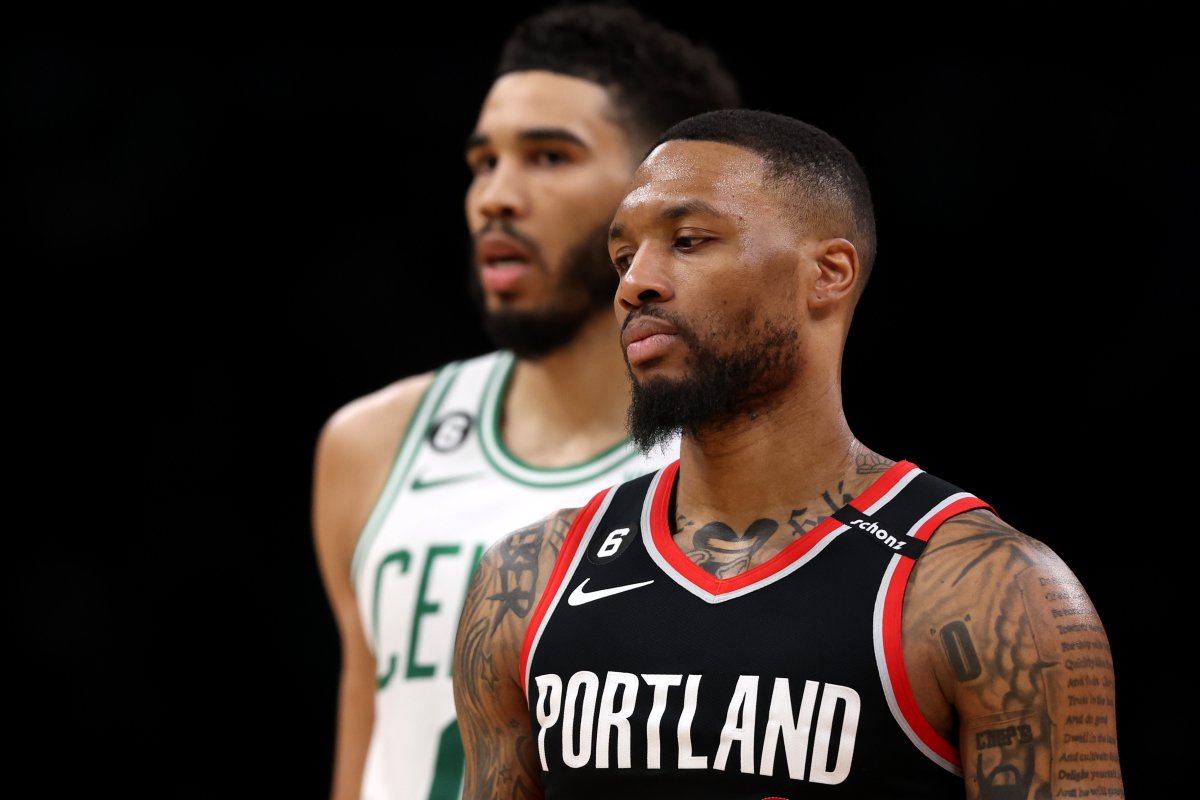 How did the Celtics and Bucks respond? Milwaukee traded a blockbuster package for former Blazers star Damian Lillard, who was Miami's top offseason target. The Celtics bolstered their front court with 7-foot-3 sharpshooter Kristaps Porzingis and former Bucks ace defensive guard Jrue Holiday, who was part of the blockbuster trade that sent Lillard to Milwaukee.
The East's great reshuffling seems to have left two teams at the top and a notable gap between the projected 2- and 3-seeds. Can Lillard help Bucks star Giannis Antetokounmpo win his second title? Can Jayson Tatum and Jaylen Brown break through and win with an All-Star-caliber cast around them? Will the Heat play spoiler again? The Eastern Conference has a lot of star power.
How Good Is the Suns' Super-Team?
The Suns already had an impressive starting lineup with Kevin Durant, Devin Booker and Chris Paul, but they reshuffled as well after the eventual champion Denver Nuggets blew them out of the playoffs.
The Nuggets remain the favorites in the Western Conference with Finals MVP Nikola Jokic, and their status forced the Suns to retool with former Wizards star Bradley Beal taking Paul's place. The new-look Suns feature Durant, Beal and Booker, in addition to center Jusuf Nurkic. If all the stars stay healthy, the Suns have a ton of firepower. Can they contend despite their potential defensive issues?
And can anyone beat Jokic and the Nuggets?
Is Victor Wembanyama the Future of the League?
We've never seen anything like Wenbanyama: A spindly 7-foot-5 rookie who can hit 3-pointers off the dribble like a guard, post up and shoot over anyone in the league, and handle the ball comfortably in transition. Prior to the draft, he was called the best prospect since LeBron James by multiple outlets.
That's a lot of weight for a rookie to carry, but Wembanyama scored 19.3 points and 2.8 blocks in 20.8 minutes per game during the preseason. Wembanyama won't turn 20 until January. By that point, the Spurs' prodigy might have his first All-Star appearance locked up. How good will he be? How quickly can he get there? Expect to hear his name a lot this season.
How Much More Does LeBron James Have?
For NBA fans of a certain age, LeBron James officially taking the mantle as the league's oldest player is a funny feeling. Four NBA titles, four regular-season MVP awards, 19 All-Star appearances and 19 All-NBA selections since he entered the league in 2003, James is now the NBA's all-time leading scorer and a consensus top-two player of all time.
James, for his part, seems unfazed (and a little amused) by the discussion of his age. But how much longer can he play at this level? Can he and Lakers star Anthony Davis bring the team back to the Finals?
NBA fans should enjoy watching James while he is still playing. Perhaps the greatest player in NBA history has reached an age where conversations about retirement are inevitable.
Uncommon Knowledge
Newsweek is committed to challenging conventional wisdom and finding connections in the search for common ground.
Newsweek is committed to challenging conventional wisdom and finding connections in the search for common ground.