A protest in New Orleans, Louisiana, appeared to have momentarily turned violent after pro-Palestinian demonstrators clashed with pro-Israeli counterprotesters.
According to reporting by The Maroon, the student newspaper for Loyola University in The Big Easy, a pro-Palestinian rally began Thursday afternoon on Freret Street in Uptown, New Orleans, near Loyola and Tulane University. The demonstration was reportedly attended by "several hundred" people and drew counterprotesters in support of Israel.
Videos circulated on social media of the moment the demonstration escalated after a Palestinian supporter attempted to burn an Israeli flag while standing in the back of a pickup truck. In one video shared by advocacy group End Jew Hatred, the pro-Palestinian demonstrator is standing in the bed of the truck next to another protester with a Palestinian flag. Supporters of Israel approach the truck when one of the pro-Palestinian activists appears to hold a lighter to an Israeli flag.
Then a Palestinian backer swings the flagpole at the Israel supporters.
In another clip, which was posted to X, formerly Twitter, by the account Israel War Room, a demonstrator who appears to be in support of Palestinians is shown throwing punches at a counterprotester holding an Israeli flag, then rips the flag out of his hands before the two are separated.
Later in the clip, three police officers can be seen escorting a protester away.
The Maroon reported that a counterprotester had thrown an Israeli flag into the back of the pickup truck before the violence broke out, and that Israel advocates had "attacked" the pro-Palestinian demonstrators standing in the bed of the truck.
Michael Strecker, assistant vice president for news and media relations at Tulane, told Newsweek in a statement Thursday that the rally had been staged "on a public sidewalk off campus" and had "resulted in a brief clash between several demonstrators and counter-demonstrators in which a couple of Tulane students were assaulted and reported minor injuries."
"We are increasing security and assisting our students in any way we can," Strecker added. "The campus has been secured, and our students are safe."
Strecker said that two arrests have been made and that "more are forthcoming once video evidence is reviewed." The university official added that both the Tulane University police and the New Orleans Police Department (NOPD) responded to the rally.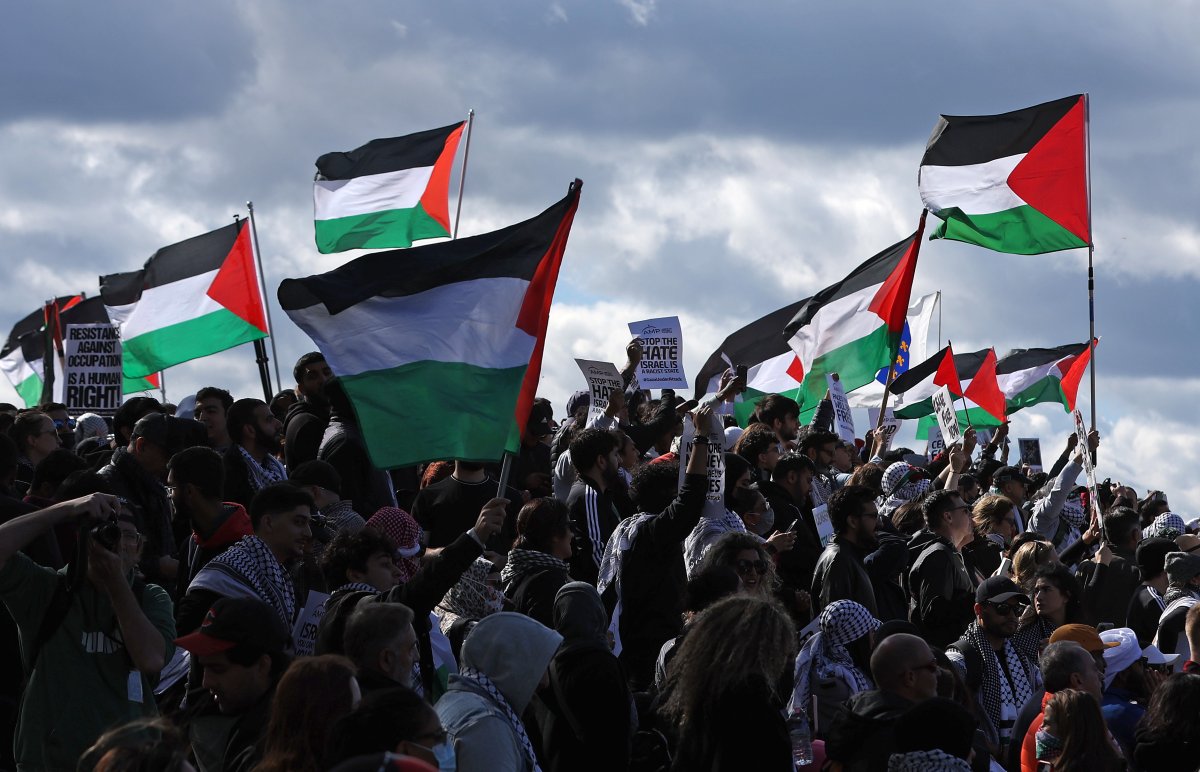 Newsweek sent an email to the NOPD and Loyola University Campus Police for additional information.
Tensions have risen across the globe in light of the Israeli-Palestinian conflict. On October 7, surprise attacks waged by Palestinian militant group Hamas resulted in over 1,400 people being killed in Israel. In response, Israel has launched its heaviest-ever airstrikes against the Gaza Strip, and the health ministry in Gaza, which is run by Hamas, has reported that over 7,000 Palestinians have died as of Thursday, according to the Associated Press.
Some advocates for Palestinians in the U.S., such as Congresswoman Rashida Tlaib, have called for a ceasefire and placed blame on the White House for supporting Israel's military. Pro-Palestinian rallies have also broken out across the country, including at several universities.
President Joe Biden has pledged America's unwavering support for Israel, and on Wednesday said he had "no confidence" in Gaza's death count totals. Several members of Congress have also expressed backing for passing additional aid to Israel for defense against Hamas.
Uncommon Knowledge
Newsweek is committed to challenging conventional wisdom and finding connections in the search for common ground.
Newsweek is committed to challenging conventional wisdom and finding connections in the search for common ground.