Conservative U.S. Representative Mike Johnson of Louisiana has been elected as the 56th House speaker, as the vacancy left by the October 3 ousting of Congressman Kevin McCarthy has finally been filled.
But now comes the hard part.
Johnson, 51, will quickly have to confront a packed list of priorities. Congress needs to consider a funding bill to support America's allies in Ukraine and Israel and in a little more than three weeks, a funding deadline to finance government operations must be met.
The last time such a moment arose, the Republican-led House of Representatives was deadlocked until then-Speaker McCarthy struck a last-minute deal with Democrats to pass a spending bill that averted a government shutdown. That agreement was condemned by the far-right wing of the Republican conference, which proceeded to topple McCarthy. It set-off a 22-day fight to elect a new leader that saw three contenders fail to muster enough support to assume leadership of the House, paralyzing legislative action in the chamber.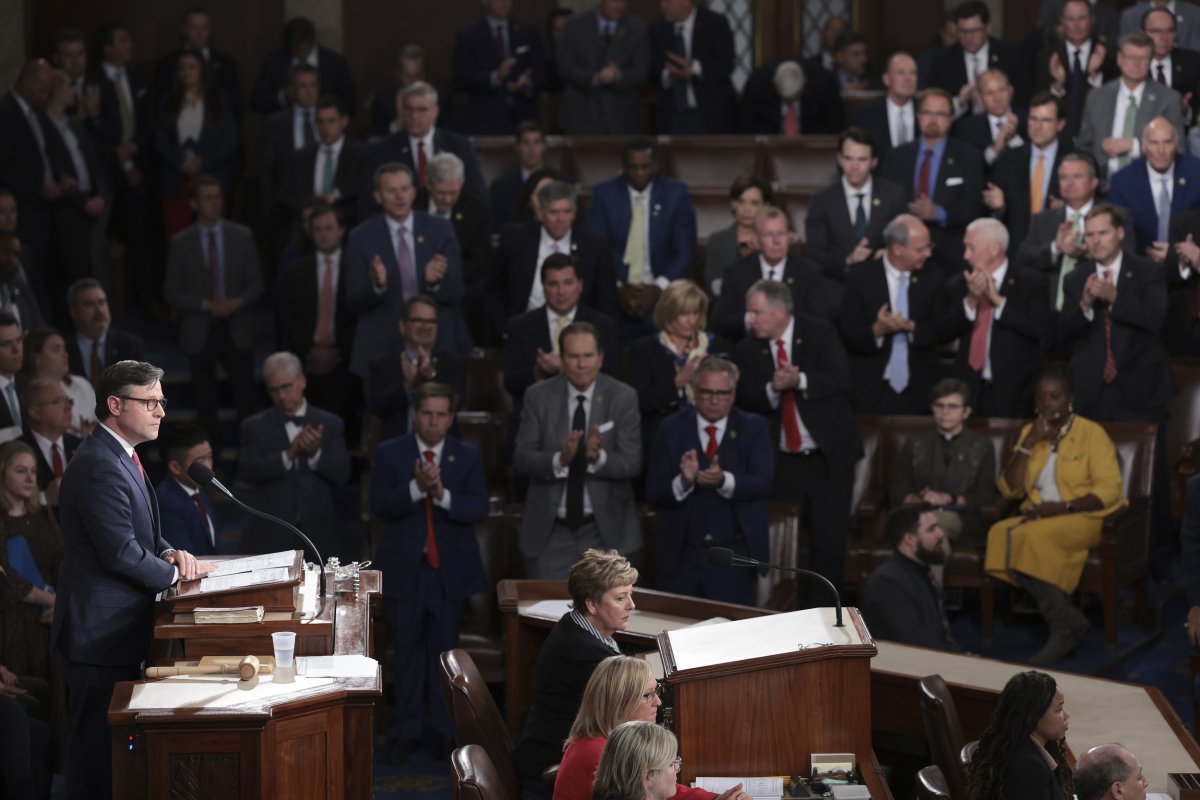 On Wednesday, Johnson succeeded where his more well-known colleagues failed. He didn't lose a single vote from his fellow Republicans and won the gavel in a 220-209 vote.
"To my colleagues, I wanna thank you for the trust you have instilled in me to lead us in this historic and unprecedented moment that we are in. The challenge before us is great. But the time for action is now," Johnson said in his first address as speaker.
Challenges Ahead
President Joe Biden congratulated Johnson on his election as the new speaker and promised to work with him.
"We need to move swiftly to address our national security needs and to avoid a shutdown in 22 days," he said in a statement.
The new speaker managed to unite his party but the question analysts are wondering is whether he would be able to lead them on a path that will avert a shutdown.
"He has his work cut out for him," Justin Begley, U.S. economist at ratings agency Moody's, told Newsweek. "In getting unanimous support from the Republican Party and to become the speaker, that he may at least be starting off on a good footing."
The election of a new speaker does reduce the risk of a shutdown, Begley said, but it doesn't remove it entirely. The challenge is whether Johnson can corral the hard-right wing of his party around a budgetary agreement Republicans can all support.
"I'm not convinced that his election will really mitigate much of the partisan politicking that we are seeing in a lot of the budget negotiation processes," Begley said. "I'm not sure how much it will help with the future budgetary process, at least in the near term."
Speaker Johnson ascends to the head of the GOP in the House with a thin majority and will need every one of those votes to pass bills, a feat his predecessor struggled to achieve.
This type of political polarization and small majorities stifle legislating and stir perpetual uncertainty when it comes to American fiscal policy, experts say.
Fitch, another ratings agency, downgraded the U.S. credit rating a notch below its top level after the debt limit standoff in June, saying such brinksmanship undermined confidence in fiscal management of the world's largest economy.
In September, Moody's added its own warning over a looming government shutdown, saying that it would "demonstrate the significant constraints that intensifying political polarization put on fiscal policymaking."
Can Johnson Overcome Political Polarization?
Those dynamics have not shifted much, even with Republicans having elected Johnson as their new speaker.
"This is just the incentive game of being House speaker. You either have to get your party in line or you got to go get help from the Democrats because their majority is so thin in the House," Begley said. "We saw that was actually fatal for [former Speaker] McCarthy to get a continuing resolution through with Democratic help."
McCarthy's passage of the spending bill late last month that has kept the government open until at least November 17 doomed him.
That could also determine Johnson's fate, Begley suggested.
"That might very well be the case with Mike Johnson if he cannot get all the Republicans on board," Begley warned. "That really would continue the belief that the budgetary process will continue to be, at least, if not derailed, at least held up by partisan politics."
A shutdown, economists have said, will disrupt the economy at a time of elevated inflation and high interest rates that have pushed up borrowing costs, hurting the ability of Americans to buy homes, cars or invest in businesses. Surveys show that households are increasingly pessimistic about their financial conditions and expect inflation to stay high for longer.
Begley said that a potential short shutdown of two to three weeks will slow economic activity as non-essential federal workers will be furloughed, where their pay will be paused.
"That's going to take a hit to their consumption," he said. "That's where a lot of the drag on [economic activity] in the fourth quarter would come from."
As workers return to work and receive their back pay, the economy would see a rebound in the first quarter of 2024, he added. But the reveberating effects of a government ground to a halt will be a cause of pain for Americans.
For each week of a shutdown, roughly 0.1 to 0.2 percentage points are shaved off of annual economic growth. "That's, of course, not even accounting for compounding unrealized effects as well," Begley said. If a government shut downs, and it is prolonged, the outcomes would be "pretty severe and will hurt Americans," he added.
On Wednesday, Johnson was somber after assuming the speakership.
"I wanna say to the American people, on behalf of all of us here, we hear you. We know the challenges you are facing," he said. "We know that there is a lot going on in our country, domestically and abroad, and we are ready to get to work again to solve those problems and we will."
Johnson acknowledged that the fights his party engaged in over the last few weeks did not help instill faith in the legislative chamber.
"All the American people at one time had great pride in this institution, but right now that's in jeorpardy and we have a challenge before us right now to rebuild and restore that trust," he said.
That challenge is quite considerable, starting with keeping the government open.
"He has the task ahead of him to not only try to avert a government shutdown, but try to manage what has become the chaotic GOP in the House," Begley said. "That very well could raise the risk of future budgetary crises in the future."
One thing that could galvanize both Republicans and Democrats to avoid a shutdown, or keep it short, are the incentives built into the Fiscal Responsibility Act passed in June as part of a deal to extend the government's debt limit, Begley said. The deal included provisions that automatic 1 percent cuts would come into effect if continuing resolutions are not replaced by a full budget by the end of April.
"Those spending cuts become permanent, and that's across all discretionary spending. So I don't think that either Republicans or Democrats want to see that," Begley said. "So I think there is an incentive to keep the shutdown short and to compromise with each other if the government does in fact shut down."
Johnson may be aware of that as well. He even nodded to the Democrats in the House in his speech on Wednesday and suggested that he was going to "find common ground" with them.
"The people's House is back in business," Johnson promised.
Time will tell how long he will have to preside over that business.
Uncommon Knowledge
Newsweek is committed to challenging conventional wisdom and finding connections in the search for common ground.
Newsweek is committed to challenging conventional wisdom and finding connections in the search for common ground.