Sen. Susan Collins' position on gun control has come under scrutiny after a mass shooting in her home state of Maine left at least 16 people dead on Wednesday.
Some social media users questioned the Republican senator's stance on gun control and her voting record in the wake of the shooting, while the suspected gunman is still at large.
A man shot and killed at least 16 people in two shootings at a bowling alley and a restaurant in Lewiston, Maine, on Wednesday and then fled. That prompted a major search for the suspect and also saw local residents sheltering in their homes.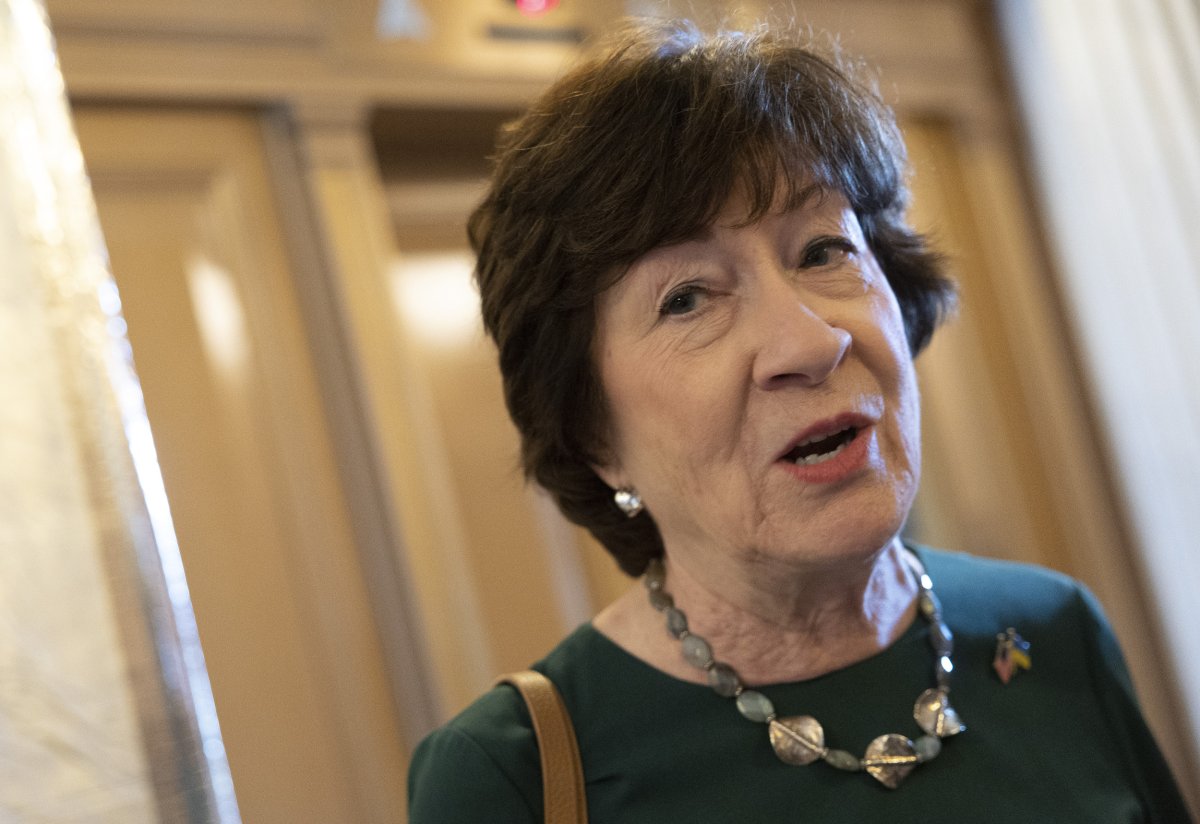 "As our state mourns this horrific mass shooting, we appreciate the support we've received from across the country, including the call I received from President [Joe] Biden offering assistance," Collins posted on social media site X, formerly Twitter, late on Wednesday.
In earlier posts, Collins had shared images of the shooting suspect, as well as a vehicle and urged anyone with information to speak to the police.
A police bulletin has identified Robert Card, 40, as a person of interest. He was described as a firearms instructor and is believed to be in the Army Reserve assigned to a training facility in Saco, Maine.
"Here is the photo of the shooting suspect. If you have any information to share, please call the Lewiston Police Department at this number 207-513-3001 ext. 3327. Please stay off the streets and allow law enforcement to pursue this suspect," Collins wrote.
Writing on X, Tristan Snell, a former New York assistant attorney general, questioned the senator's voting record on gun control issues.
"The mass shooting tonight was in Lewiston, Maine," Snell wrote. "Maine senator Susan Collins has expressed concern about the shooting. Susan Collins voted AGAINST renewing the assault weapons ban—and AGAINST a ban on high-capacity magazines that allow mass shooters to kill faster."
"My heart hurts for everyone involved in the Lewiston shootings tonight," wrote X user @donkoclock.
"Thanks to politicians like Susan Collins, Maine residents have an easier time buying an AR-15, than cold medicine. Please join me in Voting Blue to fix this gun problem once and for all," they added.
Political strategist Lindy Li wrote on X: "Susan Collins refused to condemn the gun lobby for enabling the gun massacre in Lewiston.
"This is the SAME Susan who called the police on young women and girls who left cute little pro-choice messages in sidewalk chalk. Always count on the GOP to have their priorities straight," she said.
She was referring to police attending Collins' home in May, 2022, after a pro-choice message was written in chalk on the sidewalk outside her residence in Maine.
Newsweek has reached out to Collins' office via email for comment on Thursday.
In 2013, Collins voted against two Senate amendments which aimed to prohibit the sale of assault weapons and limit firearm magazine capacity, according to Vote Smart, which tracks how members of Congress vote on key issues.
However, Collins voted in favor of the 2022 Bipartisan Safer Communities Act, which was the first piece of federal firearms legislation in 30 years.
"As I strongly advocated for, our bill will fund crisis intervention programs like Maine's yellow flag law," Collins said in a statement on June 23, 2022.
"Maine's law has robust due process provisions that allow a court, following an assessment by a medical professional, to determine if a person should temporarily lose possession of firearms because they pose a serious threat to themselves or others," she said.
"Our bill will also help keep guns out of the hands of dangerous criminals by including provisions based on a bill I authored with Sen. Patrick Leahy to crack down on straw purchasing and firearms trafficking. Additionally, our bill will strengthen mental health resources and improve school safety. These improvements will not infringe on the rights of law-abiding gun owners," the statement said.
Uncommon Knowledge
Newsweek is committed to challenging conventional wisdom and finding connections in the search for common ground.
Newsweek is committed to challenging conventional wisdom and finding connections in the search for common ground.