The Taiwanese people will face a stark choice when they head to the polls in the upcoming presidential election—"peace or war; prosperity or decline"—the Chinese agency responsible for affairs with Taiwan said Wednesday.
The warning echoed a remark former Taiwanese President Ma Ying-jeou made last week at an event hosted by an American think tank. The outcome of the January 2024 election will determine whether there will be war or peace with China, he said, and Washington should do more to advocate talks between the two sides.
At the Chinese Taiwan Affairs Office's press conference on Wednesday, spokesperson Zhu Fenglian said, "We hope the majority of Taiwan compatriots will acknowledge the interests and rights, distinguish right from wrong, stand firmly on the right side of history, resolutely oppose Taiwan independence separatism and external interference, and work with China to foster peaceful development."
China's relations with the island country, which it says it has sovereignty over and vows to unite with—by force if necessary—have worsened during the nearly eight years of rule of Taiwan's Beijing-wary Democratic Progressive Party.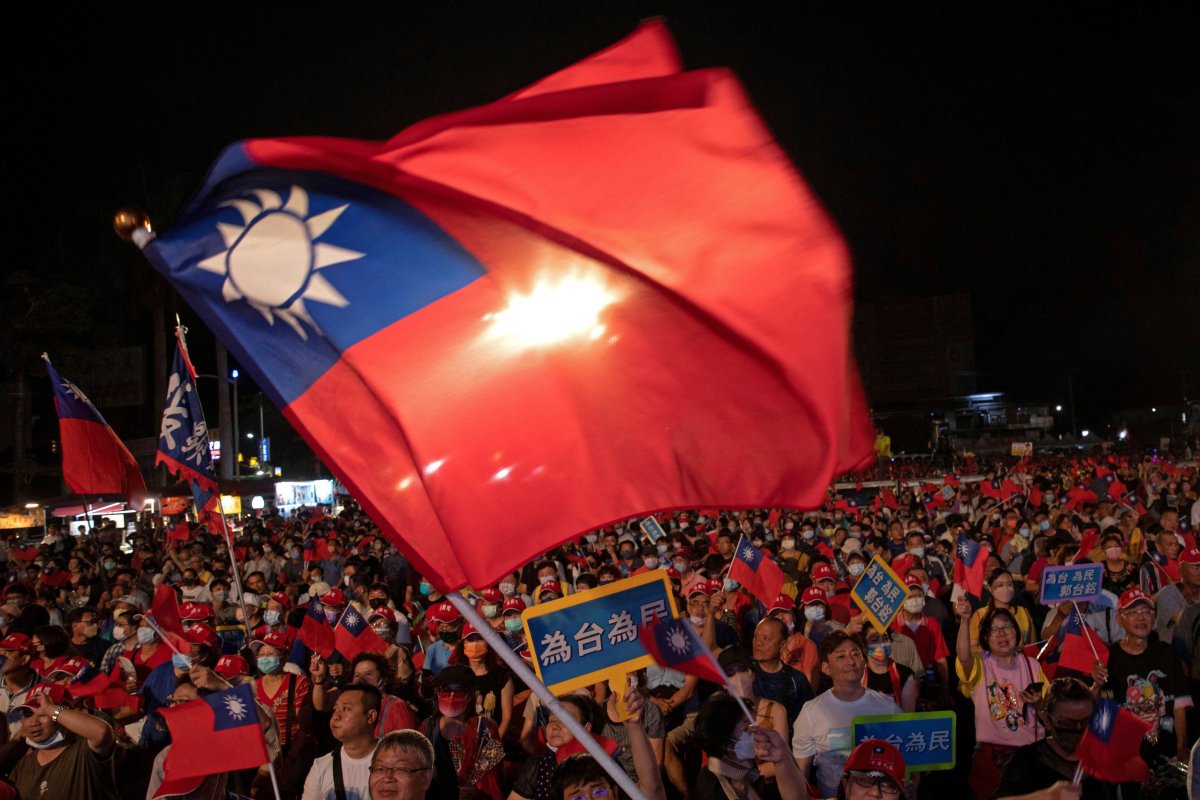 On Thursday, Taiwanese Foreign Minister Joseph Wu wrote on X (formerly Twitter): "The dictatorial [People's Republic of China] is shamelessly trying to intervene in democratic Taiwan's national election. Imagine what Beijing would do to others if they're successful this time?"
He mocked the "one man, one vote" of Chinese President Xi Jinping and said Beijing should conduct its own "free elections."
Although Taiwan has never been ruled by Beijing's Chinese Communist Party–led government, it has stopped short of declaring formal independence in order to maintain the peaceful status quo—a position that the U.S. has consistently supported. China has said it would declare war if such a declaration were made. But Taiwanese President Tsai Ing-wen has said this is unnecessary, as her country is already independent.
Nearly half of Taiwanese who responded to a survey conducted in August said they support eventual de jure independence, while just over a quarter said they prefer the status quo. Only about 12 percent expressed support for unification with China.
The ruling Democratic People's Party's candidate, Vice President Lai Ching-te, is currently the favorite, with 33 percent support, according to a weighted average of polls released this week. He faces a trio of challengers who favor closer ties with China: New Taipei City Mayor Hou Yu-ih and former Taipei Mayor Ko Wen-je come in at 23 percent and 20 percent, respectively. Billionaire Terry Gou is polling at 9 percent. Fifteeen percent of the electorate is still undecided.
Despite talk of forming a united front, which would pose a significant threat to Lai's prospects, the opposition camps have yet to agree on a way to decide whose name would be at the top of the ticket.
Taiwan is no stranger to election interference from the other side of the Taiwan Strait. China's tax authorities recently launched an investigation into electronics contract manufacturer Foxconn, which Gou founded. Many in the Taiwanese government believe the move was politically motivated.
Lai said China should "cherish" Taiwanese companies like Foxconn, the largest private employer in China, rather than target them during election season.
Uncommon Knowledge
Newsweek is committed to challenging conventional wisdom and finding connections in the search for common ground.
Newsweek is committed to challenging conventional wisdom and finding connections in the search for common ground.