It may be scarier to go out this Halloween than before, considering those who have turned the one-time children's holiday into political and religious statements.
Some school districts are canceling Halloween celebrations for the sake of inclusion while colleges are issuing guidelines for costumes so their students avoid cultural appropriation. Meanwhile, one homeowner is featuring a decapitated Jesus on the cross in his front yard while another has constructed decorations containing anti-Donald Trump, anti-gun and climate change messages instead of the more typical witches, goblins and assorted ghouls.
It's all a function of Halloween being turned into a new battleground for those engaged, willingly or not, in the so-called culture wars.
Colleges try to curb some costumes
For several years now, colleges around the nation have been warning students against costumes that amount to "cultural appropriation." Last year the University of Wisconsin-Madison unveiled its "Halloween Cultural Awareness" webpage that states it is offensive "when cultural elements are copied from a marginalized culture by members of the dominant culture." One student complained to Fox News that the standard is applied in a "funny way," since there's no objection to appropriating Catholic culture by dressing as Jesus, a nun or a priest.
"I'm not against the notion of subverting traditions. Everyone does it," said Brian James Godawa, who has written about religion and the culture wars in several books, including his latest novel, Cruel Logic: The Philosopher Killer.
What he is against, he told Newsweek, is "ideological fascists subverting our American democratic republic with their tyrannical ideas. God only knows what they will try to do to Christmas."
Ohio University's Division of Diversity and Inclusion created a "My Culture is Not a Costume" webpage that says "It is increasingly important to ensure that you are not attempting to adopt an identity that is not your own."
The webpage specifies that "inappropriate" costumes include blackface, brown face, yellow face, mocking mental illness, wearing hairstyles of people of color or anything that might insult someone who is transgendered, among others.
"There is not a single tradition or element of Western or American society that woke ideologies from academia do not intend to capture and recreate in their own image," said Godawa."Wokeness is, after all, a religion."
But John Pitney, political science professor at Claremont McKenna College says, "Yes, anybody wearing a costume on a college campus must beware of giving offense."
School Districts & Halloween
In the South Orange & Maplewood School District in New Jersey, Superintendent Ronald Taylor is prohibiting Halloween costumes and celebrations during school hours because, he says in a letter to parents, he "is committed to promoting diversity, equity and inclusion."
The decision prompted the state's governor, Democrat Phil Murphy, to post on social media: "Seriously? We can't let kids celebrate Halloween? Give me a break."
Taylor told parents he reflected on a few questions prior to making his decision: "Is promoting school-sponsored Halloween activities creating indirect and unintentional financial hardships for students and families? Do school-sponsored Halloween activities violate the dignity of some of our students and families, either culturally or religiously?"
Likewise, a letter to parents in the Monona Grove School District in Wisconsin says it will refrain from celebrating certain holidays, specifically noting Halloween and Valentine's Day, because it is the district's "responsibility to provide space and opportunities for all students" and because it has a "commitment to equity."
This decision caught the attention of conservatives who are contrasting it with the same school board's approval in June to officially recognize LGBT+ Pride Month.
Libs of TikTok, for example, posted: "Celebrating who people like to have s*x with is fine but don't you dare celebrate Halloween!" And the right-leaning College Fix said the district's claim that it is "committed to supporting visibility, dignity, and equality" is a contradiction, given that it applies to celebrants of Pride but not to celebrants of other holidays.
Envelope-pushing Halloween displays
Meanwhile, Mark Warshauer, a history professor at Central Connecticut State University, created a Halloween display in his yard that he is calling, "Untied States Fun House," with "untied" being a reference to a pen with the name of the country etched into it that Senators were given during Bill Clinton's 1999 impeachment hearings, and the etching misspelled "United."
The Halloween display reportedly features an image of Trump dressed as a clown, guns next to skeletons and an image of a burning Earth with a quote from climate-change activist Greta Thunberg: "Our House is on fire."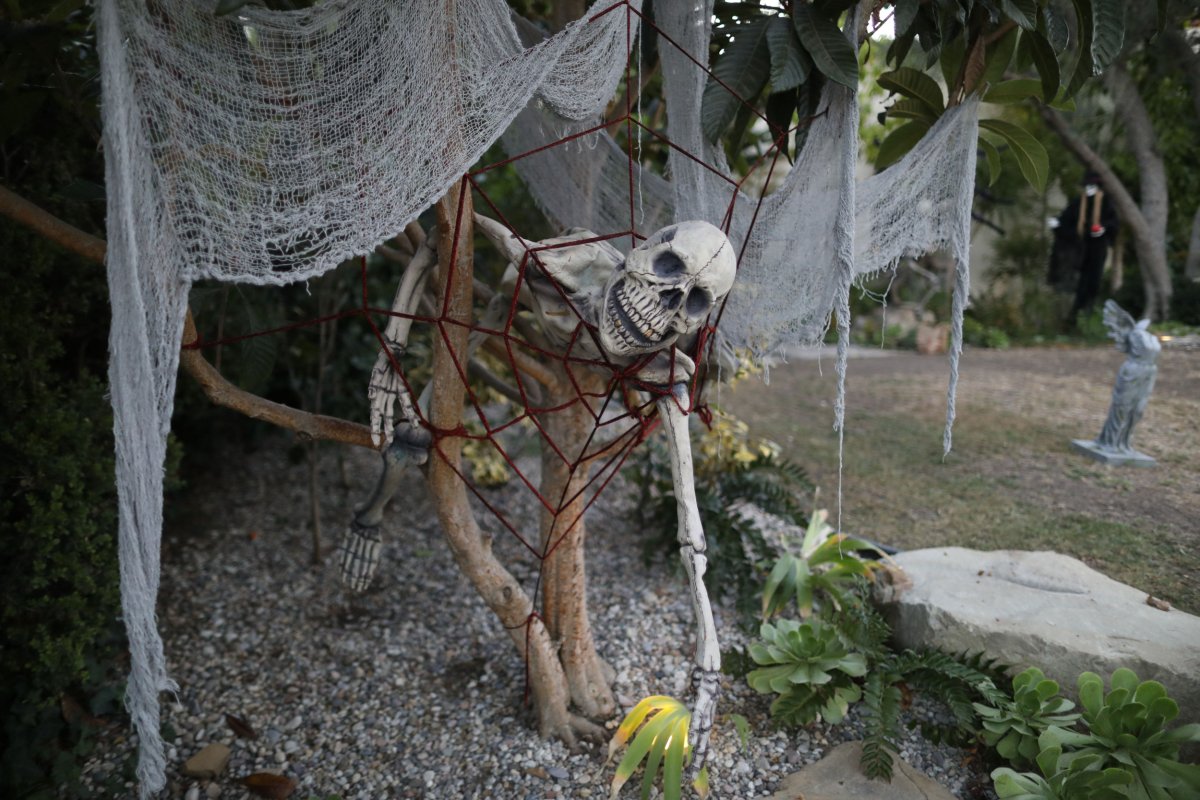 Another section of his display includes references to Florida Governor Ron DeSantis, whom he calls "Ron DeSatan," and to his feud with the Walt Disney Co. over what his critics dubbed the "Don't Say Gay Bill." There's also a merry-go-round that depicts Trump in jail.
Warshauer told USA Today that his Halloween decorations have been political for years, but usually focused on one issue, such as Black Lives Matter or the invasion of Iraq, but this year he took aim at several issues related to Trump and the GOP. "It's controversial. Not everyone's gonna love it," he said.
And in Louisiana, Vic Moriana, a New Orleans man, adorned his home with a decapitated Jesus on the cross with Satan holding his bloody head. There are also crucified Catholic nuns and priests and a gravestone that reads, "Hilary's emails," a reference to Hillary Clinton's former use of a private server for some "top secret" emails, according to the State Department.
Some media outlets reported that Moriana's yard signs have typically supported Trump and insulted President Joe Biden and, while some neighbors have called his Halloween display "blasphemous" and strangers have even visited his place of work to complain, he has no intention of taking it down. "Freedom of speech is freedom of speech," he told one outlet.
While it might be getting more attention nowadays, Halloween's participation in the culture wars isn't brand new. Two years ago, for example, after the "Racial Equity Team" at an elementary school in Seattle, Washington, canceled its Pumpkin Parade, Vivek Ramaswamy, now a Republican running for president, appeared on Fox News to exclaim: "This is a movement that will not stop until it has torn down every American institution … Mark my words, Thanksgiving is next, President's Day is next, the Fourth of July is next."
Uncommon Knowledge
Newsweek is committed to challenging conventional wisdom and finding connections in the search for common ground.
Newsweek is committed to challenging conventional wisdom and finding connections in the search for common ground.