White evangelical Americans are more willing to endorse political violence than their non-Christian counterparts, according to a new survey from the Public Religion Research Institute (PRRI).
Concerns about political violence have been on the rise since the January 6, 2021, attack on the U.S. Capitol, when supporters of former President Donald Trump violently stormed the building in an ill-fated attempt to overturn the results of the 2020 presidential election. White evangelicals, while not collectively responsible for January 6 attack, are among Trump's most loyal supporters.
The PRRI poll, released on Wednesday, included what it called "disturbing" results that found almost one-fourth of all Americans agree with the following statement: "Because things have gotten so far off track, true American patriots may have to resort to violence in order to save our country." The new survey found that 23 percent of respondents agreed in 2023, up from 15 percent in 2021.
Among white evangelical Protestants, 31 percent supported the statement—significantly more than non-Christians and religiously unaffiliated Americans, both groups that were open to political violence at the average level of 23 percent. Every other Christian group surveyed supported political violence at rates significantly lower than evangelicals, with some of the groups also supporting the statement less than non-Christians.
The statement was supported by 25 percent of white non-evangelical Protestants and 24 percent of Black Protestants. Only 21 percent of Hispanic Catholics and 20 percent of white Catholics were in favor of potential violence. The survey notes that there were "no differences by church attendance" in the results among white Christians, without specifying whether attendance affected results from the other races surveyed.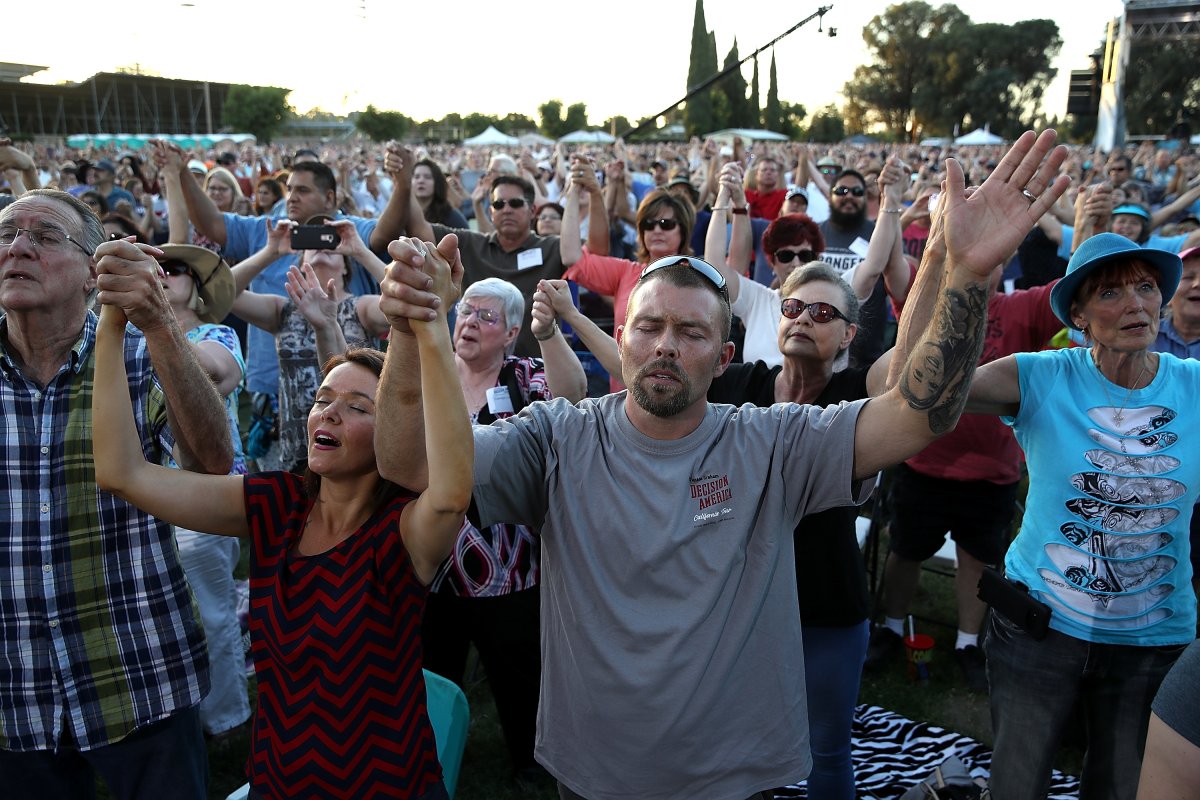 Newsweek reached out for comment to the National Association of Evangelicals via email on Thursday.
While support for the political violence statement increased in all groups, the biggest increase was seen among non-Christian religious people—skyrocketing from 9 percent in 2021 to 23 percent in 2023. White evangelicals saw a somewhat less dramatic increase, going from 24 to 31 percent.
However, religion did not appear to be the biggest factor in determining whether respondents would be willing to support political violence. Political affiliation, and in particular support for Trump and his false claims of a "stolen" 2020 election, appeared to play a far greater role.
Republicans, at 33 percent, were the most likely major political group to support efforts to "save the country" by resorting to violence. Only 13 percent of Democrats agreed while independents split the difference at 22 percent. Republicans who support Trump were more than twice as likely to agree with the statement than those who do not, by a margin of 41 to 16 percent.
Earlier this month, political analyst Brian Klass, a frequent Trump critic, warned that a "small subset" of the ex-president's supporters were "highly likely" to attempt to kill others before the 2024 presidential election. During an MSNBC appearance, Klass lamented the "normalcy and routine of Trump saying things that could get people killed."
Survey respondents most supportive of "true American patriots" resorting to violence were those who said that they believed in a stolen 2020 election. Almost half of those who supported the falsehood—46 percent—indicated that they would be willing to support violence, while 13 percent of Americans who said that the election was not stolen agreed.
Americans who longed for a return to the values of the 1950s, at 30 percent, were also more likely to support potential violence than their counterparts. Among those who did not agree that the country had "changed for the worse" since the 50s, prior to the passage of the Civil Rights Act, 14 percent supported the statement.
The survey was conducted by PRRI via online interviews with 2,525 U.S. adults nationwide between August 25 and August 30. It has a 2.19 percent margin of error.
Uncommon Knowledge
Newsweek is committed to challenging conventional wisdom and finding connections in the search for common ground.
Newsweek is committed to challenging conventional wisdom and finding connections in the search for common ground.