Scarecrows are meant to shoo critters away from a farmer's crops, but this spooky season, one neighborhood cat has shown that they may not be so scary after all.
In an adorable Reddit post, user u/buzzbot235 shared how a "neighborhood cat likes to come and cuddle" a Halloween scarecrow that's been placed out on the porch at her mom's house in Central Illinois.
The Redditor told Newsweek that she isn't certain if the ginger tom has a home, as it only appears in the evenings "when it needs a soft spot to rest." But it would seem that the cat couldn't think of a better place to get cozy as it returned the following day to snuggle up to the scarecrow once again.
Reddit users have loved seeing how the cat has befriended the scarecrow, as the post has gone viral with more than 81,500 votes since it was shared on October 23.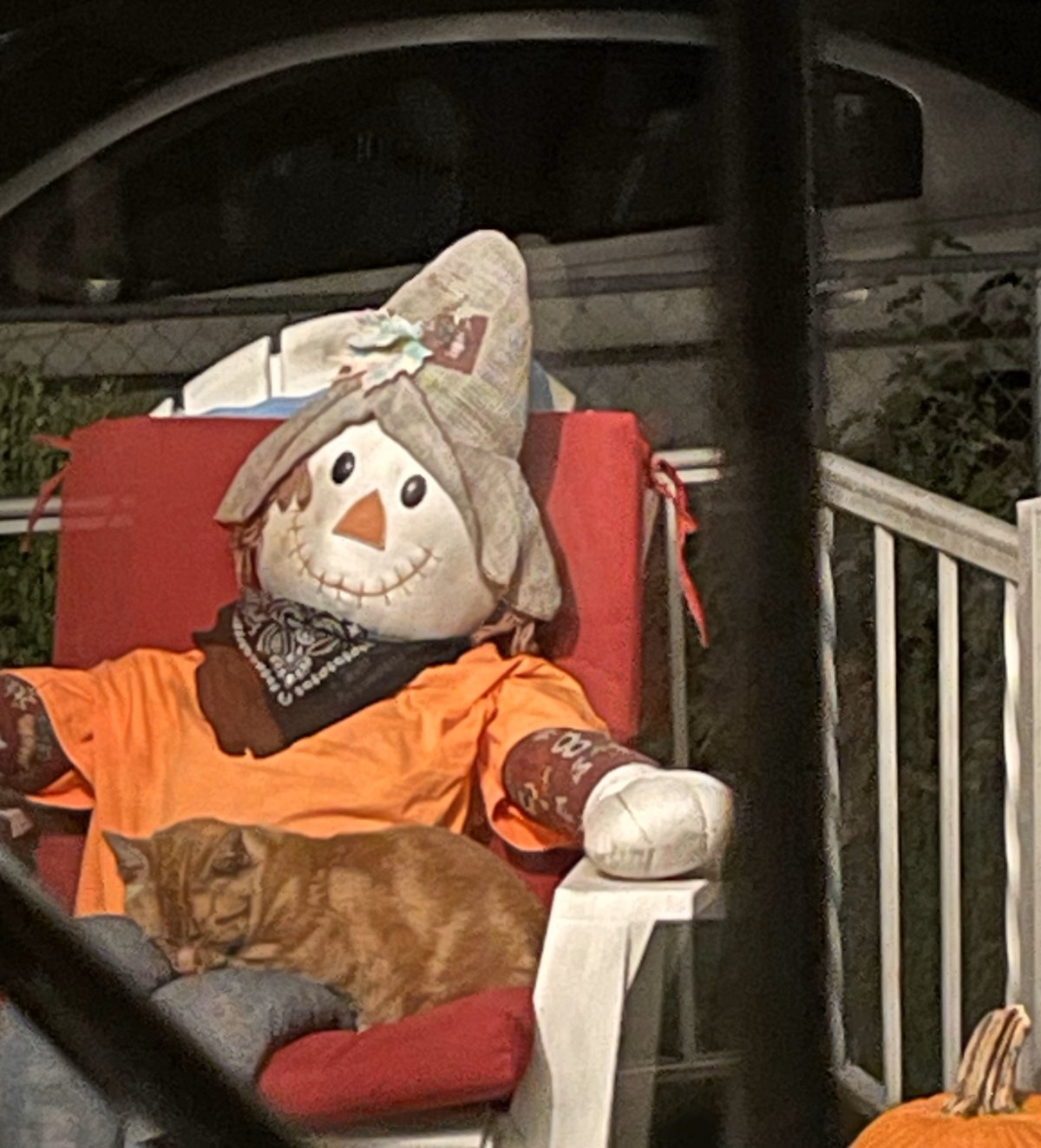 User u/buzzbot235 told Newsweek: "This past weekend, my mom put out her stuffed scarecrow that sits on a chair on the porch. That night, she caught a glimpse of an orange cat climbing up onto it at night, and it looked like it was trying to get comfortable for a nap in the chair.
"This week was the first time she'd seen the cat. It appears well-fed and well taken care of, but she has only noticed it at night, so she leaves it alone so it can nap in peace. Her theory is that since the scarecrow looks like a human, the cat must have cuddled with someone before, so it knows what a warm, comfy lap is."
If the unnamed cat doesn't have an owner, then it may be considered a community cat, which tend to live outdoors in populated regions. The Humane Society estimates that there are around 30 to 40 million community cats across the United States, some of which may have spent their entire life outside, while others would have been abandoned or lost.
Community cats depend on nearby humans for support, as it's estimated that between 10 to 12 percent of people willingly provide food, water, and shelter. However, the trap-neuter-return strategy is being employed to try and reduce the number of strays living on the streets by preventing them from having kittens and vaccinating them against infectious diseases.
After the Redditor's mom got "quite the surprise" to see that her scarecrow had some company, it's been a heartwarming experience for them to see how the cat "made itself at home" on their porch.
While they certainly weren't expecting the post to generate such a response online, they've enjoyed seeing all the comments and suggestions from fellow Redditors.
"Reactions to the photos have been incredibly cute," u/buzzbot235 told Newsweek. "The majority of comments are very sweet, and a large portion were requesting my mom keep the scarecrow out in the winter and dress it up as Santa for the cat. My mom is blown away at the outpouring of comments and upvotes to her photos."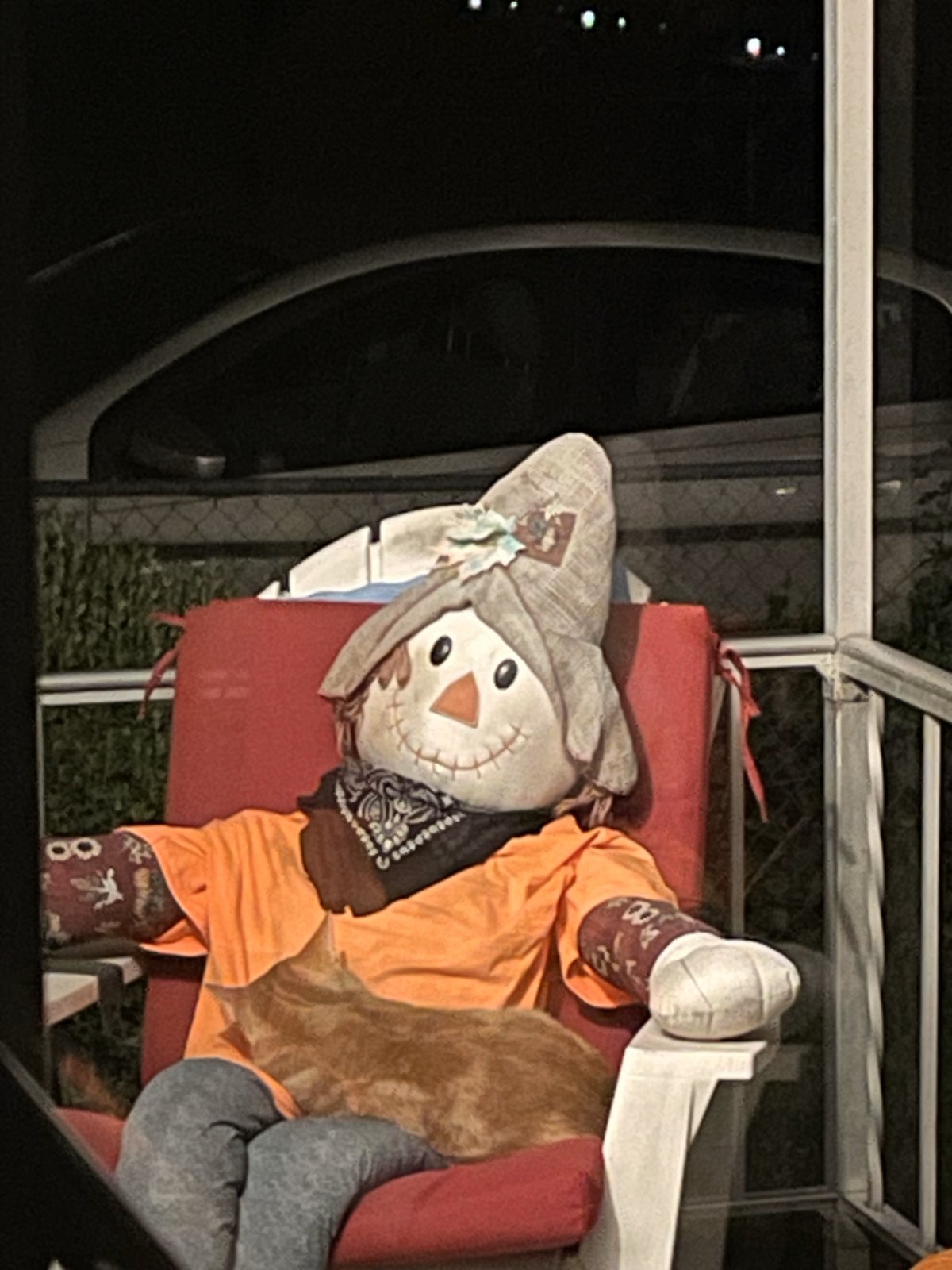 The sight of this sweet cat seeking comfort from a scarecrow has also touched the Redditor's heart, and she is now imploring others to consider adopting from a local shelter. She added that there are so many pets "that need a happy home and a person to snuggle up with."
Among the 600 comments on the viral post, many people asked for updates on the cat's whereabouts or insisted that the Halloween decor should now be a permanent fixture.
One comment reads: "Someone doesn't get cuddles enough."
Another person commented: "I hope your mom realizes she has to leave the scarecrow up even after Halloween."
"That is no longer a seasonal decoration, you must maintain the kitty bed yearround," commented another Redditor.
Do you have funny and adorable videos or pictures of your pet you want to share? Send them to life@newsweek.com with some details about your best friend and they could appear in our Pet of the Week lineup.
Uncommon Knowledge
Newsweek is committed to challenging conventional wisdom and finding connections in the search for common ground.
Newsweek is committed to challenging conventional wisdom and finding connections in the search for common ground.