Chicago Bears (2-5) undrafted rookie quarterback Tyson Bagent enters this week's Sunday Night Football game against the Los Angeles Chargers (2-4) confidently after leading the Bears to a Week 7 victory against the Las Vegas Raiders.
Filling in for injured starter Justin Fields, Bagent completed 72.4 percent of his passing attempts and threw a touchdown in the Bears' 30-12 victory. Most of his 21 completions weren't deep passes, but Bagent was effective with no turnovers.
"I don't really drop myself in any category of being a pocket passer, dual threat," Bagent told reporters when asked about his approach to playing quarterback during Wednesday's press conference. "I just like to make plays for the team, and once again, whatever I'm asked to do from the coaches is what we'll get done and what will happen. I don't want to put any limits anywhere."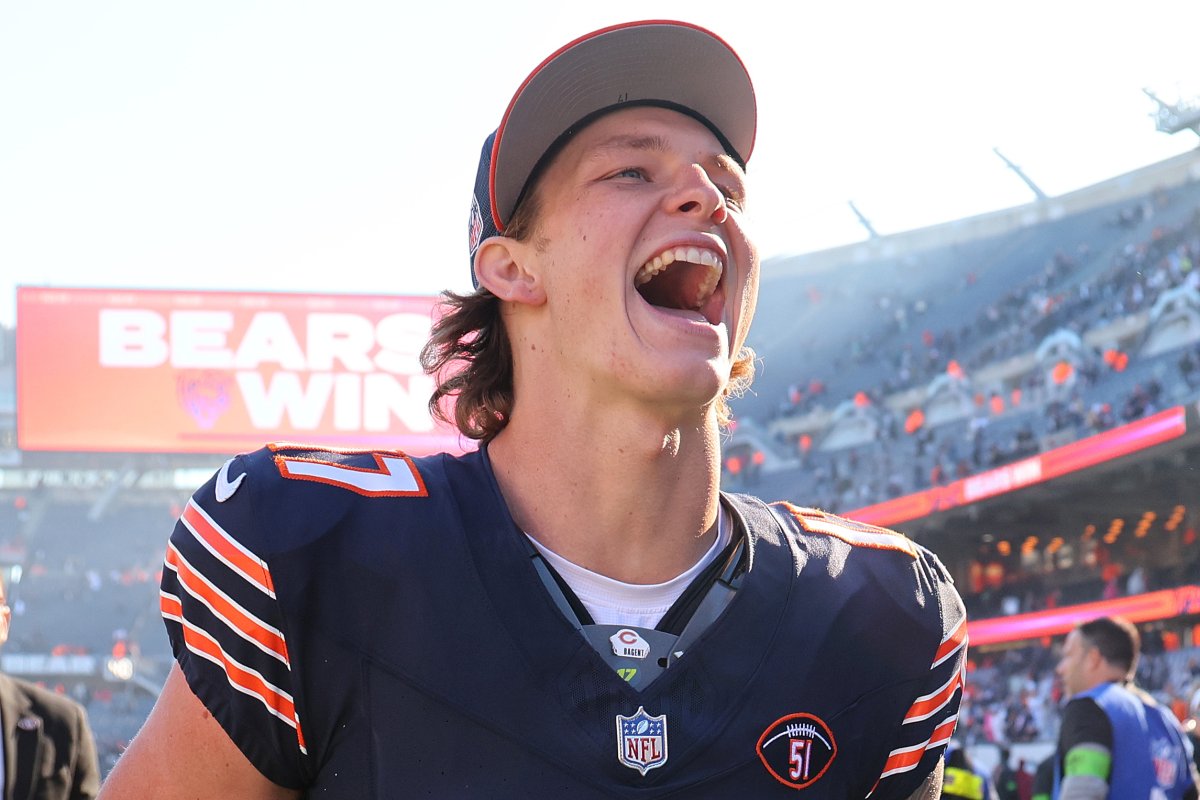 Bagent grew up in Martinsburg, West Virginia and despite winning two high school state championships, he didn't get much attention from Division I programs. So instead he stayed in-state, attending Shepherd University and setting the Division II records for career completions, passing yards and passing touchdowns.
The team still hasn't made a decision on Fields' availability for Sunday night, but the signs aren't positive. The signal caller didn't practice Wednesday or Thursday and coach Matt Eberflus said his status is "week to week."
If Bagent has to fill in again, he's got believers in his teammates. Bears running back D'Onta Foreman caught Bagent's touchdown pass and rushed for two more scores in the Bears' win.
Foreman said the team noticed Bagent's work ethic and weren't shocked that he had success.
"I don't think it was a surprise to anybody in this locker room or this building," Foreman told reporters during Wednesday's press conference. "The way he carries himself, the way he handles and goes about it, is a part of who he is. I'm looking forward to another week to see if he can build on that."
The Los Angeles Chargers, meanwhile, are in search of hope. Preseason, the team had similar odds to the Dolphins and Lions to win the Super Bowl. Now, they sit at 2-4 with their bye week in the review and tough opponents like the Chiefs, Bills and Ravens still to come. If they're going to get to the playoffs, they'll need to find a way to win against teams like Chicago.
Quarterback Justin Herbert wants his team to play a complete game against the Bears.
"It's a bummer where it hasn't worked out for us so far where the offense hasn't played great when the defense is playing great," Herbert said about the team's up and down scoring after Wednesday's practice. "It's on us to be more consistent. It's a tough situation, but we've got the guys and are continuing to work. We just have to find a way to make it work."
How to watch Bears vs Chargers
Sunday Night Football will be live at SoFi Stadium for the Bears at the Chargers on NBC. Kickoff is at 8:20 p.m. ET. Mike Tirico, Cris Collinsworth, and Melissa Stark will call the action. Streaming options include Peacock and NFL+.
Injury report Bears vs Chargers
Chargers: Wide receiver Joshua Palmer (knee) was the only Charger sitting out of Wednesday and Thursday's practice. Tight end Gerald Everett (hip) sat out the Wednesday session, but was a limited participant Thursday.
Safety Alohi Gilman (heel) and defensive back Deane Leonard (hamstring) were limited participants Wednesday and Thursday. Offensive tackle Trey Pipkins (ankle) participated in a limited capacity during Wednesday's practice but was a full participant Thursday.
The Chargers opened the 21-day practice window on October 19 for wide receiver Jalen Guyton (knee) and defensive tackle Otito Ogbonnia (knee). Both were limited participants Wednesday and fully participated Thursday.
Bears: Safety Jaquan Brisker (illness), offensive lineman Nate Davis (ankle), quarterback Justin Fields (right thumb), defensive back Terell Smith (illness) didn't participate in Wednesday or Thursday's practice. Offensive lineman Darnell Wright (shoulder/toe) also sat out Wednesday but was able to participant in a limited capacity Thursday.
Offensive lineman Dan Feeney (knee) and defensive back Eddie Jackson (foot) participated in a limited capacity for Wednesday's and Thursday's training session.
Offensive tackle Braxton Jones (neck) is designated to return from injured reserve and is in the 21-day practice window. Jones was a limited participant on Wednesday and Thursday. Tight end Marcedes Lewis (rest) didn't practice on Thursday.
Betting Info Bears vs Chargers
The Chargers are 8.5-favorite against the Bears, according to Thursday's odds on BetMGM Sportsbook. The over/under is 46.5. The Bears are +340 on the money line and the Chargers are -450. A $100 money line wager on Chicago would cash out $440 if the Bears pull off the upset.
Uncommon Knowledge
Newsweek is committed to challenging conventional wisdom and finding connections in the search for common ground.
Newsweek is committed to challenging conventional wisdom and finding connections in the search for common ground.