Ukrainian military intelligence this week published audio of what it said was an intercepted phone call in which a Russian soldier talked about what he described as the seemingly impossible task of capturing Ukrainian settlements.
In the audio posted Monday by Ukraine's military intelligence directorate (GUR) on its Telegram channel, a man identified as a member of the Russian military fighting in Ukraine speaks on the phone with his mother about Russian battlefield defeats. Newsweek could not independently verify the authenticity of the call.
GUR frequently posts audio of what it says are intercepted communications involving Russia's forces. The calls typically serve as examples of low morale among Russian President Vladimir Putin's forces in Ukraine. Earlier this month, GUR shared a clip of a Russian soldier reportedly talking about being too weak from lack of food to wear his bulletproof vest.
According to a translation from the Kyiv Post of the recent audio shared by GUR, the unnamed soldier told his mother that Russia's military has suffered heavy casualties at the hands of Ukraine's defenses.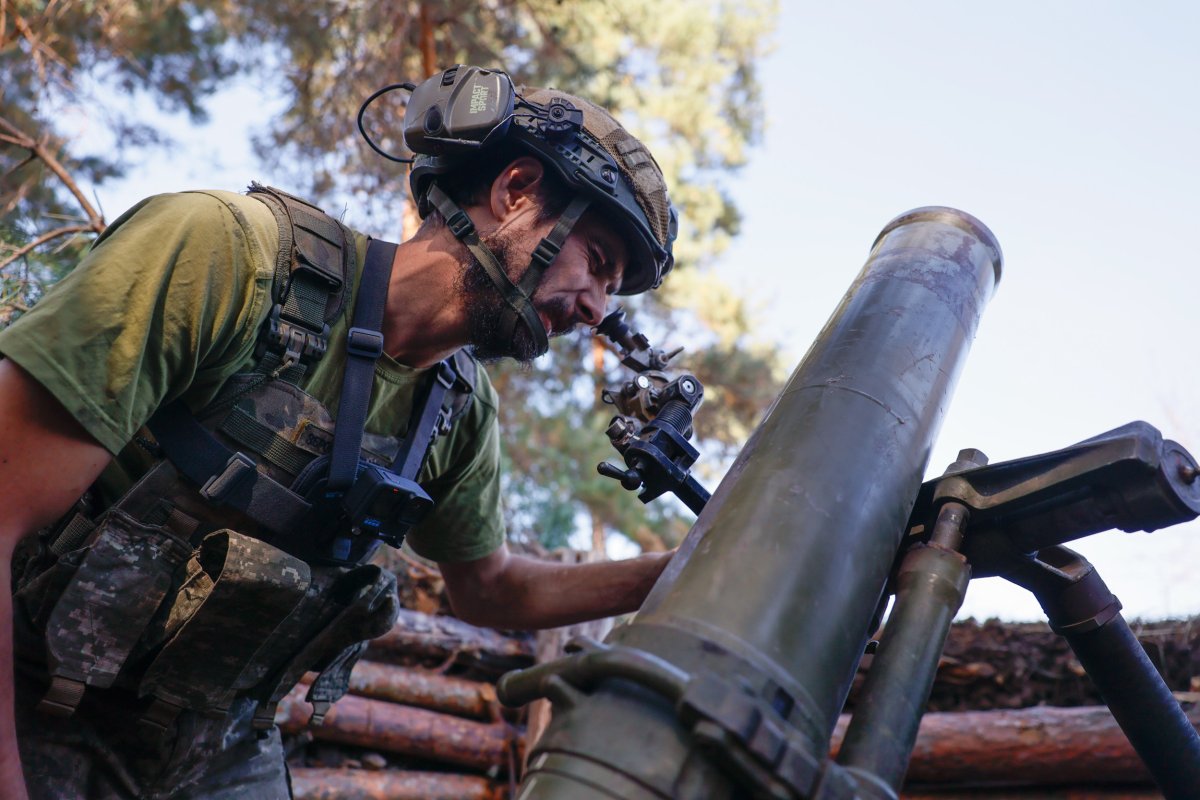 One position that has thus far proved especially difficult for Moscow to conquer, according to the soldier, is the village Ivanivka in Ukraine's southern region of Kherson Oblast.
"There's such a slaughter going on there!" he reportedly said. "More than a thousand were killed there. The first and second battalion was thrown forward—there's a hell of a lot of 200s [Russian military code for dead] even more 300s [code for wounded]."
Newsweek reached out to the Russian Ministry of Defense via email for comment.
The soldier then named other cities and villages he doesn't feel Russia is capable of taking from Ukrainian President Volodymyr Zelensky's armed forces.
"This whole forest landing in front of us [is] dotted with the dead soldiers. They can't even take Ivanivka!" he said. "It's ridiculous that they still mention capturing Novoselovka or even Kupyansk, they must be kidding!"
The Kyiv Post reported the soldier also spoke of how when Russia sends a unit of 20 troops to attack a Ukrainian post, only "two or three come back."
Elsewhere in the call, the soldier reportedly told his mother how one of his comrades flew a plane over a Ukrainian position. The comrade told the soldier that during the flight he saw eight Ukrainians in a trench who were able to fight off hundreds of Russian troops due to their heavy fortifications.
"Ukrainians don't let them [approach] anywhere near them and shoot at everyone," he said, per the newspaper.
Uncommon Knowledge
Newsweek is committed to challenging conventional wisdom and finding connections in the search for common ground.
Newsweek is committed to challenging conventional wisdom and finding connections in the search for common ground.