Golden Retrievers may be notorious for their boisterous and clumsy nature, but this pup managed to have "lots of restraint" in order to strike up an adorable friendship with a lonely squirrel.
When dog owner, Aimee Wright, saw her 5-year-old retriever, Flint, outside with a squirrel, she was initially filled with panic, as she feared that one of the animals could react negatively. But all those concerns were quickly squashed after seeing how gentle Flint was with his new friend, and how calm the squirrel appeared.
"I was shocked because it's a retriever's nature to chase and retrieve, but also grateful that he was so good with the little one," Wright told Newsweek after witnessing the precious moment. In her disbelief, she recorded the interaction that took place outside her home in Cleveland, Ohio, so she could share it with the world.
"I was initially concerned because of the general demeanor of squirrels. However, after realizing this one was so young and comfortable being around our dog and us, we were no longer worried," Wright said. "Flint just sniffed it to figure out what it was and only used his nose to nudge the squirrel off of his paw, and he gently used his paws to try to get his toy back when the squirrel sat on it."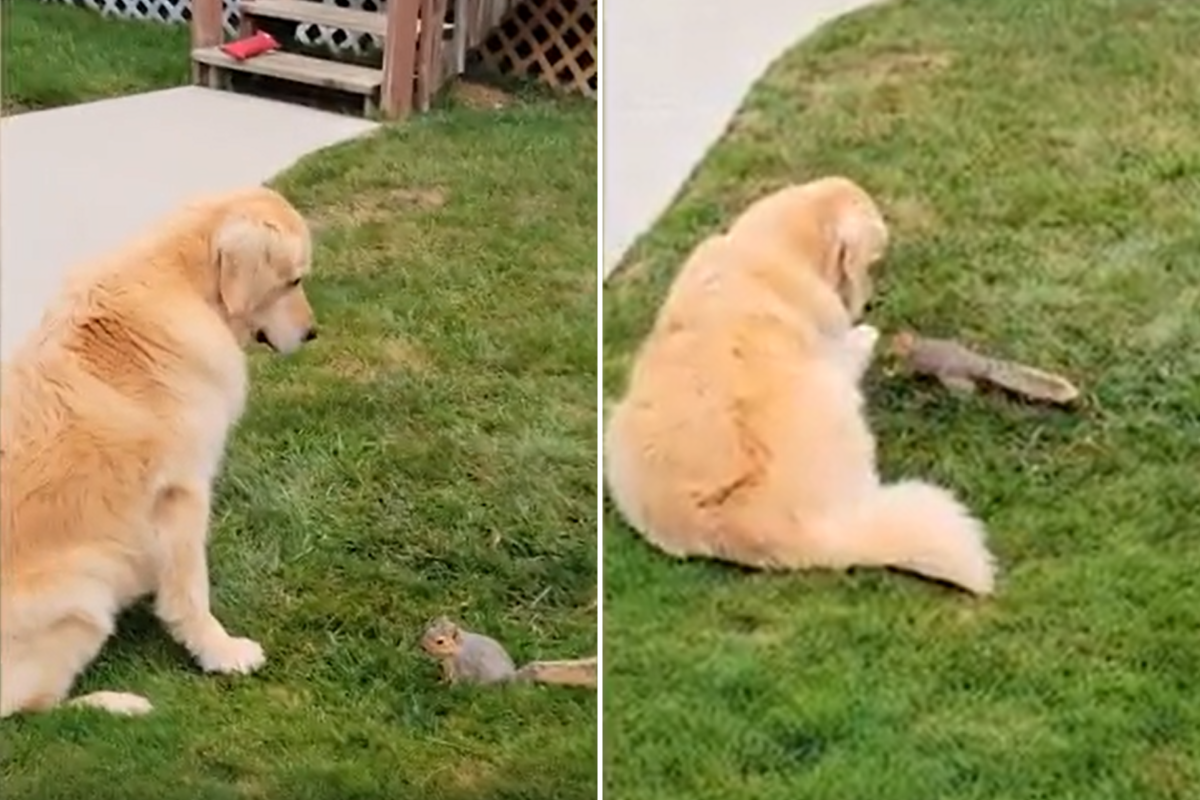 Wright shared the footage of Flint on her TikTok account (@awright981) late last month, which also showed how the squirrel took a liking to her son, Josh Wright. The video has already been viewed over 324,000 times and received over 14,000 likes, as people can't get enough of the "baby squirrel and golden retriever with lots of restraint."
The squirrel stayed with Flint for approximately 20 minutes, but sadly hasn't returned since. However, Wright remains hopeful that Flint's new best friend will make an appearance again soon.
"We placed water, peanuts, and sunflower seeds outside for the squirrel, and after it crawled under our deck, we went in the house. By the time we came out again to check, the squirrel was gone," she told Newsweek.
While the sight of Flint and the squirrel is undoubtedly adorable, it's certainly not the norm for all dogs when they see a small creature. A dog's prey drive is their instinctive desire to chase and capture something they deem as their prey, such as a bird, cat, or squirrel. According to PetMD, a dog's prey drive will start by hunting and stalking the object or creature, followed by the catching phase, which involves chasing it down.
Domestic dogs are less likely to participate in the kill phase of this routine, which their ancestors would have done, but that doesn't stop them from wanting to capture the prey. Certain breeds are more likely than others to hunt prey, as PetMD suggests that sporting dogs, herding breeds, and hounds are most likely to exhibit this behavior. Among those dogs, that includes spaniels, retrievers, border collies, beagles and greyhounds.
TikTok Users React
Since sharing the TikTok post of Flint, Wright admitted that she has been blown away by the social media response to her video. "I can't believe how many views the video has, but it was a rare incident so I should have guessed," she said.
Among the hundreds of comments on the viral video, many people praised the gentle nature of the two animals and their budding friendship.
One commenter wrote: "So cute, he wanted to speak and network."
Another person responded: "Just a beautiful moment. Goldens are the best dogs ever."
"Please tell me you kept it," wrote another TikTok user.
Do you have funny and adorable videos or pictures of your pet you want to share? Send them to life@newsweek.com with some details about your best friend and they could appear in our Pet of the Week lineup.
Uncommon Knowledge
Newsweek is committed to challenging conventional wisdom and finding connections in the search for common ground.
Newsweek is committed to challenging conventional wisdom and finding connections in the search for common ground.