A video of a cat appearing very protective of his favorite toy has gone viral on TikTok.
The clip was shared by @yukiandtheboys, the TikTok account of four cats called Ushi, Yuki, Kona and Eleanor, and has had over 568,000 views since it was first posted on September 5.
A message overlaid on the video reads: "His favorite toy was lost for a couple of days (under the oven)…he can't risk losing it again, so it's under tight surveillance."
The footage shows a cat sitting in an empty bathtub staring down at a small stuffed toy on the floor of the tub. The camera zooms in on the feline, as he looks back once before the clip ends.
A caption shared with the post says: "Until we find out how it ended up under the oven, nobody can be trusted (it was him and this isn't the first time)."
The cat's devotion to his favorite toy in the latest post is understandable as small objects, such as mouse-shaped stuffed toys, ping pong balls, motorized chase toys or even crinkled paper "can provide hours of entertainment for cats," veterinarians Ellen Lindell, Debra Horwitz and Gary Landsberg said in an article for VCA, the animal hospital chain.
They explained: "Cats are natural hunters and will stalk, chase, pounce on, and capture things that move." Most felines enjoy a range of toys that they can hunt, seek, attack and carry.
Providing novelty can help build the value of a toy and your cat's interest. So, it's good to keep an assortment of 20 cat toys on hand, providing your feline only four or five toy options at a time, they advised.
It's also important to "monitor your cat during play to ensure they do not consume any non-food toys," the veterinarians warned.
'So Smart'
Several TikTok users were amused by the cat's reaction in the latest viral clip.
Lacie wrote "So glad they're reunited!" and the original poster replied "It was a rough couple of days."
User @febriani0704 said "he's so smart" and user4087148682820 said the cat must have been thinking the toy's "Not going anywhere now."
User @hyoyo789 said "he took 'keep an eye' on it literally."
User joce wrote: "so cute, cats are unreal."
Rimae noted "the quick concerned glance back at you."
Emily also highlited "the way he quickly looked back to make sure it was still there."
User @lucyissick said: "Him looking back immediately to see if it's still there."
Newsweek has contacted the original poster for comment via TikTok.
Do you have funny and adorable videos or pictures of your pet you want to share? Send them to life@newsweek.com with some details about your best friend and they could appear in our Pet of the Week lineup.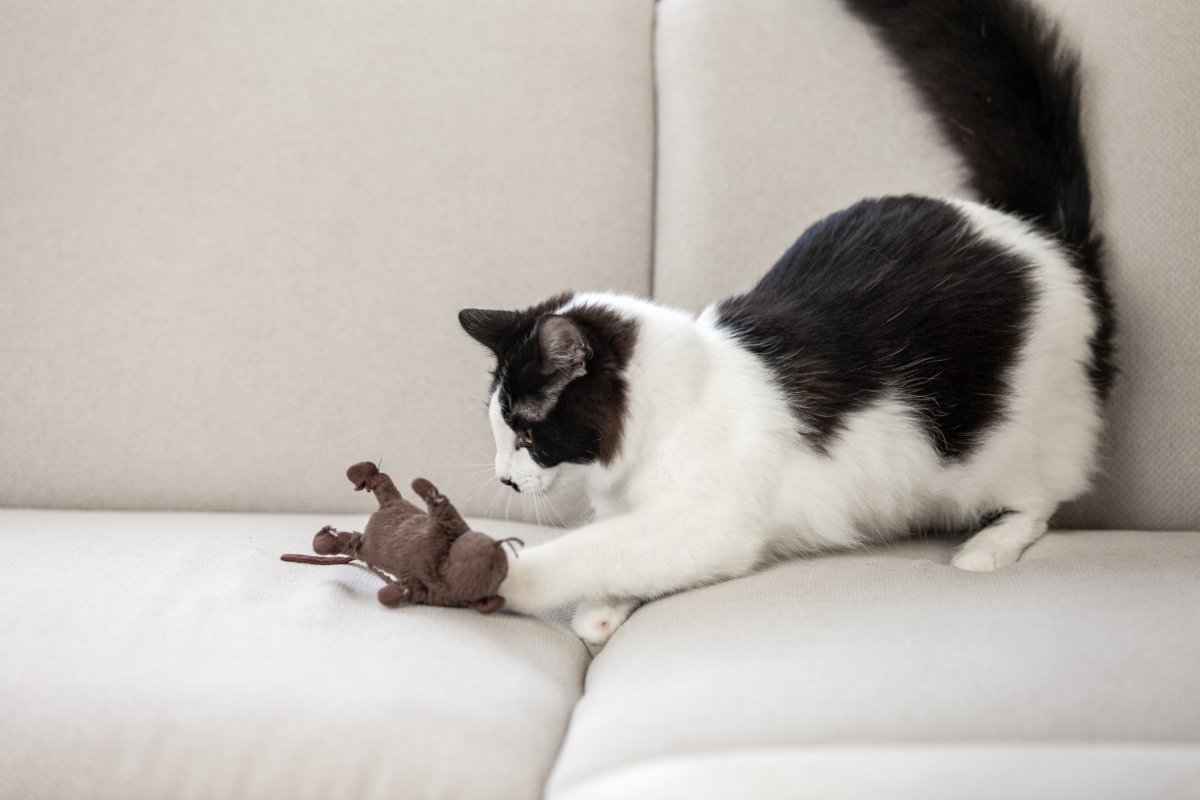 Uncommon Knowledge
Newsweek is committed to challenging conventional wisdom and finding connections in the search for common ground.
Newsweek is committed to challenging conventional wisdom and finding connections in the search for common ground.