CNN's Jake Tapper closed out Sunday's episode of State of the Union by slamming Representative Marjorie Taylor Greene's recent censure resolution against Representative Rashida Tlaib saying, "this s*** is not a game."
Greene, a Georgia Republican, made moves last week to censure Tlaib, a Michigan Democrat, over her response to the ongoing conflict between Israel and Hamas. Tlaib, the only Palestinian-American member of Congress, has been a vocal critic about Israel's response to Hamas' surprise attack on October 7, which was the deadliest Palestinian militant attack on Israel in history. Israel subsequently launched its heaviest-ever airstrikes on Gaza.
According to Israeli officials, 1,400 people in Israel have been killed as of Sunday, the Associated Press reported, while over 8,000 Palestinians have been killed, according to officials from the health ministry in Gaza, the AP said. Israeli Prime Minister Benjamin Netanyahu has said his country is "at war" and has cut off supplies of food, fuel, electricity and medicine into Gaza.
While Tlaib, who said she mourned the loss of lives on both sides, continues to receive criticism, Greene introduced a resolution to the House floor on Thursday to censure the Democratic congresswoman.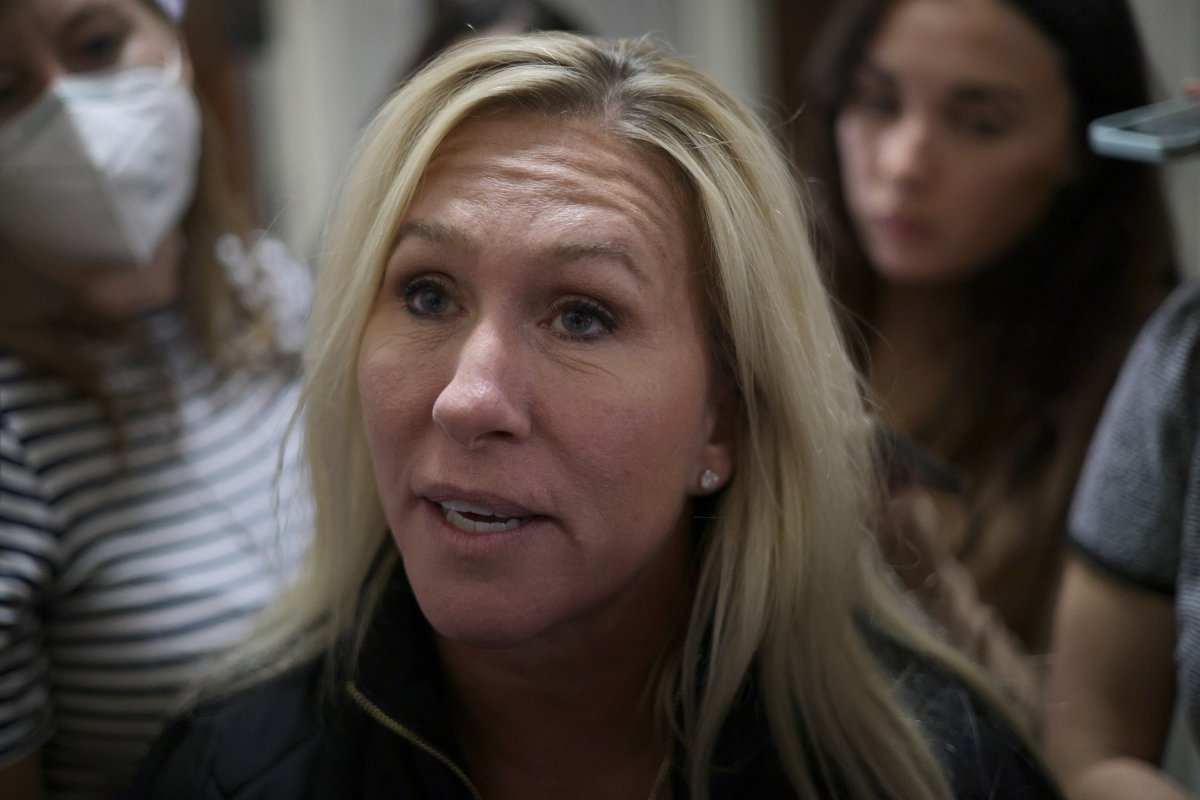 However, while speaking on CNN's State of the Union on Sunday, Tapper criticized Greene's censure resolution as he stated while there are valid criticisms of Tlaib, it "twists a bunch of things she said beyond recognition."
"The resolution seems much more focused on January 6 than October 7. Throughout its pages, Marjorie Taylor Greene describes this act of civil disobedience from a bunch of left wing Jewish groups that are critical of Israel's government as an insurrection," Tapper said.
Tapper was referring to a previous comment that Greene has made about an October 18 demonstration that involved hundreds of Jewish-Americans protesting on Capitol Hill, demanding a ceasefire in the Israel-Hamas war. Tlaib, who attended the protest, was falsely accused by the Republican congresswoman of "leading the current insurrection." A Capitol police spokesperson previously told Newsweek that the event was "generally a peaceful demonstration."
"Antisemitism is not a cudgel to be used against people for political points, nor is Islamophobia or racism or anti-gay behavior or misogyny or any other kind of bigotry," he said in his closing remarks. "Just over three weeks ago, 1,400 people, mostly Jews, mostly civilians, were slaughtered here in some of the cruelest and most unimaginable ways in the deadliest day for Jews since the Holocaust. This s*** is not a game."
In response to Tapper's comments, some took to X, formerly Twitter, to express their thoughts on the matter.
"Righteous anger from Jake Tapper. It's how a lot of American Jews feel right now. And for good reason," lawyer and writer Daniel Miller wrote.
Another X user, JoJoFromJerz wrote: "I'm not a fan of Jake Tapper, but this is very powerful."
While former GOP Virginia Representative Denver Riggleman, now an independent, simply wrote on X, "Well said and down the line."
This comes after Greene faces potential censure herself after Representative Becca Balint, a freshman Vermont Democrat, introduced a resolution aiming to censure her in the House of Representatives on Thursday.
"This woman, Marjorie Taylor Greene—it seems to be her only purpose is to sic Americans after other Americans, to fend more hatred, to fan more dissension and fear-mongering…We have got to have a bottom here," Balint said.
Meanwhile, Greene continues to remain firm on her stance against Tlaib by writing on X on October 18, "I'm writing a censure resolution for Rashida Tlaib. After what she did today, I expect even Democrats will join in. She is an Israel hating America hating woman who does not represent anything America stands for."
In response to Greene's efforts, Tlaib wrote on X on Thursday, "Marjorie Taylor Greene's unhinged resolution is deeply Islamophobic and attacks peaceful Jewish anti-war advocates. I am proud to stand in solidarity with Jewish peace advocates calling for a ceasefire and an end to the violence."
Newsweek has reached out to Greene and Tlaib's office for comment via email.
Uncommon Knowledge
Newsweek is committed to challenging conventional wisdom and finding connections in the search for common ground.
Newsweek is committed to challenging conventional wisdom and finding connections in the search for common ground.