Ukraine has targeted a Russian tank convoy making its way through the war-torn country, new footage appears to show, as the war moves fully into tougher winter conditions.
The footage, shared by Ukraine's defense ministry and attributed to Ukraine's 31st Mechanized Brigade, shows what appear to be a series of tanks moving through Ukraine's countryside.
The video, which looks to be filmed on a Ukrainian drone, then shows a number of strikes on the tanks before the vehicles break formation. Several soldiers can be seen scrambling away from the tanks, attempting to flee the scene.
An identical clip was posted to Ukraine's land forces' social media on Sunday, specifying that the Russian tanks were attempting to break through Ukrainian defenses around the Donetsk town of Krasnohorivka, just north of the embattled city of Marinka.
A military blogger linked to the Kremlin had claimed Russian troops attacked Ukrainian positions close to Marinka and Krasnohorivka, U.S. think tank the Institute for the Study of War said on Saturday.
Newsweek could not independently when or where the footage was filmed, and has reached out to Russia's defense ministry for comment via email.
The column of Russian tanks that advanced towards Kyiv in the early days of the war quickly became one of the best-known images of the first phases of Moscow's full-scale invasion of Ukraine.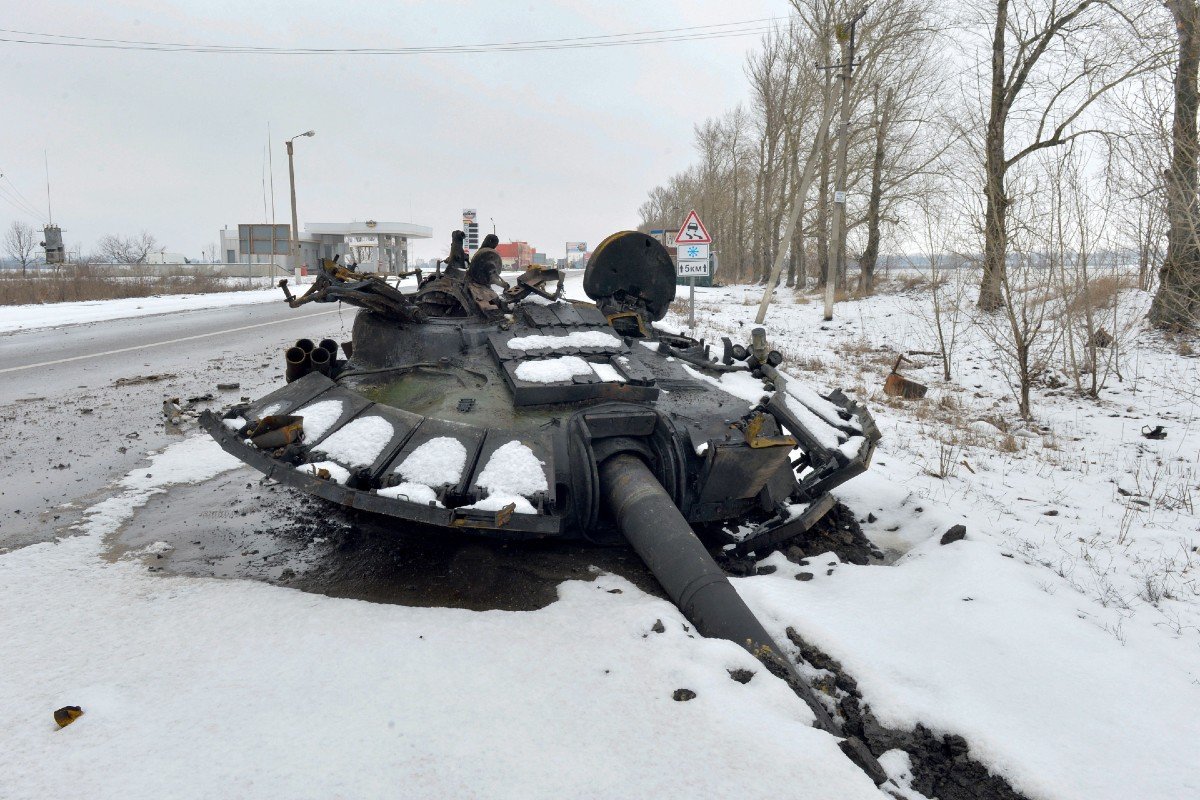 But Western analysts say Russia's tank fleet has fared poorly in the 20 months of war so far, partly due to fundamental errors in Moscow's military tactics. The Kremlin has been plagued by organizational and planning failures, ruptures in the command chain, poor training and unmotivated troops, analysts have suggested to Newsweek, with many of Russia's best tank crews taken out in the first waves of the war.
"Because they lost so many tanks in the first stage, they were not really able to use them again, as they would, in the sort of second phase of the war," Ed Arnold, a research fellow at the London-based Royal United Services Institute think tank, told Newsweek in June.
Ukraine's General Staff said in an update posted to social media on Sunday that Russia had lost eight tanks in the previous 24 hours. In total, Russia has lost 5,175 tanks since February 2022, according to Kyiv's military.
Russia's defense ministry said on Saturday that Ukraine had lost 12,980 tanks and other armored vehicles in the war, but did not specify how many Ukrainian tanks are included in the tally.
Newsweek could not independently verify either total.
Between February 24, 2022, and the beginning of October 2023, Russia lost a confirmed 2,437 tanks, according to Dutch open-source intelligence outlet, Oryx. However, this only includes visually verified losses, and the true count is likely to be higher.
The figures come as fighting in Ukraine enters the more challenging fall and winter months, which will "see a new round of fighting," Frederik Mertens, a strategic analyst with the Hague Centre for Strategic Studies, previously told Newsweek.
Mechanized warfare will not stop with the seasons, he said, as long as both sides are equipped to fight under the new conditions. "Frozen ground is great for mechanized advances, so we can expect a new round of fighting and probing to start in December," he said.
Uncommon Knowledge
Newsweek is committed to challenging conventional wisdom and finding connections in the search for common ground.
Newsweek is committed to challenging conventional wisdom and finding connections in the search for common ground.