Sometimes, we choose our dogs, and other times, they choose us.
In an adorable video posted to the account @adoptingdogs by Joe Kay on October 4, a tiny dog called Elvis can be seen sprinting excitedly towards his new owners, his time in a shelter finally over. "Elvis said this is my new family!" reads the caption.
While working as the adoption coordinator at the Wayne County Humane Society in Ohio, Kay began documenting the dogs on social media in the hopes of getting them adopted. He also visited other shelters, and, according to his GoFundMe page, "Now I feel like it's time to build something of my own. In 2023 I would like to build a shelter and start saving as many animals as possible. I will be rescuing animals around here and from other states. Animals that are shy, scared, sick, and injured, I want to save them all."
Each year, 6.3 million pets are surrendered to U.S. shelters, which is an average of 17,260 a day, according to the American Society for the Prevention of Cruelty to Animals. The number of dogs and cats taken in by pet shelters hit 46,807 during January 2023, an increase of 1,744 compared with January 2022, the 24Pet 'Shelter Watch Report' found.
Around 920,000 surrendered animals are euthanized every year. Shelters are striving to minimize euthanasia rates by promoting adoption campaigns, spaying and neutering programs, and behavior rehabilitation.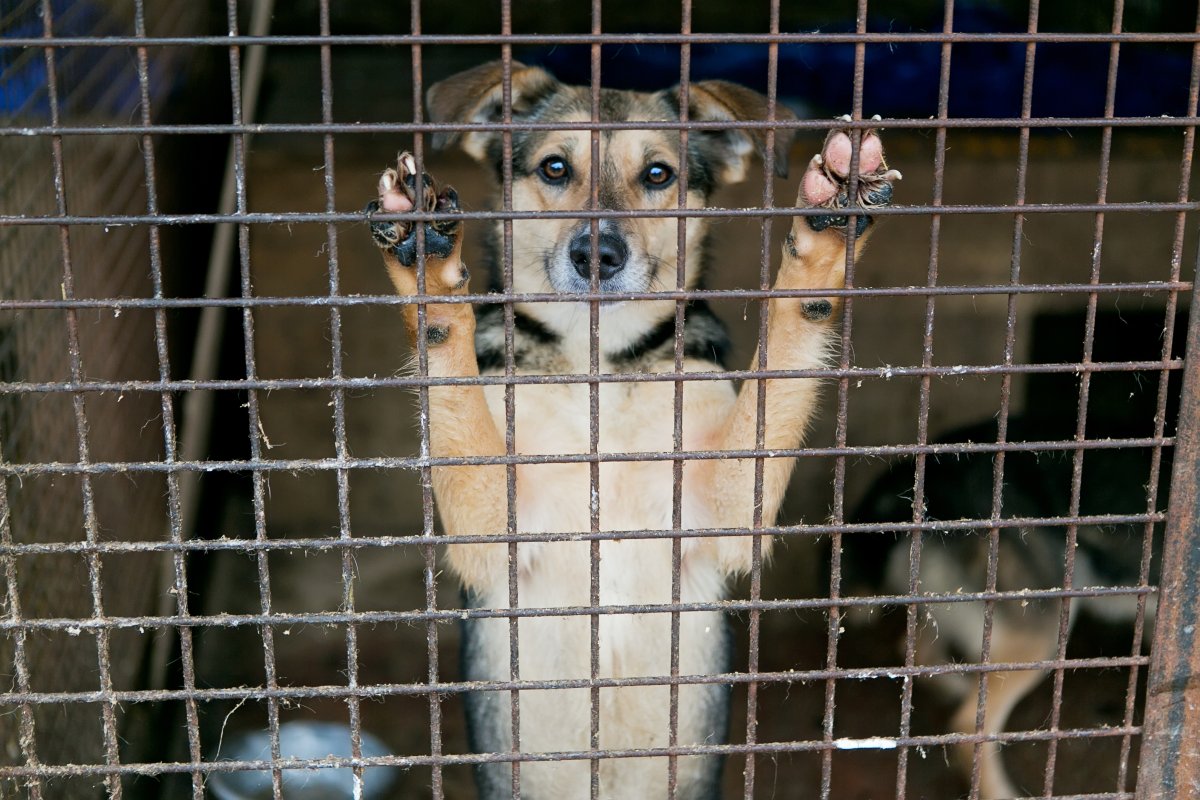 There are many advantages to adopting a dog over buying one, not only for you but also for the animals, since millions of dogs are euthanized every year.
"You save two lives when you adopt a pet from an animal shelter or rescue group—the animal you brought home, and the one who is rescued because of space you made available," says the North Shore Animal League America. "Animal shelters and rescue organizations are filled with a variety of well-behaved animals of all ages."
The league also points out that adopting a dog is far less expensive than buying one.
"Buying a pet can cost thousands of dollars; adoption costs range from $50 to $375," the league adds. "In addition, animals from many shelters are already spayed or neutered and vaccinated, which makes the shelter's fee a bargain."
While shelters will have purebreds, more commonly it is mix-breed dogs that end up there. "An adopted mixed-breed pet may be healthier than a purebred pet, less likely to have genetic problems, and therefore, cost less overall," says North Shore.
Users on TikTok loved the sweet video. "Joe, you're dedicated to This Work! It's not a side hustle for you – these dogs are your life! I am blessed to know you!" wrote one.
"Elvis, have the bestest life ever with the people you already love," commented another user.
Newsweek has reached out to @adoptingdogs via TikTok for comment.
Do you have funny and adorable videos or pictures of your pet you want to share? Send them to life@newsweek.com with some details about your best friend, and they could appear in our Pet of the Week lineup.
Uncommon Knowledge
Newsweek is committed to challenging conventional wisdom and finding connections in the search for common ground.
Newsweek is committed to challenging conventional wisdom and finding connections in the search for common ground.